Editor's Note: A previous version of this headline and story has been updated to reflect and clarify that the experts interviewed below are noting the challenges of mask-wearing during speech therapy sessions with young children. They are not suggesting that children go without face coverings or that they do more harm than good. 
Face coverings make conversations more difficult for all of us. From muffled voices to not being able to see facial expressions, masks have been a barrier to effective communication in retail settings, offices and factories.
They are little more than an inconvenience for adults.
However, for children, who are learning to speak for the first time or who are at a stage of rapid language and communication development, masks are more than inconvenient.
Some say when it comes to speech and language, masks — while necessary — can hinder normal growth.
"The pandemic impacted all of the kids I work with," explained Niccole Cornaghie, a speech language pathologist with the Early Intervention program, working in Franklin, Jackson and Williamson Counties. "With masks, they don't get the visual clues that they previously did and those are important when they are learning to talk. They need to look at your face to see what you are doing with your lips, what you are doing with your tongue so they can imitate that."
Cornaghie said she prefers to wear a clear face mask so clients can see her mouth, but it is not possible in all settings and wearing a mask affects more than just talking.
"We don't just work on language, we also work with the social and emotional part of it and social skills, of course, were really impacted. We rely more than you realize on facial expressions as social cues and that is hindered by wearing masks," she said.
COVID-19 did more than just requiring therapists and clients to mask up. In some cases, it changed the way professionals approached their work.
Erin Connelly, coordinator for speech and language services at the Southern Illinois University Carbondale Clinical Center and the coordinator for clinical education for the SIU Department of Communication Disorders and Sciences, said the pandemic required the clinic to transition from in-person visits to teleconferences.
"The biggest challenge was learning how to communicate effectively over Zoom because you have to be a lot more expressive," she said.
Elizabeth Norton, assistant professor in the Department of Communications Sciences and Disorders at Northwestern University in Chicago, said many therapists or speech language pathologists had to take temporary breaks from working with clients to transition to remote sessions.
"We know a lot of kids missed out on services for a while and kids who needed to be evaluated for new services had a long delay," Norton explained.
When they were able to meet in person, Norton said masks just made things more difficult.
"For example, for a child who might have trouble making certain sounds, one of the things that therapists might do would be to really show how they move their mouths to make those sounds. Obviously, that is extra challenging with a mask on. So I think in a lot of those cases, therapists tried to use clear masks or face shields, but it was still harder to understand," she said.
The problem is not just with masks – a required accessory in schools and day care centers across Illinois. The lockdowns and cancellations of everything  — from children's performances and birthday parties to play dates and family gathering — have also hindered language development in children.
Cornaghie explained, "I feel that mostly it was the lockdowns where we were sheltered in place that probably impacted their development more than anything. Families stopped seeing extended family, they didn't venture out; they were just in their little bubbles. They didn't go places where they would have social interaction with their peers. There were fewer outings where kids were able to go and have good language-rich experiences like story time at the library or being at the park. They just didn't have access to those things."
Norton said it is unclear if the forced closures and remote learning negatively impacted language skills in all cases.
"Children in remote learning might not have had the back-and-forth interactions that we know really support their language development. They definitely less interaction with peers, so that could have been an issue," she explained. "It could also be the case that maybe a parent switching to remote work allowed them to have more time with their child and actually support and nurture their child's language development."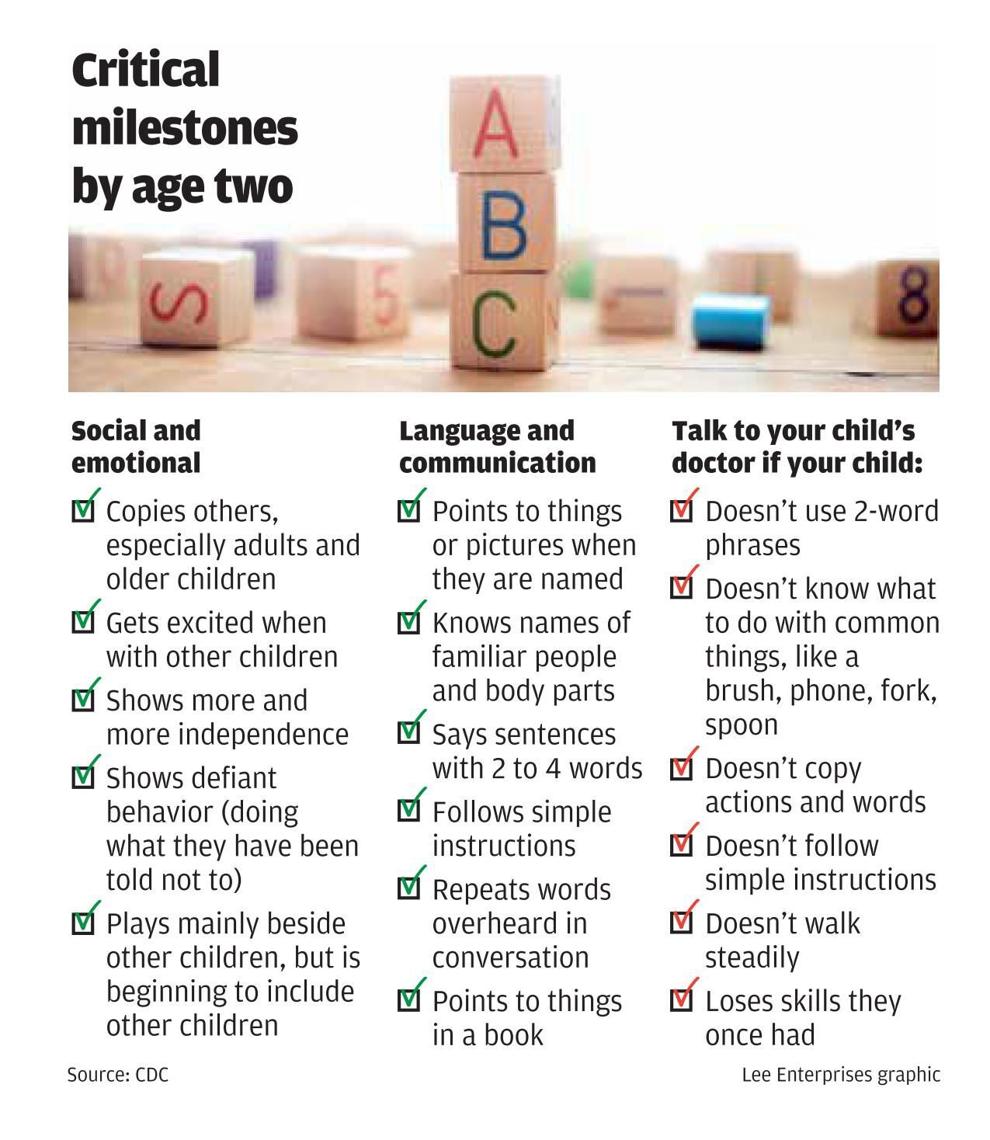 She added that a number of research studies are underway to measure the impact of masks and lockdowns on language development, and said one early study suggests it may be slowed.
"We just don't know if it shows that because when they tested them they were wearing masks and weren't able to do the required tasks as easily," Norton added.
Cornaghie explained many children appear to not reach milestones as quickly as usual simply because they missed learning opportunities during school and day care closures. 
Connelly said she noticed a difference once she and her students were able to get back into the classroom.
"I was really taken aback by the lack of language that our kids have," she said. "Vocabulary particularly is significantly impacted for these younger kids."
She said she believes the lack of vocabulary – while not necessarily caused by the pandemic – was made worse by it.
"Why is this happening? I think COVID brought it out more because what are our kids doing more than anything else? They're looking at a screen," she said.
Connelly explained that when children are looking at screens whether for school, watching television or playing a video game, they become oblivious of what is happening around them.
"So children are not getting the same exposure to language, and their vocabulary is seriously suffering," she said.
Cornaghie said even though screens can be effective learning tools, it is a passive form of education.
"Active learning is when you really make an impact in language development. It helps them learn better and retain concepts better," she said.
Connelly said speech and language delays can be overcome. She stresses involvement by family members.
"We've got to put down our devices and start talking to our kids and we have to take their devices out of their hands because if they're on a device, they are not really listening anyway," she said.
She also said parents who believe their son or daughter has speech or language delays should consult with a speech language pathologist sooner rather than later.
"Don't wait. Development happens from the time they are babies. Don't think, 'Oh, my kid is going to grow out of this,' because if you wait too long, their neurological system is pretty well set and it becomes hard to remediate," Connelly said.