JOHNSON COUNTY - Vienna High School Superintendent Joshua Stafford issued an apology Thursday for not calling off classes sooner after two school buses slid off roadways as snow and ice covered the region.
"My default tends to be wanting kids to get to school, be warm, cared for, and fed, and in most situations that is a win for all of our students, parents that are working, and the community, but there are clearly exceptions," he said in issuing an apology. 
While several schools in the region opted to cancel classes earlier in the morning, Vienna High School did not cancel until about 8 a.m.
Stafford announced students would be dismissed from school at 9 a.m. 
During the trip to or from school, two buses slid off the road. One school bus was sideways on Gilead Church Road north of the Gilead Church, the Johnson County Sheriff's Department said in a news release Thursday.
The bus was located in the curve causing a road blockage.
Another school bus was sideways on Hound Dog Ridge Road, the sheriff's department said.
All bus riders and drivers have made it home safe, Stafford said.
"I wanted to let everyone know that all bus riders from all five schools (Buncombe, Cypress, New Simpson Hill, Vienna Grade, and the high school) on our shared bus routes have made it home safely," Stafford said. "Additionally, based on a discussion with the sheriff's office we believe that all drivers have made it home safely as well."
The sheriff's department also confirmed that all children were safe.
Both buses have since been removed from the roadways, the sheriff's office said. 
Southern Illinoisan reporter Les O'Dell's Fave Five for 2021
SIU welcomes students back to campus
Southern Illinois University Chancellor Austin A. Lane moved his leg from the accelerator of the golf cart to the brake.
As that happened, his left pant leg rode up, showing off the maroon socks he had chosen for the day – ones featuring school mascot Salukis.
"That's a legacy, right there," he called out Thursday, stopping to chat with an SIU alumnus who, with his wife, was on campus helping their son move into to an on-campus residence hall. "A second-generation Saluki! Check out these socks!"
Breaking the ice with a smile, Lane talked about area attractions, programs for students and welcomed the freshman from near Effingham to the "Saluki family."
After a few more minutes with them, he wished them a good afternoon and guided his golf cart along the sidewalks of campus, waving and speaking to everyone he met, often stopping to chat with other incoming freshmen, offering them a break between trips into their buildings, carrying boxes, clothing and essentials including mini refrigerators and microwaves.
It's a day that Lane has been eager for since becoming chancellor of the Carbondale campus: the return of students to campus for in-person classes.
"I kind of have chills because we are able to finally see our students and we've worked so hard to get here," Lane said. "We really are excited to be back."
Residence halls opened Thursday for new students, while returning students who live on campus will return in the next several days in anticipation of the beginning of the fall semester Monday.
It will be the first in-person instruction on the campus since late 2020 due to the pandemic.
SIU Senior Associate Director of Housing James Hunsaker said in all, about 2,300 students will be moving into on-campus housing. Thousands more are returning to apartments and rental houses throughout the area.
"It feels really good to have the energy of students back on campus," said Emily Spann, director of new student programs. "It means everything to have the students back. It kind of feels like Christmas."
Many of the new students were excited, too. On one of his many trips across campus in the golf cart, Lane gave incoming freshman Gracie Harwood, of Eldorado, a ride to the campus's parking office.
"Move-in all went really smooth," she told him. "I had lots of helpers with me this morning, so it went really well."
Students were assisted by moving volunteers by SIU registered student organizations. Traditionally, local civic leaders and church groups assist, too, but Spann said fewer volunteers were recruited this year due to lingering COVID-19 concerns.
Still, Lane said the first day of student move-in went very smoothly.
Harwood told the chancellor she was grateful not only for the golf cart ride, but also for a scholarship to study art education and she was happy to be at SIU.
"I love the campus. I'm really excited," she said.
In Smith Hall near Campus Lake, Ava Strokosch, of Oak Park, had almost completed her unpacking by early afternoon. A freshman in business advertising and marketing, she said a campus tour during the pandemic sold her on SIU.
"I've only been here twice – now and once for a tour. I really enjoyed that. I just walked on campus and I knew this was where I wanted to go," she explained, adding she was glad to be on campus rather than studying remotely.
"I'm excited to actually be able to walk across campus, to have in-person classes, to meet the people on my floor and to get to know professors. This is awesome."
Lane said he had many of the same emotions.
"Having students on campus is why we are here. We want to be here and be able to serve our students from orientation to graduation. That makes it all worthwhile," he said, stopping the golf cart to visit with another group of new students and their parents – and to show off his new socks. "I love this time of year."
35 years and counting: SIU 'Agbassadors' find success in student recruitment
In 1986, Donald Elkins was faced with enrollment decline as an assistant dean at Southern Illinois University Carbondale's School of Agriculture. 
Not only were fewer students attending SIU every year, the numbers for agriculture programs — both at his university and at other ag schools across the country — were also slipping.
He needed to entice students not only to pursue agriculture but to do so at SIU.
Elkins realized the answer was all around him. Who better to recruit future students than current students? He began an effort to identify, in his words, "the cream of the crop" and, in selecting ten students, sent them into the field to attract new students.
Elkins called his new organization Agbassadors – a blend of the words agriculture and ambassador. At the time, he likely did not realize the impact the group would have on SIU's agriculture program, the university as a whole and agriculture colleges across the country. 
The impact of the group continues 35 years later.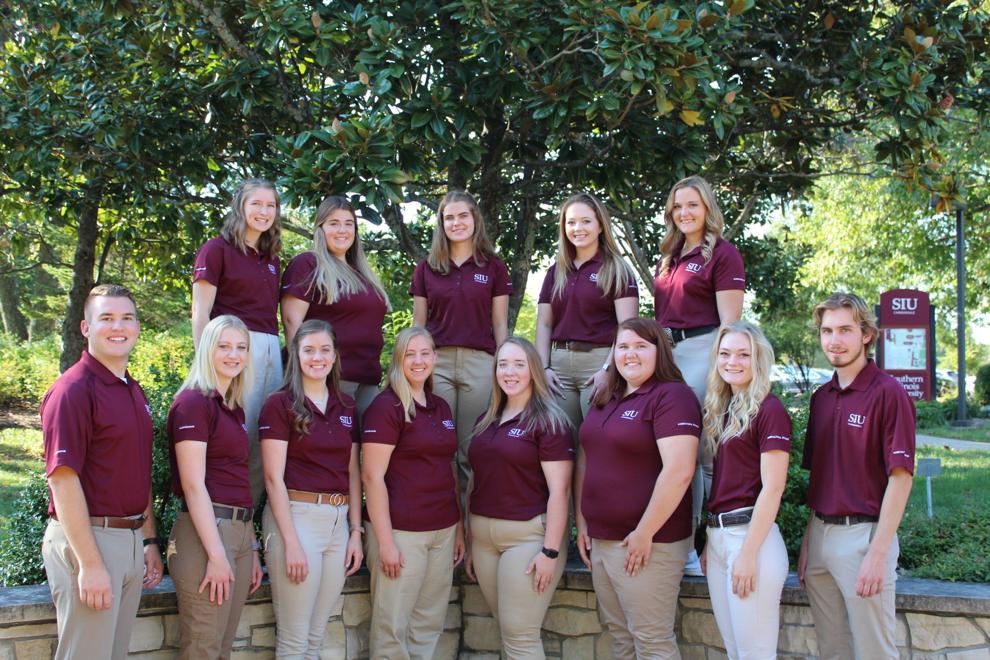 Lifting the bar
Not only was the program successful in boosting enrollment, it has become a model for student-to-student recruitment efforts around the country.
"When SIU started its ambassadors, there were only two other schools that I recall using students as recruiters," Kirby Player, director of Palmetto LEAF, a leadership program in the College of Agriculture, Forestry and Life Sciences at Clemson University.
Player, who was instrumental in developing a similar program at his institution in the late 1980s, said the "Salukis in Carbondale" were one of the first to lift the bar in recruitment for all agriculture programs. 
Today, dozens of agriculture colleges nationwide have programs similar to Agbassadors. Likewise, as increasing enrollment has become a goal across all academic units, other SIU departments have taken agriculture's lead.
"We consistently get questions from other programs on campus wanting to model their student ambassador programs on what the Agbassadors have done through the years," explained Susan Graham, senior manager of communication, outreach and recruitment for the SIU College of Agriculture, Life and Physical Sciences.
Graham has worked with the program for many years continuing what many consider to be Elkins' legacy. He left SIU to become dean of agriculture and human ecology at Tennessee Tech University in 2013, where he started an ambassador program as well. He died in 1995. An SIU scholarship for Agbassadors is named in his honor.
Student-first approach
While the exact role and duties of Agbassador members has evolved over three-and-a-half decades, the focus of the organization has not. From the beginning, giving prospective students a current student's take on college and SIU's campus has been key.
Like many SIU agriculture students, Taylor Hartke, a senior studying agricultural communications from Teutopolis, said the Agbassadors were instrumental in her choosing SIU.
"When an Agbassador came to my high school and did a presentation in my ag class, I really appreciated a student's perspective and being able to ask them questions," Hartke, who now serves as an Agbassador herself, said.
Presentations at high schools throughout the Midwest have been a staple of the program, along with leading tours of the campus and University Farms to visiting prospective students. The group also represents SIU at FFA conventions and contests, major agricultural events as well as telephoning and writing admitted students.
One of the first students recruited by the group recalled his experience first as a high school student and later as an Agbassador.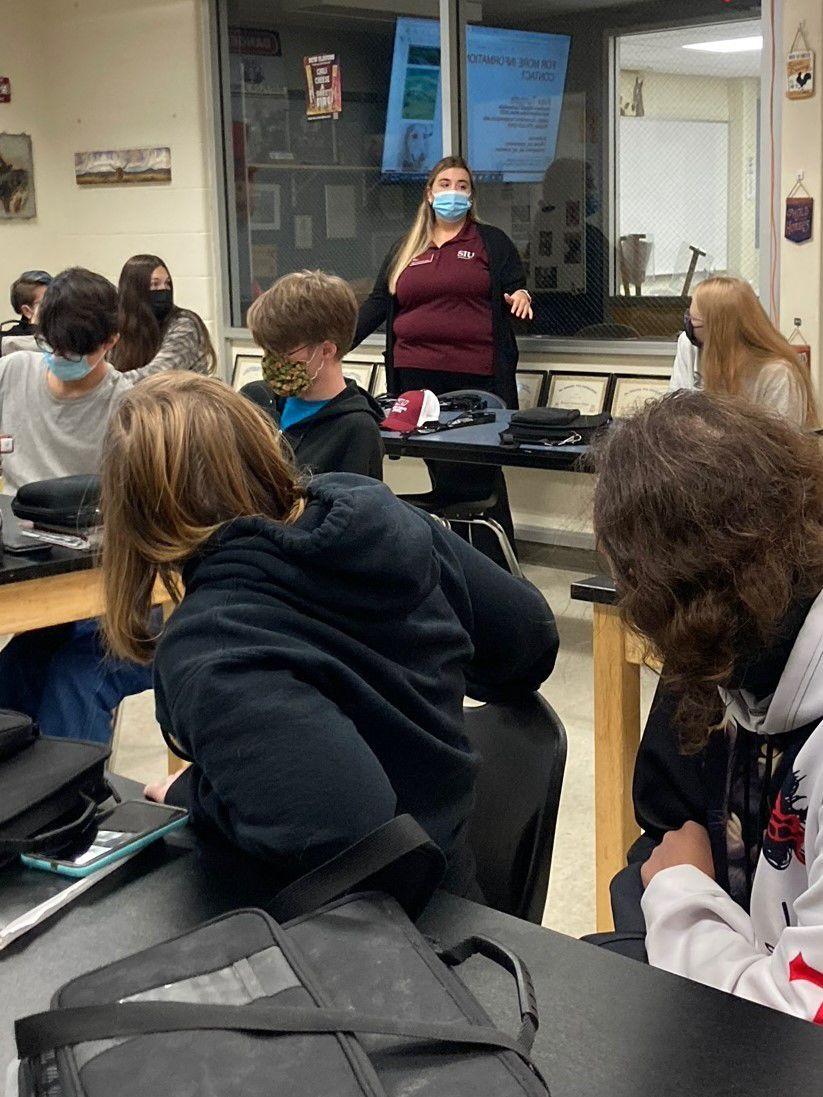 "I think back to when I was still in high school in Beardstown and I got this handwritten letter from somebody I had never met before – one of the Agbassadors," remembered Aaron Hager, who served as an Agbassador for 1989-1990. "I was like 'Wow. That's interesting that someone I had never met would take the time to sit down and write me.' It wasn't a form letter, it wasn't typed, it was hand-written and it made a difference."
Graham said there is real benefit in having students reach out to other students.
"It's a lot easier for a student who was in high school in the last three or four years to talk to a student about college. It's more effective when the message comes from a student – from someone close to their own age who understands what they are going through. They are able to really, really talk to one another and share their stories," she said.
'Influencers'
"I really enjoyed the experience. It was exciting to be part of a group that was promoting the university and agriculture," said Dwayne "Butch" Konicek who served as an Agbassador during the 1990-1991 academic year.
Konicek, who now works in financial services in the Chicago suburb of Yorkville, said group members were influencers years before the term was applied to social media celebrities.
"The program was a great experience. It taught me some leadership skills and certainly gave me confidence in public communications and speaking," he said.
Serving 25 years later, Elizabeth Butcher recalled a similar experience to Konicek; one of not only growing enrollment, but growing her own skillset.
"It gave me an opportunity to get behind the scenes at SIU. I was able to learn a lot that most students don't know about the university," explained Elizabeth Butcher, a 2015-2017 Agbassador. "To be an effective recruiter, we had to be well-versed in all aspects of the college and university, so it really enhanced my college experience."
Butcher, who works in agricultural marketing in Lynnville, Indiana, said being an Agbassador served her well.
"It got me involved and encouraged me to step out of my comfort zone," she said. "It helped me develop the ability to start a conversation with someone I didn't know and learn to relate to them on their level."
Butcher and other former participants shared how they completed Agbassadors with a greater perspective.
Hager, now a weed scientist with the University of Illinois extension service, said his exposure to Agbassadors helped him identify a career path and helped him appreciate agriculture.
"It was just a great group of motivated hard-working people trying not only to get students into the college itself, but to promote and ensure – maybe even secure – the future of agriculture in Illinois and around the country," Hager said.
Graham said more than 300 students have earned the title "Agbassador" during the group's existence, but she hopes for many more.
"We just believe in the Agbassador program," she said. "I hope it never goes away because it helps students, it helps the college and the university and it continues to advocate for agriculture."
A proposed railroad merger's potential impact on Southern Illinois transit
A pending railroad merger could impact train traffic and Amtrak service in Southern Illinois and elsewhere in the state served by the City of New Orleans, Illini and Saluki lines, leading some – including Carbondale's mayor – to oppose it.
But one industry expert told The Southern it's still too early to tell what, if any, changes will take place.
Canadian National owns much of the railroads in the region including the north-south line from Chicago to New Orleans through communities including Centralia, Du Quoin and Carbondale.
On May 21, the rail company entered into an agreement to combine with the Kansas City Southern railway.
Some predict the proposed merger — if approved by federal regulators — will increase freight traffic through Southern Illinois and make passenger service to the area more unreliable. Others say the argument is part of a public relations battle and it is too soon to know the effect.
Carbondale Mayor John "Mike" Henry recently called for a "thorough review on how a CN-KCS deal would impact the already poor performance of Amtrak service in the region," in a letter dated July 20 and submitted to the Surface Transportation Board, the federal regulatory body reviewing the proposed merger. 
His letter also said that the city feared the merger would mean "more traffic, more congestion and exacerbate an already frustrating situation."
"We just really can't afford a downgrade in service from Amtrak. That's the reason I wanted to get involved," Henry told The Southern this week.
The timing of the possible acquisition also coincides with Carbondale's plans for a new $17.3 million transit hub in the downtown area. Mostly funded by federal and state dollars, the station will replace the current Amtrak station and ultimately become a central location for numerous regional transit services, along with Amtrak, Greyhound, and the Saluki Express. 
Railroads and rivalries
At the forefront of the purchase is a century-old feud between Canada's largest railroad companies, the Canadian National and Canadian Pacific. 
Both railroads have made pitches to buy the Kansas City Southern Railway in recent months.
In March, the CP offered $29 billion to buy the railroad. Then, a few weeks later, rival Canadian National made a $33.6 billion competing bid for the railroad, which was approved by the KCS board.
This purchase still requires approval by the Surface Transportation Board, however. STB's ongoing review of what is called a "voting trust" includes time for input from the public and other entities including Amtrak.
In the meantime, both Canadian railroads are working to portray themselves as the ideal suitor for the Kansas City Southern.
Canadian National, commonly known as CN, is North America's fourth highest-earning railroad with nearly 20,000 route miles. Primarily serving southern Canada, the railroad branches southward to New Orleans, including the former Illinois Central Gulf Railroad, running north and south through Illinois.
Its longtime rival, the Canadian Pacific, has its rail system running through much of Canada as well as the upper Midwest including lines through Minnesota, Wisconsin, Iowa and tracks from Chicago across northern Illinois, through Iowa and Missouri to Kansas City.
Freight Waves, a resource for the global freight industry, reports CP is North America's No. 6 railroad company.
The continent's seventh-largest railway by revenue, according to Food and Power, an industry policy analysis firm, is Kansas City Southern. Its holdings include the very desirable cross-border route into Mexico. Analysis of rail maps shows that purchase of the KCS by either Canadian entity, would give the buying railroad lines spanning the North American continent into Mexico.
Concerns
More than 2,000 letters expressing opposition or support were filed with the STB during the initial public comment period that is now closed. 
Opposition to the merger has come from a number of fronts. Canadian Pacific has called the pending CN-KCS merger "anti-competitive." A CP-produced fact sheet alleges if the merger is approved, freight traffic on many Canadian National tracks, including those that run through Southern Illinois, will grow.
Amtrak, the country's passenger rail service, which runs on tracks owned by railroads, also is against the CN purchase of the Kansas City Southern railroad.
In a filing with the Surface Transportation Board, Amtrak specifically mentions concerns with plans the Canadian National has to divest itself of a Baton Rouge to New Orleans line following the merger.
Passenger rail performance
Amtrak's filing with the STB makes no mention of the former Illinois Central Gulf lines or its service on them. However, when asked about the impact the merger may have on passenger service in Illinois, a spokesman for Amtrak referred the newspaper to the "Host Railroad Report Card," a grading system for the on-time performances of its trains on freight lines. 
By law, freight trains are supposed to yield to passenger trains, but this law is not enforced and, in most cases, the opposite is true; passenger service routinely waits on sidings until freight trains clear the tracks, according to the grading system documents.
The grades reflect how frequently host railroads prioritize their own trains over Amtrak. For service to Southern Illinois on its City of New Orleans, Saluki and Illini routes, on the 2020 Report Card, Amtrak has assigned Canadian National a four-year average grade of D+, documents show. 
The grade is based upon whether 80% or more of Amtrak passengers are able to arrive at their destinations within 15 minutes of the scheduled time. For the Illini and Saluki routes — which run daily between Chicago and Carbondale — Amtrak specifically assigned Canadian National a failing grade of 72%.
Opponents of the Canadian National–Kansas City Southern merger hint that a post-merger CN would increase train traffic through Southern Illinois and put more pressure on already congested lines in the Chicago area, according to a "Fact Sheet" published by rival Canadian Pacific. 
Canadian Pacific President and CEO Keith Creel told the Chicago Tribune in June that his rail line would not increase the number of trains on the north-south line because it would go westward from Chicago through rural Iowa to reach the southern parts of the nation.
Amtrak's opposition to the deal has been bolstered by an executive order signed July 9 by President Joe Biden. With it, the president urged the Surface Transportation Board to consider freight railroads' treatment of passenger trains.
Growing opposition 
With the possibility in mind that a merger could mean more freight traffic and passenger service delays, Carbondale's mayor is worried about the potential impact.
"Every time I've ridden Amtrak in the last five or six years, the passenger trains have had to yield to the freight trains and, of course, some of these freight trains are very, very long so it causes Amtrak service to be off its schedule," Henry said. "I would really like to see Amtrak service be much more reliable."
A 2019 Amtrak Inspector General report called out the passenger carrier's poor performance on the Saluki and Illini lines. The report showed only 6% of northbound Illini trains arrived on time between September 2017 and 2018.
Henry added that the burden for Amtrak delays does not lie solely with CN.
"In all fairness to them, they need some infrastructure improvements and help. I know they are looking for some federal money to do that," he said.
In Henry's letter to the STB, he wrote that following complaints by Amtrak over the last decade, the officers of the railroad said "the greatest issue by far affecting the performance of that service are a lack of sufficient infrastructure to avoid traffic congestion and the perpetuation of unrealistic schedules."
Henry said he has not spoken to representatives of the CN in regard to the merger, but said the railroad and city have "a decent relationship."
Congressional leaders are voicing concerns as well.
Peter DeFazio, D-Oregon, chair of the House Transportation Committee, specifically mentioned Canadian National's downstate Illinois railways in a letter to the STB this week in opposition to the CN-KCS merger.
He said the merger is "not in the public interest."
On a website promoting the merger, Canadian National describes the merger as a way to greater competition and efficiencies.
In a prepared statement for The Southern, Canadian National said, "The CN-Kansas City Southern combination will create the premier railway for the 21st century by expanding North American trade, powering economic prosperity, providing numerous new service options for customers, while delivering many compelling benefits for employees, communities and ports."
'Too early to tell'
Jim Blaze, a nationally recognized railway economist who is watching the battle for KCS closely, said those expressing support or opposition to either proposed merger are, in essence, putting the caboose before the engine.
In an exclusive interview with The Southern, Blaze said the STB has not greenlighted any railroad mergers in 30 years and has generally said any merger needs to enhance competition and serve the public interest. 
Blaze worked as a long-range freight planner with the Illinois Department of Transportation for seven years. He said it is too early to gauge either railroad's plans post-merger and he is shocked by both company's efforts to win over public opinion.
"I've never seen quite so much media hype and assertions of competitive benefits since maybe the fight to split up Conrail in 1996," Blaze said. "Even that pales compared to what we are seeing here. Both roads have gone out and gotten shippers, customers and communities to sign up, saying they support one or the other."
Blaze explained that as part of the Surface Transportation Board's consideration of a merger proposal, applicants must file extensive documentation and projections, reporting everything from financial records and projections to planned routes and railroad capacities. Neither the Canadian National nor Canadian Pacific has submitted these application materials — called evidence — yet.
"I want to emphasize all that's been filed so far is the intention of an application," he explained. "Neither has filed an application with all of the details of how this is going to work. I think this is a lot of hype with very little technical ammunition on the strengths and weaknesses of the plans."
Blaze said even if the Canadian National is permitted to purchase the Kansas City Southern and if it does lead to increased freight traffic in Chicago, it may not all immediately travel south.
"There are different routes they could use to divert traffic," Blaze said. "Any increase is not necessarily going to flow through Carbondale and Southern Illinois. We won't know what their intentions are until they file their routing.
"Nobody has filed their evidence yet, so everyone is making arguments hypothetically but we don't know the actual numbers yet," Blaze said.
In its statement to The Southern, CN said the company will include plans for its routes in future filings with the STB.
"Throughout the combination process, we will work closely with Amtrak, communities and other stakeholders and will fully document the impacts of our combination in our application to the STB. We look forward to a decision on our voting trust so we can further engage with stakeholders and move forward in the process," the statement read.
Blaze said the Surface Transportation Board is likely to consider the matter in the next several months. Until then, and before the evidential filings, the public relations battle is likely to continue.
Spokespersons for both Amtrak and Canadian Pacific provided background for this report, but declined to be interviewed. Canadian National provided a written statement, but also did not make a representative available for comment.
'An Aha! Moment': Learning of life with dementia
I stood in front of the children's activity sheet and didn't know what I was supposed to do. The longer I looked at it, the more confused I became. I remembered being told to do something, but not recalling what it was I did nothing.
To outside observers, I'm sure I looked confused; almost like I had dementia.
I was participating in a program called Dementia Live, an experience offered by Marion-based Hospice of Southern Illinois to give caregivers, medical practitioners, family members and others a sense of what life is like for those with dementia, Alzheimer's disease or other disorders associated with aging.
It worked. Like many who have gone through the no-cost exercise, I came away with a better understanding of the sensory and cognitive losses that people with dementia or Alzheimer's live with on a daily basis.
The Centers for Disease Control and Prevention estimates 5.8 million people in the U.S. have one or more of the 400 types of dementia including Alzheimer's disease. Predictions are that by 2060, 14 million people will diagnosed with the impaired ability to remember, think or make decisions.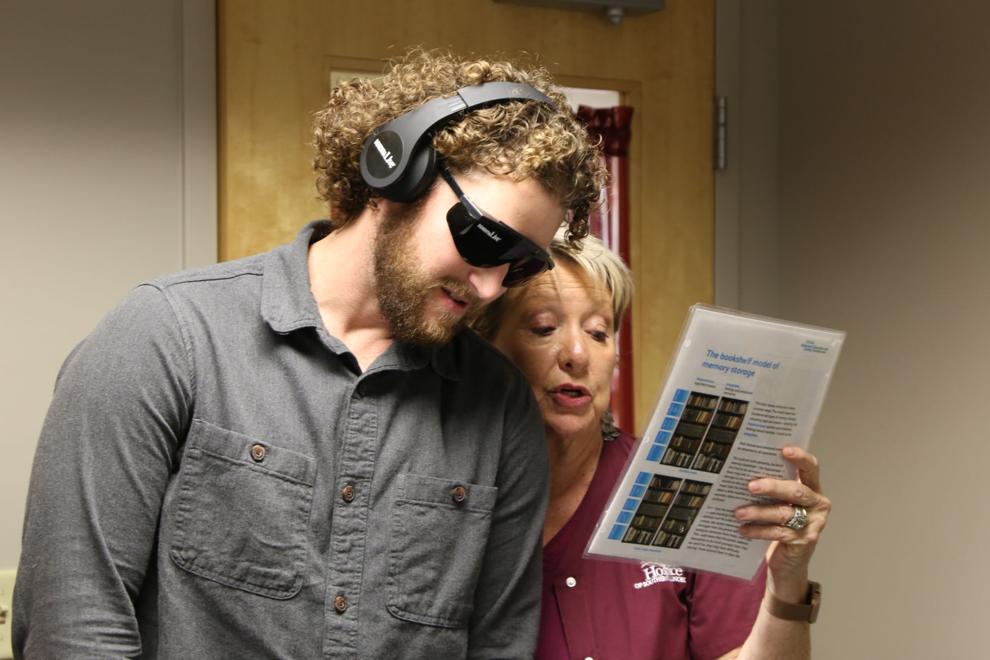 "This is so that people can come away feeling what it is like to have dementia or Alzheimer's disease," explained Melise Oakley, Community Education Coordinator for Hospice of Southern Illinois. "It is so you can be a better caregiver or a better provider, just knowing what they are going through. It is a phenomenal experience."
Hospice of Southern Illinois received a grant for the necessary materials and training to offer the experience. Since March, about 350 people have participated in the exercise. Oakley said the response from those who have done the exercise has been almost universally the same.
"It is an 'Aha!' moment of empowerment and understanding the confusion, the anxiousness and isolation – the things that someone who has Alzheimer's or dementia have," Oakley said, adding the exercise mimics many of the conditions that come with getting older: things like fading eyesight, diminished hearing and decreased feeling in the fingers.
To duplicate these issues, the Dementia Live experience uses a number of tools. Participants wear thick cotton gloves to limit dexterity and agility. Special glasses block peripheral vision and most disconcerting to those going through the experiment are the headphones, canceling out most other sounds in the room and constantly playing a mix of audio including, television sound tracks, barking dogs, conversations, door bells and more. The sounds were designed to not only replicate hearing loss, but also mimic the confusion that comes from "tangles" in the brain – how even simple things get mixed up or lost.
Once subjects are "geared up," they are led into a room where a series of otherwise simple tasks await. Participants are told they will be given oral instructions on five tasks to complete within the seven minutes of the experience.
In my case, Hospice of Southern Illinois Community Education Manager Deborah Hogg led me into the room. With the audio playing, she stood right behind my shoulder – where I could not see her – and started to read my assignments.
Without seeing her and with the audio playing, I could barely make out what she was saying. I heard something about "hanging up a vest," and I made out something about a knife and fork as well as mention of addressing an envelope.
After she said go, I looked around the room. I saw a vest on a table. I found a hanger and clumsily hung it up. I moved to a pile of silverware and a tray. Remembering the something Hogg said about a knife and fork, I struggled to separate the cutlery and put it in the right place in the divided tray. I was able to write my own address on an envelope even though it was barely legible; the gloves made holding a pen challenging. Next to the envelopes was that children's activity sheet. I remembered I was supposed to circle something, but what was it?
That's when it hit me. I didn't know what to do. I just stared at the page before giving up. I turned around. One of the other participants had stopped long before me, not understanding a single instruction.
Another, Kevin Haupft, 33, of Carbondale was completing the fourth of his five assignments before also surrendering. He said he didn't know what the final one was.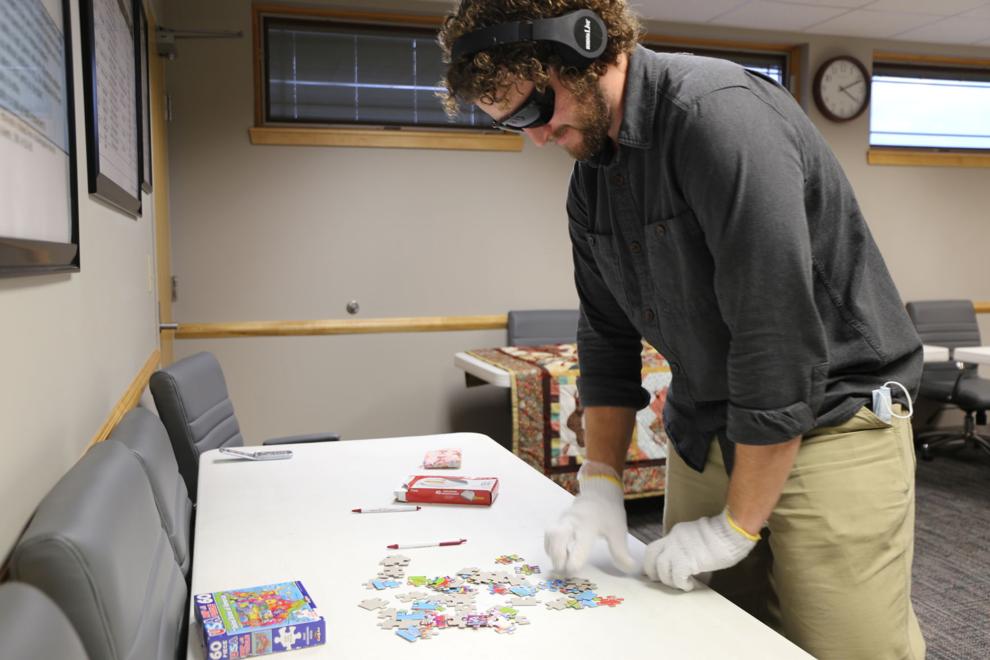 "It was very frustrating that I had tasks to do, but not being able to execute them," Haupt said. "I can see how that as a caregiver, it would take a lot of patience and understanding to work with people with these conditions."
I knew exactly what he meant. I spent much of the time trying to figure out what I was supposed to be doing and navigating the room successfully. I was better at navigation than completing the tasks. Hogg told me so in a post-exercise briefing.
"You were to zip a vest and place it on a hanger," she outlined. "Then type '1623' on a calculator, address an envelope to yourself, place a call to your friend and tell them the date and your location and finally, circle the fork and lamp on the activity page."
Oh. That's where the fork came into play. I had no idea about the lamp – and where did I get knife? I totally missed the zipping, the calling and the calculator.
Hogg said most people in Dementia Live have experiences similar to mine.
"It's what happens when we get older. There are so many distractions in our minds and you feel confused," she explained. "We will tell someone with Alzheimer's that they need to do this and this and then this and then leave them to do it. You come back in five or 10 minutes and they still haven't done anything because it all gets jumbled up."
Hogg said that is why it is important for family members and caregivers to understand what they are dealing with when it comes to working with the elderly.
"It's the perfect project for a family who has just found out or have had a diagnosis in their family to do together. It helps everyone understand the behaviors of an individual who has Alzheimer's or dementia," Hogg said. "You come away understanding better why they act the way they do and the things they do."
Hospice of Southern Illinois offers Dementia Live training free of charge. Information is available by calling the organization at (618) 997-3030.
Watch now: SIU, Shawnee leaders battle it out in fierce cornhole competition
The backyard game of cornhole is not a NCAA-sanctioned intercollegiate sport, but that didn't stop teams from Southern Illinois University Carbondale and Shawnee College from some competition.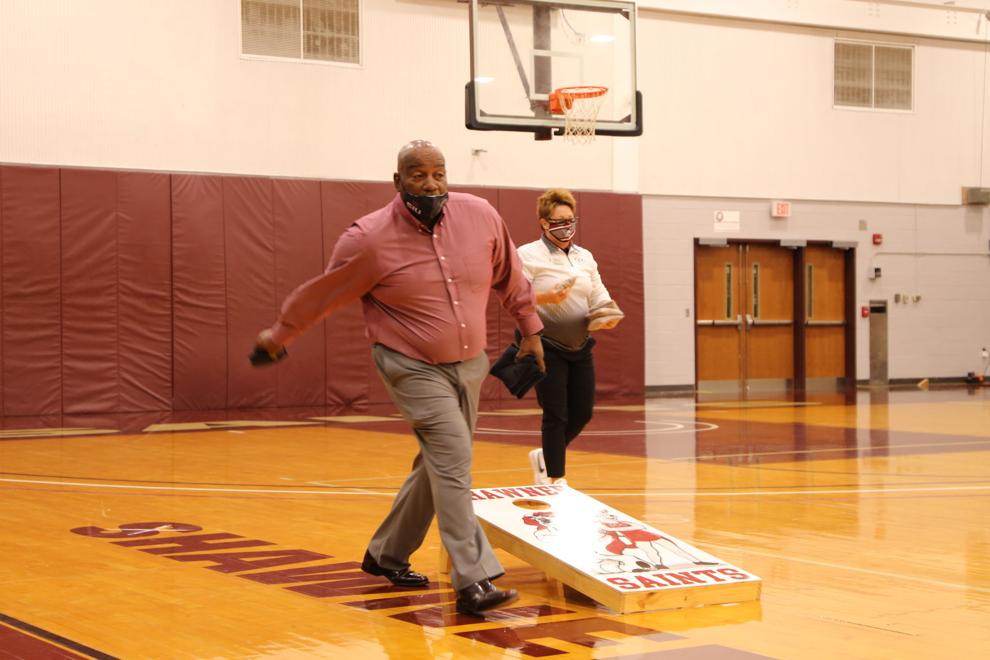 In advance of signing an academic agreement, Shawnee College President Tim Taylor invited SIU Chancellor Austin A. Lane to an athletic contest of sorts – a cornhole match.
Having moved to Southern Illinois from Texas just 14 months ago, Lane – a cornhole rookie – was seeking advice and tactics prior to the match, already dubbed "The Cornhole Classic."
"I told you that you should have Googled it," SIU Assistant Director of Admissions for Transfer Relations Josi Rawls told him.
Entering the Shawnee Community College gymnasium —  where cornhole boards and the basketball scoreboard were at the ready, Lane and his partner, SIU Vice Chancellor for Enrollment Management Wendell Williams, were definite under (Saluki) dogs.
Representing the hometown Shawnee Community College Saints were college president Tim Taylor and Dean of Academic Affairs Kristin Shelby.
Surprisingly, SIU jumped to an early 9-2 lead in the match to 21, but squandered the advantage, falling behind Shawnee 15-13.
A rally by Lane and Williams, as well as some miscues by Shawnee (Taylor's bags could not seem to hang on to the edge of the board), tied the score at 17. A round that found Williams and Shelby both connecting multiple times, put Shawnee up 18-17.
Lane gave SIU a short-lived 19-18 lead, by landing two on the board in a round where Taylor couldn't connect. Shelby's final round gained the hosts 3 points, giving Shawnee a 21-19 win over the Salukis.
"We started out too fast," Lane said in defeat. "When they were making their run, I should have called for a time out to regroup. She just got in a groove and did us in."
Following the match, Lane discovered that Shawnee's right-handed Taylor played the entire match with his non-dominant left hand.
"I wanted an excuse in case we lost," Taylor explained.
Leaving the gym, Lane was already seeking redemption.
"I want a rematch!" he said.