CARBONDALE — A Murphysboro man is facing multiple felony charges after he fired a gun at a Carbondale police officer while he was being processed following his arrest for an alleged theft from a store in University Mall.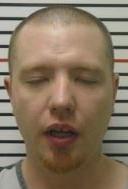 A news release from the Carbondale Police Department says Eric S. Brown, 36, of Murphysboro, was arrested Saturday after officers were called to the Rue21 inside the mall about 1:38 p.m. for complaints of theft and battery. The release says officers arrested Brown and transported him back to the police station for processing.
While being processed at the station, Brown pulled out a concealed weapon and fired toward a police officer, according to the release.
You have free articles remaining.
The release states "the officer retreated to safety and Brown remained detained and barricaded in the processing area." Brown surrendered the gun after speaking with a crisis negotiator. No one was injured, police said.
A spokesman for the Carbondale Police Department said Monday that a professional standards investigation is underway to find out why a gun was able to be taken into the the station, and why it was not found and confiscated during Brown's arrest. This is an internal investigation, the representative said.
A news release from the Jackson County State's Attorney's Office states that Brown is being charged with one count of aggravated discharge of a firearm in the direction of a police officer, a Class X felony that carries a potential sentence of 10 to 45 years in the Illinois Department of Corrections. He's also charged with one count of possession of contraband in a penal institution, also a Class X felony that caries of a potential sentence of between six and 30 years in prison.
Brown was also charged with one count of unlawful possession of a stolen firearm, one count of unlawful use of weapons by a felon and one count of reckless discharge of a firearm.
According to court records website Judici, Brown has previously been charged with burglary and forgery, both felonies.
Brown is being held in the Jackson County Jail on $500,000 bond. He is scheduled to appear in court at 12:45 p.m. June 11.
618-351-5823
On Twitter: @ismithreports