CARBONDALE — Montavious "Bobo" Graham, the 17-year-old boy who died in Carbondale on Wednesday, Jan. 1, was shot after committing armed home invasion with another young man, according to a news release from Jackson County State's Attorney Mike Carr.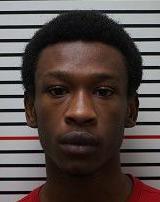 That young man, 20-year-old Marquashion D. Wilson, of Carbondale, has now been indicted by a grand jury in Graham's murder, and he faces two felony counts of armed robbery with a firearm and one felony count of home invasion with a firearm.
In one armed robbery charge, Wilson is accused of using a gun to rob a person of their cellphone on Jan. 1. In the second armed robbery charge, Wilson is accused of working with Graham to commit another armed robbery the same day, seizing a cellphone, $30 in cash and a pack of cigarettes from a victim.
The home invasion charge, meanwhile, stems from a third incident on the evening of Jan. 1, which "set in motion a chain of events which led to the death" of Graham, Carr's office stated.
Investigations indicate Wilson and Graham entered a residence south of Carbondale with a weapon and threatened the use of force against its occupants.
A struggle over a firearm ensued, shots were fired, and the suspects fled the scene, according to an earlier news release from the Jackson County Sheriff's Office.
You have free articles remaining.
About 10 minutes later, Graham arrived at Memorial Hospital of Carbondale with a life-threatening gunshot wound that proved to be fatal.
Neither the state's attorney's office nor the police agencies investigating the death have directly accused Wilson of pulling the trigger causing Graham's fatal gunshot wound.
However, Carr said, there are several ways that a charge of first-degree murder can be applied in Illinois.
Wilson is charged under the "doctrine of transferred intent," Carr said, which states that if a person is killed while committing an inherently violent felony, their accomplices may be charged with murder if they knowingly created a strong probability of death or great bodily harm to the deceased.
Wilson and Graham were responsible for jeopardizing each other's safety when they committed the alleged home invasion, the news release says.
"The law says it is foreseeable that someone would defend themselves," Carr said. "(Wilson) is charged with being accountable for it."
Carr said his constitutional responsibilities to facilitate a fair trial prevent him from providing further details about who fired the gun at Graham.
Wilson has plead not guilty to all counts, according to the court records website Judici.