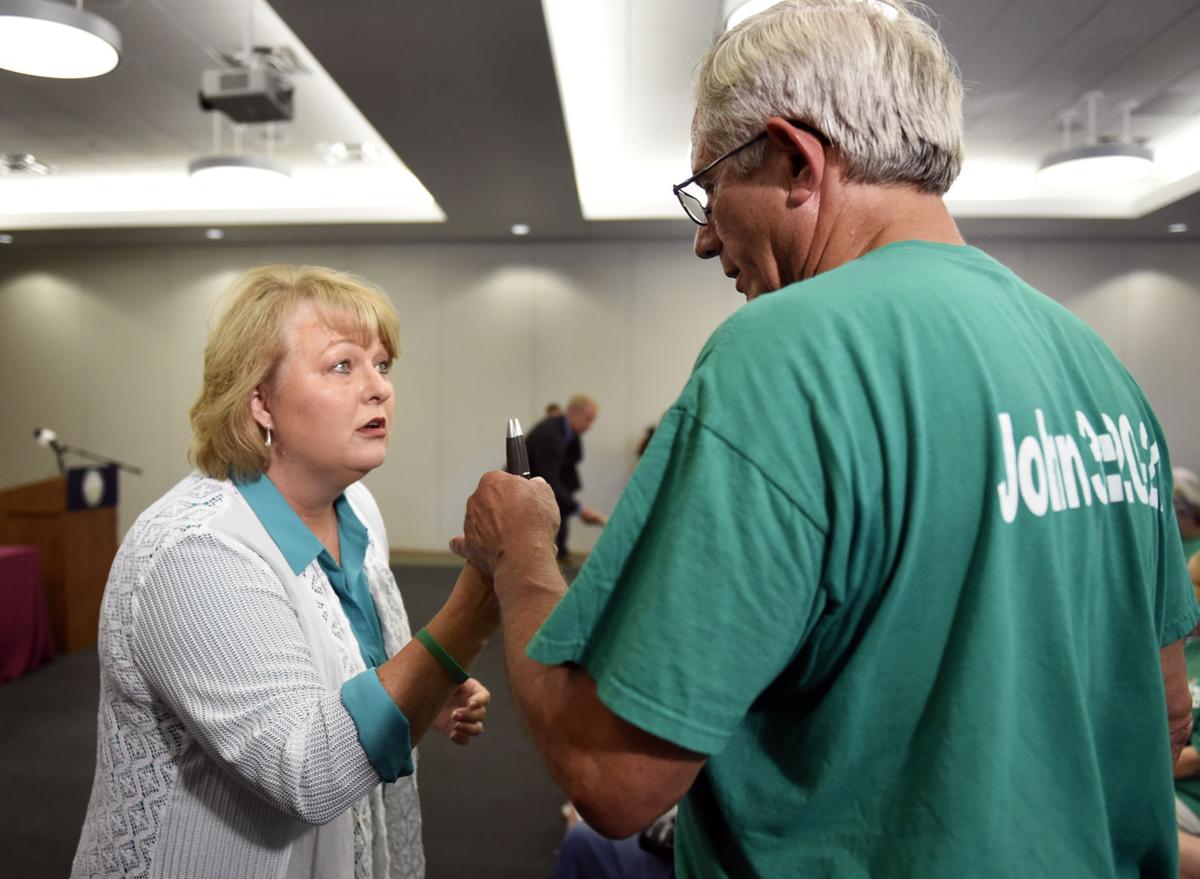 MOUNT VERNON — The Fifth District Appellate Court heard oral arguments on Thursday in Larry Young's appeal of a lower court's decision to dismiss his wrongful death lawsuit against former Carbondale police dispatcher Richie Minton, in whose apartment Young's daughter Molly Young was found dead on March 24, 2012.
A written decision will be issued at a later date. 
Jackson County Circuit Judge W. Charles Grace dismissed the case on May 6, writing in a seven-page order that he was sorry for Young's loss of his daughter, but that Larry Young failed to file the civil lawsuit within two years of his daughter's death, as required by state law. Judge Grace's dismissal of the case was solely based on the issue of whether the statute of limitations had passed.
The manner of Molly Young's death — whether suicide or homicide — has never been determined. In November 2014, a State's Attorney Appellate Prosecutor report said there was no conclusive evidence to issue an indictment, but stopped short of ruling the death a suicide, leaving the case open.
Belleville-based attorney Charles Stegmeyer, Young's attorney, argued at the time and in Thursday's appeal hearing that the law allows for an extension of the statute of limitations because crucial facts were purposefully kept from Larry Young, which he was not able to obtain until months and years later, that led him to file the wrongful death lawsuit. The legal term for this is "fraudulent concealment," and it extends the statute of limitations to five years when it can be demonstrated that the person filing the lawsuit made a good faith effort to uncover such matters within the statute of limitations, but could not because attempts were made to conceal discovery, he said. 
At Thursday's appeal hearing, Stegmeyer said this happened in numerous ways. The Southern did not attend the hearing in Mount Vernon, but reviewed the audio recording posted online by the court.
Stegmeyer alleged on the day Molly Young died that Minton called her around 3 a.m. "pretending to be drunk" and lured Molly to his apartment with the "sole purpose of commitment murder." Stegmeyer alleged that after killing Molly, Minton took off his clothes, took a shower, washed his clothes, and waited four to five hours to call police. While preliminary reports suggested that Molly Young died of suicide, Larry Young was skeptical, Stegmeyer said, and grew more so as he continued to ascertain additional information.
But Stegmeyer said that Young anticipated working closely with law enforcement and legal authorities to solve the case and seek justice for his daughter's death. But the months dragged on with no criminal charges against Minton. Young filed numerous records requests under the Freedom of Information Act in an attempt to obtain information about the case as he searched for facts to back up his suspicion — that Minton murdered his daughter. But officials stalled in releasing those documents to him, Stegmeyer said. In doing so, they cited numerous exemptions to the FOIA law, including an ongoing investigation, and as it related to graphic photos of the crime scene, privacy of the deceased.
The Illinois Attorney General's Office only recently ordered that officials turn over all documents that Young had requested.
Stegmeyer also pointed out to the court Thursday that Gov. Bruce Rauner had recently signed a two-bill package known as "Molly's Law," and that one of the bills extends the statute of limitations in wrongful death cases to five years.
Benton-based attorney Bryan Drew, representing Minton, told the court he would not spend much time discussing "Molly's Law" because it is not applicable to this case. The effective date of the bills is January 2017.
As he argued in lower court, Drew said Thursday that the only question before the appellate court is whether the statute of limitations had passed for Young to bring this lawsuit against Minton. He said the law clearly states that the clock begins in wrongful death cases at the time of a "sudden traumatic event," and that a gunshot wound to the head clearly fits that definition. Beyond that, Drew noted Larry Young still had two years from that time to file the lawsuit.
"I will acknowledge this is a very harsh result and it's difficult and I feel for the family of the plaintiff," he said. "They want to move forward. They want to investigate. I understand that. But the law is the law."
Drew said statutes of limitations, which vary based on the nature of a lawsuit or alleged crime, are important because they are intended to provide a measure of fairness to the accused as over time evidence can go stale and memories fade. Of "Molly's Law," which extends the statute of limitations in wrongful death cases, Drew said that sometimes legislators "do things to make people feel better." "They run for election," he said. Drew did not mention any legislators' names. The primary sponsor of the measures is Rep. Terri Bryant, R-Murphysboro, who is being challenged by Marsha Griffin, a Democrat from Jonesboro.
"The court is here, I believe, as a check on that, to say the law is what the law is," Drew said. "It can be painful. It can be harsh. But this is what the law is."
618-351-5079
On Twitter: @MollyParkerSI ​
Sign up for our Crime & Courts newsletter
Get the latest in local public safety news with this weekly email.