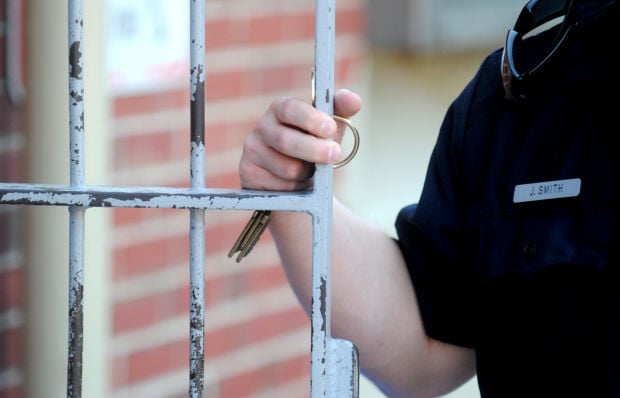 Are Illinois prisons equipped to handle the COVID-19 pandemic? Gov. J.B. Pritzker's answer to this question during his stop in Murphysboro on Wednesday hovered somewhere around maybe. The uncertainty he expressed brings into sharp relief the serious concerns around what would happen if any of the state's already overcrowded penal institutions experience an outbreak.
The facilities are all on lockdown, and no visitors are allowed, according to the Illinois Department of Corrections. Pritzker said that Acting Illinois Department of Corrections Director Rob Jeffreys has developed a plan for all of the state's facilities, many of which are in Southern Illinois.
"We're taking special care," he said. "We're doing the best we can. I'm looking at our prisons and the health care that's available in those prisons as well as how we can isolate people if we do find somebody who has COVID-19."
But there are steep challenges ahead, Pritzker indicated.
"It's sometimes hard," he said, of carrying out the drawn-up plans. "Our facilities are quite old in the state of Illinois. We have some that are more than 100 years old. They've been renovated over time but they're still not built for something like this. So we're doing the best we can to keep the prisoners safe, as well as, very importantly, the people who work in the prisons." Some of the state's oldest prisons are in Southern Illinois. Parts of Menard Correctional Center opened in 1878 and parts of Vienna Correctional Center in 1965.
In a 2018 ruling, a federal judge called some of the cells at Menard Correctional Center "shockingly small" while banning officials from placing a convicted sex offender together with another inmate who sued the state. The judge described the North 1 unit cells as a "metal box where there is barely enough room to use the toilet." Pre-coronavirus pandemic, the judge said that it was obvious that housing inmates doubled up in such close quarters would put inmates at risk of mental distress and violence.
Illinois has made inroads in reducing its prison population in recent years. Menard, for instance, is currently housing about 360 fewer inmates than its 2,575 maximum capacity, according to IDOC, and Vienna Correctional Center is right at capacity. But conditions are still not ideal for social distancing. 
Pritzker also indicated he is eyeing prioritizing early release for some prisoners who are serving time for nonviolent crimes and fall into high-risk categories for COVID-19, such as being elderly, sick or pregnant.
His comments came one day after numerous civil rights groups called on the governor to release prisoners early if they are due to be paroled within 120 days, have a viable clemency petition, are pregnant, postpartum or living with their infants, or who are elderly or in poor health.
"There are far too many people in our prisons, and most prisoners don't need to be there. IDOC has eliminated all social visits to prisoners, but the idea that they can keep the coronavirus from getting in is a pipe dream," Alan Mills, executive director of Uptown People's Law Center, one of the organizations that signed the open letter to Pritzker, said in a statement to the media.
Once this virus is introduced into the prisons, "there will be no way to stop it from spreading like wildfire," Mills said.
The letter was signed by 15 organizations, including the American Civil Liberties Union of Illinois, Equip for Equality, the John Howard Association, and the Shriver Center on Poverty Law.
Asked if he's considering early release as these organizations demanded in response to the spread of COVID-19, Pritzker said he and his team have "looked at what types of people we think should be considered eligible for that."
"That's something that I'm always thinking about, because we should do something about the nearly 40,000 prisoners that we have in the state of Illinois," Pritzker said. "Having said that, there are some very dangerous people who should not be considered. But there are others that are very vulnerable and who have committed some nonviolent offense and who should be first in line if we're going to do something like that."
In prisons, many basic disease prevention measures are against the rules or impossible for prisoners to follow, the civil rights organizations claimed in their joint press release. For instance, they said, covering one's mouth isn't possible while handcuffed, hand sanitizer is considered contraband for its high alcohol content, prisoners are not provided enough soap for frequent hand-washing, and social distancing can't be practiced in confined spaces.
IDOC facilities, they said, are notorious for being overcrowded, understaffed and ill-equipped to provide adequate medical care. The group noted that last spring, IDOC settled a case brought by prisoner rights' groups alleging that the health care in Illinois prisons is so poor it constitutes "cruel and unusual punishment" in violation of the Constitution.
For its part, IDOC said in a statement that it has taken numerous steps to protect prisoners and staff during this crisis. All visits were temporarily suspended as of March 14. To encourage prisoners to stay in touch with family and friends, they have expanded opportunities for video and phone calls, and are encouraging families to write to incarcerated loved ones as much as possible. Attorneys are still being allowed into the facilities, but must be screened upon arrival. Further, IDOC said it is making hand sanitizer, antibacterial soap and cleaning supplies available to all staff and prisoners. Supply levels are being closely monitored and IDOC said it remains in close contact with vendors. Further, all staff must have their temperature checked before they can enter, and all new individuals reporting to the prison for intake are being screened by medical personnel and quarantined for 96 hours.
But the civil rights groups say it's not enough, and asked the governor to act urgently on their suggestions.
"Many of the individuals in IDOC custody are among the most vulnerable for catastrophe should an outbreak occur," they said in their letter to the governor. "We hope that you will approach their health as seriously as you have approached the health of the rest of the state."
618-351-5079
On Twitter: @MollyParkerSI ​
Concerned about COVID-19?
Sign up now to get the most recent coronavirus headlines and other important local and national news sent to your email inbox daily.