After a two-day jury trial, a Carbondale man has been convicted of robbery.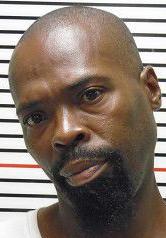 According to a news release from the Jackson County State's Attorney's Office, Alphonzo E. Higgins, 49, of Carbondale, was found guilty on Tuesday. The release says that shortly after midnight on Feb. 1, Higgins and another person followed two Carbondale residents home after watching them withdraw money from an ATM.
The release says after following them to their apartment on South Marion Street, Higgins and his accomplice "attacked the two victims and took cash from them as they attempted to get inside the building."
Surveillance videos from the bank and apartment complex helped authorities identify Higgins, the release states.
Because of his criminal history — he has several battery convictions, according to court records website Judici — the release says the court is classifying the robbery conviction as a Class X felony. The conviction could carry between six and 30 years in the Illinois Department of Corrections.