A Carbondale man was found guilty following a three-day jury trial on unlawful drug and weapons charges.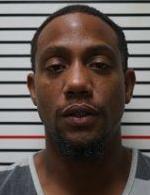 According to a Thursday news release from Jackson County State's Attorney Michael Carr, Ronald G. McConnell, 35, was found guilty of unlawful use of a weapon, a Class 4 felony, and unlawful possession of cannabis, a Class A misdemeanor.
You have free articles remaining.
According to the release, the Carbondale Police Department responded on Dec. 23, 2015, to an apartment parking lot on East Park Street after they got a call from a resident who observed an apparent drug deal happening inside an SUV. When officers arrived, they found McConnell and a passenger in the SUV; after smelling cannabis, they searched McConnell, the car and the passenger.
Officers found a loaded Colt 1911 .45-caliber handgun and two large bags containing 38 grams of cannabis under the driver seat of the SUV, and charged McConnell. 
Following the guilty verdict, McConnell's bond was revoked and he was remanded to the Jackson County Sheriff where he will remain, without bond, while he waits to be sentenced. A sentencing date has not been set.
McConnell faces up to three years in state prison on the weapon charge.