A 24-year-old Carbondale man was sentenced Monday to serve 30 months in prison after police found him in possession of a gun after he had been earlier convicted of a felony burglary charge.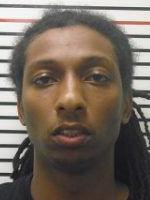 According to a news release from Jackson County State's Attorney Michael C. Carr, Demarcus O. Jones pleaded guilty on Monday to a charge of unlawful possession of a weapon by a felon, a Class 3 felony. The sentence was handed down after his guilty plea. He will also serve one year of mandatory supervised release after he serves his time in the Illinois Department of Corrections.
According to the release, Carbondale Police officers found Jones in possession of a .38-caliber semiautomatic handgun and a fully loaded extended .38-caliber magazine consistent with the gun. Officers on Aug. 25 stopped a vehicle in which Jones was a passenger and searched the car after a drug dog detected narcotics in the car.