MURPHYSBORO — A Carbondale man will serve five years in state prison after he was convicted in July of several charges in connection to an incident in which he punched and threatened a man with a gun inside a Carbondale gas station.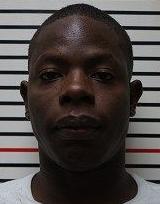 According to a news release from Jackson County State's Attorney Michael Carr, Devin D. Brooks, 27, was sentenced Friday. He was convicted after a two-day jury trial this past July of unlawful use of weapons by a felon, defacing the identification marks of a firearm and aggravated battery, all Class 3 felonies.
You have free articles remaining.
Keep reading for FREE!
Enjoy more articles by signing up or logging in. No credit card required.
According to the release, Carbondale Police officers at 3 a.m. on Jan. 11 responded to the Circle K on East Walnut Street for a report of a man with a gun. While police were on their way to the scene, they saw a man running away from the Circle K and cutting through backyards in the area. Police gave chase and eventually caught Brooks, and later found that he had ditched a pistol while he was running away from the gas station; the serial number had been defaced and the gun was loaded.
Police later learned that Brooks and others had been harassing another person inside the gas station. Brooks had punched the person and then pulled a gun on him.
Brooks got five years on the weapons possession charge and two years each on the other charges; he will serve the sentences concurrently for a total of five years in prison.