CARBONDALE — Carbondale man Judious Kizeart was sentenced to 10 years in state prison for his role in an armed robbery and shootout that left his apparent accomplice, Brandon Brooks, dead, Jackson County State's Attorney Mike Carr said in a news release Friday.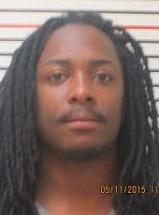 On Feb. 15, 2018 Kizeart, 26, and Brooks, then 35, met with two individuals from St. Louis behind an apartment complex on Mill Street in Carbondale to complete a previously arranged sale of a pound of cannabis, Carr's office indicated.
One of the individuals entered Brooks' and Kizeart's car to "seal the deal," Carr's office said, while the other remained in another vehicle.
Brooks and Kizeart robbed the individual who entered their car, and Brooks opened fire on the other vehicle, hitting its occupant in the throat and wrist.
That person returned fire, hitting Brooks in the chest and back, and ultimately killing him.
The individuals from St. Louis fled the shooting and headed to Carbondale Memorial Hospital.
On the way, they got in a crash near Illinois Avenue and Main Street, Carr's office indicated. A passing vehicle picked up the man with the gunshot wounds and delivered him to the hospital, likely saving his life.
Kizeart, meanwhile, fled the scene of the shooting and headed to an apartment on South Logan Street, where he abandoned the car he was driving, which was a rental, dumped Brooks' body, and fled with money and Brooks' handgun, according to the statement from Carr's office.
He was arrested months later at the St. Louis airport, Carr's office stated, after getting off a flight from California.
Kizeart pleaded guilty to robbery, a Class 2 felony, carrying a seven-year prison sentence, and calculated criminal cannabis conspiracy, a Class 4 felony carrying a three-year sentence. He will serve three years of mandatory supervised release after completing his sentence in the Illinois Department of Corrections.
Kizeart was originally accused of felony murder in the case, though he did not shoot or carry a weapon during the incident.
Carr could not be reached Friday afternoon to discuss that charge. However, in a recent interview with The Southern, he explained that defendants may be charged with murder under the "doctrine of transferred intent" in Illinois.
That policy states that if a person is killed while committing an inherently violent felony, their accomplices may be charged with murder if they knowingly created a strong probability of death or great bodily harm to the deceased.
The murder charge was ultimately dropped as part of Kizeart's plea deal, Carr's office indicated. Kizeart was also originally charged with armed robbery, a Class X felony that could have carried a potential sentence of six to 30 years.
In the summer of 2017, Kizeart's name was in the news as one of three alleged targets of a contract assassination, to be executed by three Salina, Kansas, men.
The suspects, Alex B. Karcher, 22; Xavier L. McCray, 22; and Xavier E. Lewis, 24, were arrested in Southern Illinois without harming any of their alleged targets. However, in the police chase that led to their arrest, Karcher fired seven shots from a high-powered rifle toward pursuing officers, striking Officer Trey Harris in the eye. Harris survived the injury.
Sign up for our Crime & Courts newsletter
Get the latest in local public safety news with this weekly email.