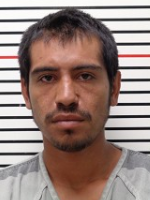 A Carbondale man was sentenced Friday to serve 34 years in prison after he pleaded guilty to sexually assaulting a 6-year-old girl.
According to a news release from Jackson County's top prosecutor Michael Carr, 29-year-old Jose Pina Hernandez, in addition to his more than three-decade prison sentence, will serve three years of mandatory supervised release and is required to register as a sex offender after his release from prison.
The release states Hernandez pleaded guilty to a Class X felony charge of predatory criminal sexual assault of a child. According to the release, Hernandez in July of 2017 penetrated a 6-year-old girl with "his finger or fingers" for the purpose of his own sexual arousal or gratification.
Carbondale Police Department conducted the investigation.