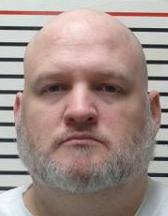 MURPHYSBORO — A 44-year-old Carbondale man was sentenced to serve eight years in the Illinois Department of Corrections Wednesday after he pleaded guilty to one count of criminal sexual assault in the 2017 rape of a 16-year-old girl.
According to a news release from Jackson County State's Attorney Michael Carr, Paul E. Jennings entered an open plea of guilty to the Class 1 felony charge in January.
Carr said that on Feb. 5, 2017, a visibly shaken 16-year-old girl who had been reported missing from a Carbondale rehab facility arrived at the Carbondale Police Department to turn herself in. She told police that an unknown male had sexually assaulted her. 
The girl told police she had been looking for the Amtrak station when she encountered a man, later identified as Jennings, outside his home on South Washington Street. Jennings offered the girl money, according to the release, in exchange for the girl painting his house. She agreed, telling police she wanted the money to pay for a train ticket.
She told police she placed a plastic covering over the air conditioning unit outside Jennings' home; a detail that would later connect Jennings to the case, according to the release.
The girl told police she and Jennings walked to Old Towne Liquors on the Strip, then returned to his home. The two were seated on the couch when Jennings grabbed her face and tried to kiss her, she told police. She tried to get away, and Jennings replied that she wasn't going anywhere. The girl repeatedly told him no, but Jennings forcefully removed her clothing and raped her.
The girl was examined at Memorial Hospital of Carbondale. She later showed officers the residence where the incident happened, and pointed out that plastic covering she had put on the air conditioning unit. She later identified Jennings in a photo lineup.
Carr said officers were able to corroborate the girl's accusations with physical evidence and video surveillance. Jennings was charged in a June 2018 indictment with two counts of criminal sexual assault.
After he serves his eight-year sentence in state prison, Jennings will serve three years of mandatory supervised release. He will have to register as a sex offender for the rest of his life.