MURPHYSBORO — A Carbondale man was sentenced Thursday to serve 18 years in state prison for a 2017 shooting that injured another man.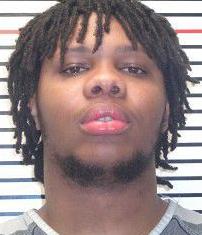 According to a news release from Jackson County State's Attorney Michael Carr, Rahsaan D. Graham Jr., 22, was convicted in a June jury trial of aggravated discharge of a firearm and unlawful use of weapons by a felon.
Graham was sentenced to 13 years for the Class 1 felony aggravated discharge; he is required to serve at least 85 percent of that sentence and will then serve two years of mandatory supervised release. He also got five years for the Class 3 felony unlawful use of weapons, which will be served consecutively to the other sentence, and for which he will also serve one year of mandatory supervised release.
The release said Carbondale officers responded on June 10, 2017, to the intersection of West Oak and North Irvin streets after a shooting was reported, where they met a woman who said she had been driving when Graham shot toward her car.
The woman, who wasn't named in the news release, told officers that she had been leaving a convenience store with two passengers in her car when she noticed a car was following them. She then heard five gunshots, and turned and saw Graham firing at her vehicle. She drove away quickly, then noticed that one of her passengers had been shot. She drove her passenger to the hospital and called police. The injured man wasn't cooperative with the investigation, according to the release.
The woman's car was also damaged in the shooting. According to the release, her rear passenger window was shattered, the car had a flat tire, and bullet marks were seen on the trunk and rear passenger bumper.
The driver testified that leading up to the jury trial, Graham approached her several times and made threatening gestures toward her with a handgun, and also offered her money to leave the area. She also told the jury that Graham had fired shots at her vehicle again this past June while she was on the Strip. That shooting caused her to crash her car. According to court records on judici.com, Graham faces additional charges connected to that shooting.
Renard M. Ward of Tennessee was also charged in connection with the shooting on the Strip; he is set to stand trial beginning Feb. 19. Brett Jones of De Soto was also charged in connection with the Strip shooting; he is set to stand trial in April.