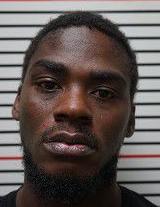 A Carbondale man on Friday pleaded guilty to a Class 3 felony charge of aggravated battery to a child, according to a news release from Jackson County State's Attorney Michael Carr.
According to the Monday news release, Terrill A. Travis, 35, battered the child while he was on probation for a 2018 theft and a 2017 forgery, and he was sentenced to additional prison time on those charges.
You have free articles remaining.
Keep reading for FREE!
Enjoy more articles by signing up or logging in. No credit card required.
Carr's news release said Travis on July 24 whipped the child with a charging cord and then stepped on the child's head. He got four and a half years in state prison after he pleaded guilty to the battery to a child charge, and an additional one year of mandatory supervised release.
At the same time, Travis admitted he violated probation on two separate felony charges. He was sentenced to three years in prison for stealing from the Murphysboro Walmart in 2018, and to four and a half years for a felony forgery charge that happened at the Carbondale ZX Gas Station in 2017. He'll serve an additional one year of mandatory supervised release on each of those terms.