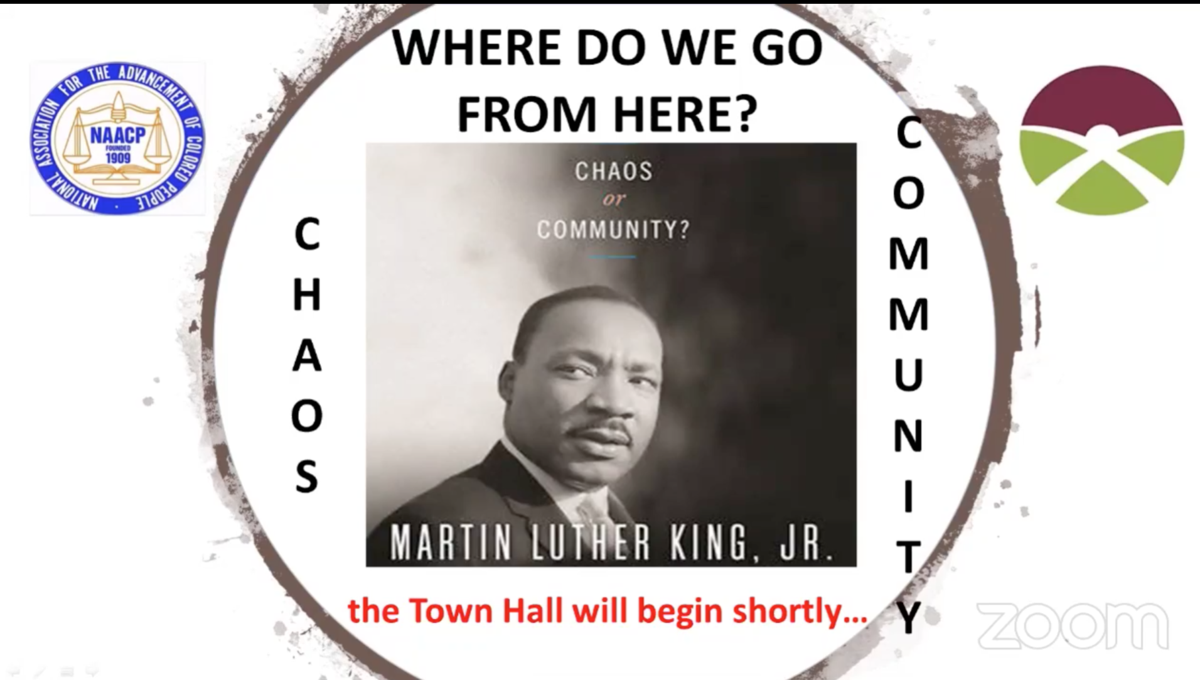 CARBONDALE — Thursday's virtual town hall on policing in Carbondale was the start of a much longer discussion.
The event featured a host of panelists, some from Carbondale, including Nancy Maxwell and Linda Flowers from the Carbondale Branch NAACP, as well as Carbondale Police Chief Jeff Grubbs and Fire and Police Commission member Randy Burnside. Also in attendance were several police leaders from around the state, as well as Teresa Haley, the state's NAACP president.
The discussion comes in the wake of weeks of marches, protests and demonstrations calling for action to disrupt the national cycle of police killing unarmed Black people.
Protests erupted nationally after the Memorial Day killing of unarmed Black man George Floyd in Minneapolis in Minneapolis police custody. A video of the incident catches Floyd's last moments as he utters "I can't breathe" as a White officer presses his knee into Floyd's neck.
Demonstrators in Carbondale and around the country have demanded wholesale changes to policing in the U.S. as outrage boils over after decades of police mistreatment of people of color. Louisville, Kentucky's Breonna Taylor and Aurora, Colorado's Elijah McClain have also become faces of this movement.
Flowers opened the town hall with a moment of silence and words of optimism that change could be accomplished. She also reiterated part of the NAACP's mission.
"We are anti-police brutality. We are also for a more equal and equitable Carbondale community," she said.
The discussion began with an overview of the 10 Pillars of Community Policing, a document signed in 2018 by both the Illinois NAACP and the Illinois Association of Chiefs of Police. Carbondale has also signed on to the document in conjunction with the local NAACP.
Among the 10 principles are the beliefs that every life has value and every person should be treated with dignity and respect. It also calls for de-escalation training to be mandated for all departments in the state.
The document also supports diversity within law enforcement and rejects discrimination based on race, ethnicity, religion, color, nationality, immigrant status, sexual orientation, gender, disability or familial status. The principles also say the development of relationships "between law enforcement and communities of color at the leadership level and street level will be the keys to diminishing and eliminating racial tension."
After the principles were reviewed, the panel took questions, some of which were sent in beforehand, others which came in during the discussion.
Among the first questions was about a requirement that Carbondale Police officers live in town. Burnside said while this would be ideal, it also can be limiting to the applicant pool for jobs. An easement was suggested that would give buffer time for officers new to the area to find a place in town. Haley later in the evening stressed how important it is that officers live in the communities they serve.
To the question of whether Carbondale has found more efficient models for handling nonviolent 911 calls than having officers respond, Carbondale City Manager Gary Williams and Chief Grubbs said that having a mental health response team to respond with officers would be great. But limits in resources to hire them are an issue, as are the number of beds for mental health patients — Williams pointed out that Illinois has been a leader in defunding mental health in recent decades.
"We've got to have state and federal assistance," Grubbs said of the need to fund mental health services.
When asked about citizen oversight of the department, city officials said there was nothing official outside of complaint forms and the city's Human Relations Commission. However, Williams said he would be open to creating a board that had subpoenaing powers "if that's what the community wants."
There were multiple questions about police vehicle dash cameras and the use of body cameras by Carbondale officers. Grubbs said the department has been using dash cams since the mid 1990s. Both he and Williams expressed interest in using body cams, but said that, again, resources were an issue. This has less to do with the cost of the cameras themselves, but with the need to hire another employee to handle file management and the processing of Freedom of Information Act requests.
The panel was asked what kind of police reforms CPD is going to put in place in light of the current national climate. There were little concrete changes or reforms discussed here. However, Grubbs pointed to reviews of policies, including the department's use of force policy.
The panel lasted two hours, and it was announced that because there were so many community questions submitted there would be a second, and possibly a third, town hall scheduled in order to address them.
In his closing, Burnside said he was encouraged by the discussion, but said there must be a middle ground between those that want to eliminate policing entirely and those who think everything is fine. However, he also called for a change in the way police problems are discussed. He said calling violent cops "bad apples" was "a ridiculous analogy."
"You have to address what's happening in the structure of police in these communities," Burnside said.
"We need to deal with the issue of trees, not apples."
618-351-5823
On Twitter: @ismithreports
Sign up for our Crime & Courts newsletter
Get the latest in local public safety news with this weekly email.