MURPHYSBORO — A De Soto woman has been indicted by grand jury on charges of murdering of her husband this past October, according to Jackson County State's Attorney Michael Carr.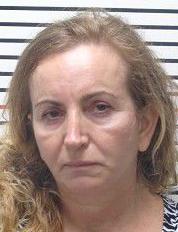 Carmen Stonemark, 54, was indicted on five counts, including the solicitation of the murder of her late husband, Frank Stonemark, 76, according to a Thursday news release from Carr's office. Carmen Stonemark is currently at the Jackson County Jail with a bond set at $2.5 million.
James Michael Deese, 52, pleaded guilty on Monday to first-degree murder in the Oct. 29 death of Frank Stonemark. He was indicted in March on first-degree murder.
Carmen Stonemark's indictment alleges that she committed first-degree murder in soliciting Deese to commit first-degree murder, with the intent to promote or facilitate the commission of the act.
She was also indicted on two counts of solicitation of murder alleging that she requested Deese commit the offense. The indictment also charges Carmen Stonemark with concealment of a homicidal death, in that she or somebody she is legally responsible for concealed the death of Frank Stonemark with knowledge he died of homicidal means.
The final count in the indictment is concealment of death, alleging that she or somebody she is legally responsible for moved the body of Frank Stonemark after he died with the intent of concealing information.
If Carmen Stonemark is convicted of first-degree murder, she will face up to 20 to 60 years in prison without the possibly of probation. Solicitation of murder carries a sentence of 15 to 30 years and does not come with probation.
Concealment of a homicidal death carries a sentence of two to five years and concealment of a death has a potential sentence of one to three years.
Deese on Monday admitted to strangling or choking Frank Stonemark on or about Oct. 29 with the intent to kill or cause him great bodily harm to him.
Deese will be sentenced at 9 a.m. Sept. 15 at the Jackson County Courthouse. The range of sentencing will be 20 to 60 years and Deese must serve 100 percent of the sentence handed down. There is no possibility of probation with the sentence.
According to court documents signed by Carr, the state has recommended a sentence of 25 years for Deese. He would be 77 years old before he is eligible for release.