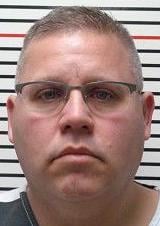 MURPHYSBORO — Judge Ralph Bloodworth heard arguments Friday about whether the state should compel the juvenile complainant in a sexual assault case to produce her cellphone for the defense.
According to the bill of indictment, which was released in December, Fenton is accused of digital penetration and other sexual acts with a female under the age of 18 but older than 13 years old. The incident allegedly occurred in July 2017.
Wepsiec said getting access to the cellphone was key to their defense of proving "this never happened" and that the accusations were made out of retaliation for a disciplinary action.
In his argument for why the court should compel the state to take possession of the phone, Wepsiec said that in April 2016, Fenton caught the alleged victim "sexting" — sending explicit photographs or messages — to another person. He said her accusations of sexual assault by Fenton were in retaliation for her discipline.
Wepsiec said having the phone forensically examined to find the evidence of the sexting activity would help build their case. He quoted from the 32-page grand jury transcript where a special agent from the Illinois State Police discusses the explicit photographs during testimony — this, he said, provided evidence of the images.
Wepsiec said if the court would not compel the state to take the phone, he would ask for a subpoena to acquire it for his case.
Jackson County assistant state's attorney Rebecca Blomer said the state had no plans of using the cellphone in their case, and was not in possession of the phone and did not plan to be.
She reminded Bloodworth in her rebuttal that the Supreme Court has said that the court can deny any discovery request if it lacks evidence or if it would be considered harassing or embarrassing. She also said that the defense had no evidence that the alleged messages exist.
Bloodworth made no immediate decision on the matter. He took the arguments under advisement and will make a decision at a later date. According to Judici, there is not a new hearing date scheduled.
According to a December news release from the State's Attorney's Office, if found guilty, Fenton could face 22 years of imprisonment with a mandatory supervised release period of two years to natural life.