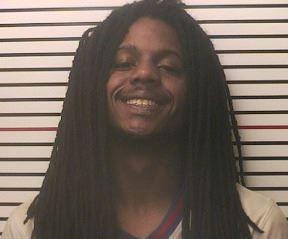 MURPHYSBORO — After nearly a week of trial, a jury found 23-year-old Nicholas A. M. Hastings, of Carbondale, guilty of aggravated battery and armed robbery in connection to an incident in Carbondale last year.
The prosecution alleged that during a drug deal for Percocet, Hastings was sitting in the front passenger seat of a vehicle driven by an unnamed juvenile when he robbed the buyer at gunpoint last August on High Street in front of the former Carbondale High School complex which includes Rebound and The Boys and Girls Club.
During her closing arguments Thursday, Assistant State's Attorney Rebecca Blomer recalled testimony that said Hastings put the gun into the victim's side when it went off — the man was trying to exit the black Chevy four-door sedan.
She also recalled Facebook messages between Hastings and the juvenile driver — Hastings said he hoped he was not going to be found.
"I hope I'm good," the juvenile said. "He don't know s--- about you." The messages were sent the evening of the incident.
The defense took issue with the victim's identification of his client. Hasting's defense attorney, Christian Baril, reminded the jury that the victim did not pick Hastings' photo when interviewed by police and shown a line up — he was considered a person of interest because of his relationship to the juvenile who had been arrested. Instead, he came to them later after seeing Hastings in a music video. Baril said police protocol for photo lineups are head shots only so as not to skew a person's memory.
The music video was shown to the jury over Baril's objection. The music video depicted Hastings with a gun, rapping about street crime, which Baril thought would be highly prejudicial to the almost all white jury.
Hastings stood tall when the jury was brought in to announce its verdict. He put his hands behind his back after the guilty verdicts were read by judge Ralph Bloodworth, silver wrist restraints sitting just below the pink cuffs of his dress shirt.
"I ain't got a jury of my peers," he exclaimed as he was led away. His mother telling him to "calm down," choking the words through tears.
"Y'all taking me away from my son," he said. His 7-month-old son was in court, matching his father's attire, wearing a white bow tie.
Baril told The Southern that a motion for a new trial would be filed with the circuit court, as well as a subsequent appeal, if that action is denied.
— Editor's Note: This story has been updated to clarify the location of the robbery.