MURPHYSBORO — An Elkville man is accused of calling in bomb threats to schools, a health center and a police agency in Canada.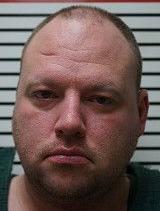 Justin Bagley, 36, was arrested on Saturday after investigators tracked his phone number. He is charged with 11 counts of felony disorderly conduct for making false bomb threats, according to a news release from Jackson County State's Attorney Michael Carr.
Jackson County authorities received a call from the police service of Taber, a small town in southern Alberta, Canada, on Saturday night. Taber police reported 10 bomb threats were made at numerous locations throughout the town over a 48-hour period.
Several locations in Taber were evacuated, and security measures were taken, according to the Jackson County Sheriff's Office.
Bagley is currently being held in the Jackson County Jail. He was scheduled to make his first court appearance at 1:30 p.m. Monday, Carr indicated.
Bagley faces two to five years' imprisonment on each of the 11 counts, if convicted.
In 2005, Bagley was convicted of a Class 3 felony for calling in a bomb threat at the Du Quoin Walmart
Bagley was then an employee of the store, according to Du Quoin Police Chief Jim Booker. He claimed he'd placed a chemical bomb in the store's duct system, causing the evacuation of customers and employees.
Officers from the State Police bomb squad checked the store and no bomb or other device was found.