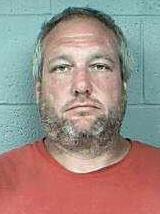 PINCKNEYVILLE — Robert Pfister could hear wind chimes.
He was now almost completely blind. The sound told him that a house must be nearby, and in it, maybe help.
"Is there anybody in there and could somebody help me, please," he shouted. Pfister was covered in mud and blood and his right eye was quickly losing sight. His vision was already gone in the left.
Help did not come from inside the house, but rather from a passerby on the road, a Baptist minister. Then, the police came.
This is the story as Pfister told it while testifying as the first state's witness in a case against Allen J. Fisher that started Wednesday.
Fisher is charged with two counts of aggravated battery and one count of intimidation in the April 2018 assault of Pfister. The prosecution is alleging that Fisher's attack constitutes torture, which it defined in charging documents as "subjection to extreme physical pain, motivated by an intent to increase or prolong the pain, suffering or agony of the victim." Fisher is also accused of blinding Pfister in the attack, during which he allegedly gouged or clawed Pfister's eyes.
In opening statements, Fisher's defense argued the prosecutor accused the wrong man.
PINCKNEYVILLE — Despite a last-minute pretrial conference Friday, Allen Fisher is still set to go to trial next week.
Pfister's testimony was long, detailed and emotional, with both he and Assistant Perry County State's Attorney David Stanton coming to tears by the end.
Pfister told the court that he spent April 7 at a VFW hall in Coulterville for a benefit. He said at about 4:30 p.m., he decided it was time to head back to his home outside of Nashville, Illinois. But, he said he decided to take the scenic way through Swanwick — there were some antique cars that had caught his eye previously as he drove through for work.
When looking for the cars, something else caught his eye: an old, abandoned schoolhouse. He took a few roads trying to get there, and ended up on a dead-end street. He said he did what anyone might have — he turned the car around and headed back toward the main roads.
It was then, Pfister said, that he saw a glint in his rearview mirror. When he looked up, he noticed a small, blue car so close to him he couldn't see the front grill. So, Pfister said after being tailed like this for a minute he decided to turn onto a side street and let the car pass.
"I thought I was an idiot and was in the guy's way," Pfister told the court.
The car followed, he testified.
Pfister decided to turn into a driveway and turn around to again head back home. The small blue car drove by. On his way out of town, Pfister said he got behind a slow-moving red mustang. He decided to pass, and then, he said, he saw something familiar.
"That's whenever I realized the blue car was back," Pfister said. He said the car then gunned it and flew past him, only to turn around and approach Pfister in the opposite lane — the blue car now heading west while Pfister, in his GMC Jimmy, was heading east.
That's when Pfister said he stopped and got out. The blue car slowed and the driver rolled the window down. The head of a salt-and-pepper-haired man stuck out.
"I asked him if everything was OK," Pfister said.
"You need to stay the f--- off my road," he remembered the man saying. Pfister explained his business there and said he wasn't from the area.
"You going to stay the f--- off my street or not," the man allegedly told Pfister. Then Pfister said he got out of the car and pushed him, and pulled the hood of his orange sweatshirt over his head.
Pfister tried to fight back, but didn't have much time.
"My feet left the ground and I landed in a ditch," he said. "He threw me."
The next thing he knew, what felt like a knee was in his back and he felt the thumbs of the attacker on the back of his head. The man's fingers were in his eyes.
"I apologized," Pfister said. 
The man then got up, Pfister testified. He said he was then kicked in the head, given one last warning.
"Next time you'll know to stay off my street," he remembered being told. The attack was stopped, Pfister said, by the horn of the red mustang that had finally caught up to them and was unable to go through because the two men's cars were in the street.
Pam Beck was in her house on Swanwick-Rice Road sewing when she saw a flash of light through her blue, sheer curtains. Her house sits just 50 feet off the road and she said when she looked out she saw a GMC Jimmy, a blue compact car and two men exchanging words, then blows.
"It was a short struggle," Beck told the court Wednesday.
She said the two men eventually were in the ditch next to the road. Then she demonstrated the hand motions of the man she later identified as Allen Fisher. His thumbs were back and hands were down — she thought he was choking the other man. Then she saw him get up, take a step, and kick the man before getting into his car.
The car and Beck's ID of Fisher were the subject of debate in court on Wednesday. Matt Foster, Fisher's defense attorney, pointed out that police presented a photo of Fisher to Beck not long after the incident, and she told them that it "could be" him. She explained during cross-examination that the face was right but the hair was wrong — she said she didn't elaborate in April because the cops didn't ask her to.
She also called and told the Perry County Sheriff's Office that a car shown in an area newspaper that had been impounded by law enforcement wasn't the one she saw in front of her house that day. In fact, she told sheriff's deputies that she had seen another car in the area that matched the car she had seen in front of her house.
Law enforcement testimony indicated there were three cars in Swanwick that matched the description, and the only one that could have been driving past Beck's house was Fisher's. In fact, when officers followed up on Pfister's story that same day, not long after he crawled out of the ditch, they found Fisher's car was still warm.
As to Beck's discrepancy with the car, Stanton did his best to clear that up. On the final redirect of the day, Beck told him that it was the wrong car, but the right man.
During his time on the stand, Pfister had to wear sunglasses — he lost his left eye to the attack, and said there isn't much likelihood of him regaining his sight in his right eye. He and Stanton shared mutual tears when he talked about never being able to see the face of his fifth grandchild, who was born after the attack.
Court will resume 9 a.m. Thursday.