BENTON — A Franklin County Jail correctional officer has been placed on administrative leave and charged with seven felonies that allege he engaged in sexual misconduct with at least three female inmates, raping two of them.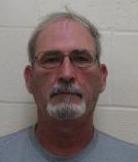 According to a news release from Illinois State Police Zone 7, Chet L. Shaffer, 58, of Thompsonville, was arrested Thursday on two Class X felony charges of aggravated criminal sexual assault, plus five Class 3 felony charges, including three counts of official misconduct and two counts of custodial sexual misconduct.
The information sheet filed Thursday in Franklin County Court alleges that Shaffer forcibly raped two female inmates while armed with a gun. One of the incidents allegedly happened on Aug. 5, and the other on Aug. 12. 
For each of those two alleged rapes, in addition to the sexual assault charges, Shaffer is charged with one count of custodial sexual misconduct and one count of official misconduct.
You have free articles remaining.
Shaffer also faces a charge of official misconduct in a July 26 incident in which he allegedly had sex with another inmate.
The release said the Franklin County Sheriff's Office received information Aug. 15 about the allegations and immediately put Shaffer on leave. The office also requested the Illinois State Police investigate the allegations. A special prosecutor has been appointed to try the case.
Shaffer posted the required 10% of the $100,000 bond after his arrest.
The Illinois State Police, in conjunction with Franklin County Sheriff's Office and the Appellate Prosecutor's Office, continues to investigate. Anyone with additional information is encouraged to contact Illinois State Police Zone 7 Investigations at 618-542-2171.