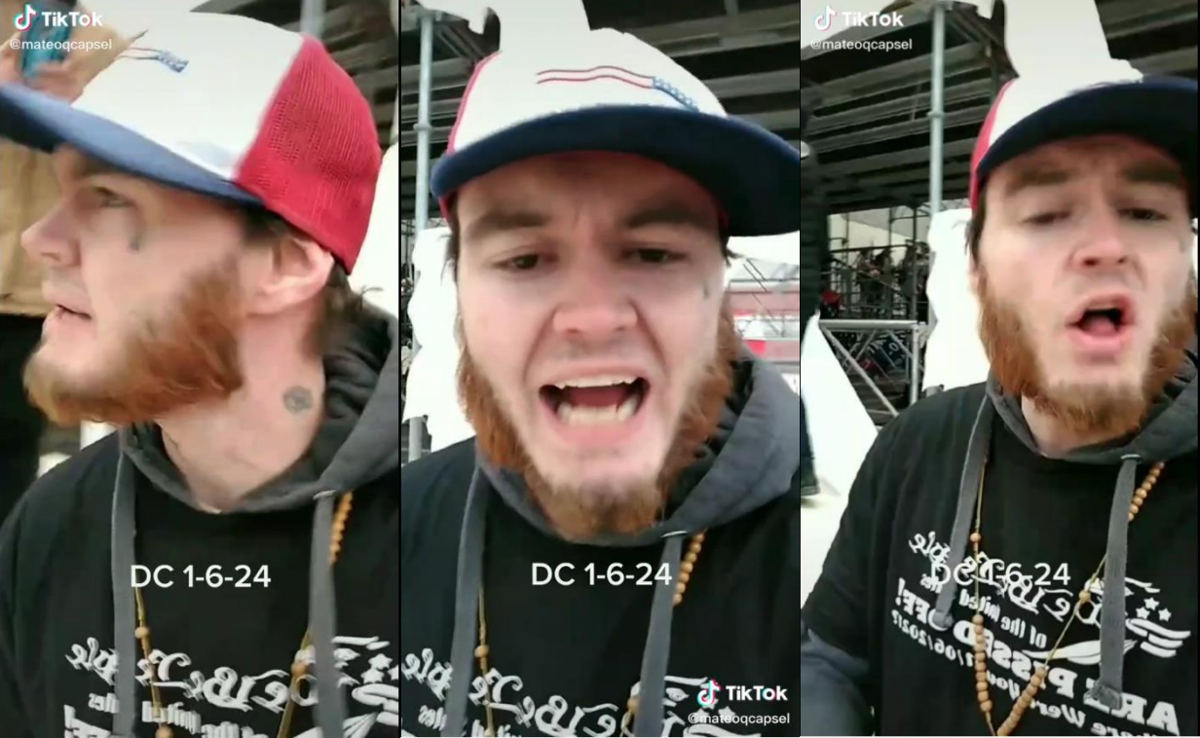 MARION — According to federal authorities, a man allegedly connected to the riot at the U.S. Capitol on Jan. 6 was arrested in Marion Tuesday.
Mathew Capsel, of Chicago, is alleged to have participated in the violent mob that took over the Capitol building on Jan. 6. Former President Donald Trump supporters were in Washington, D.C., that day protesting his loss of the 2020 election while a joint session of Congress had convened to count electoral votes and finalize the election of President Joe Biden. Five people died during the riot, including a Capitol Police officer.
According to the U.S. Department of Justice, Capsel was arrested after a former neighbor and a social media friend identified him from a video taken during the riot. Caspel was identified in part by a tattoo on his face.
The video was posted on TikTok by @mateoqcapsel, according to the criminal complaint. In dozens of cases, supporters of President Donald Trump flaunted their activity on social media on the day of the deadly insurrection.
According to a federal criminal complaint filed Jan. 19, Capsel, aka "Mateo Q Capsel," was wanted for "knowingly entering or remaining in any restricted building or grounds without lawful authority," as well as allegedly knowingly engaging in physical violence against any person or property in any restricted building.
It is also alleged that Capsel "forcibly assaulted, resisted, opposed, impeded, intimidated, or interfered with any officer or employee of the United States or of any agency in any branch of the United States Government (including any member of the uniformed services) while engaged in or on account of the performance of official duties," according to the complaint.
Finally, the complaint alleges that Capsel committed, or attempted to commit, any act to "obstruct, impede, or interfere with (a) law enforcement officer lawfully engaged in the lawful performance of his official duties" during civil disorder.
Nathan Stump, assistant U.S. attorney, declined to comment on why Capsel was in Marion at the time of his arrest.
The criminal complaint against Capsel said that the FBI on Jan. 8 received information from an unnamed witness that they had seen Capsel in video from the riot and added that they were a former neighbor of Capsel's. The witness said Capsel was "known to be violent" and pointed agents to other videos of Capsel "on the frontline of the riot and breach."
The federal criminal complaint said several witnesses provided screenshots of videos allegedly posted of and by Capsel showing his involvement in the Capitol riot.
Stump told The Southern Thursday that Capsel's first appearance was not yet scheduled, but it is expected to be held at the federal courthouse in Benton. Further proceedings would likely take place in Washington, D.C., he said.
Capsel is at least the third Illinois resident to be charged with taking part in the insurrection. A fourth Illinois resident has been charged with threatening President Joe Biden's inauguration.
— The Associated Press contributed.
618-351-5823
On Twitter: @ismithreports