EAST ST. LOUIS — An Illinois State Police trooper was fatally shot while executing a search warrant early Friday in a residential neighborhood here.
Trooper Nick Hopkins, 33, with 10 year's experience on the force, died at St. Louis University Hospital just after 6 p.m., authorities said.
Hopkins, of Waterloo, was married, a father of 4-year-old twins and an infant daughter, and was a Waterloo High School graduate, said Waterloo Mayor Tom Smith. Hopkins' brother, Zack Hopkins, is a police sergeant for the Columbia, Illinois, police department.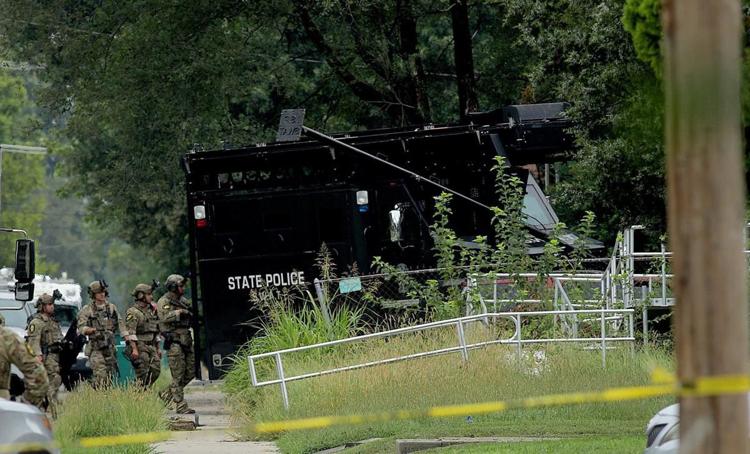 After the shooting, police surrounded a home near 42nd Street and Caseyville Avenue. They arrested one person around 6 a.m., a resident said. At least two have been arrested in total, authorities said.
Police remained at the scene all day Friday, uncertain if another suspect was barricaded in the house.
Police said Hopkins had been shot during an exchange of gunfire at 5:26 a.m. Friday in the 1400 block of North 42nd Street. Police didn't say if anyone else was shot.
Dorothy Burns lives about two blocks away and was awake at 5:30 a.m. as her husband got ready for work.
You have free articles remaining.
"All I heard is boom boom — two shots," she said. "Then it sounded like an explosion and I saw smoke like they were trying to smoke 'em out."
Burns has lived on 42nd Street for three years. "All I can say is they need to cut this violence out because it's on my block," she said.
She stood behind crime-scene tape with about 20 other residents. Police with rifles roamed the area. One officer told a reporter to back away, concerned about more gunfire from the house.
By 9:30 a.m., more than a dozen Illinois State police vehicles were parked outside the entrance to the St. Louis University Hospital emergency room. Two women who showed up there were hugged by troopers and escorted inside.
At 4 p.m., police were still at the house in East St. Louis. Two bangs rang out in the air. Soon after, an olive-green military-style armored vehicle approached the home.
At around 5:30 p.m., authorities began spraying water into a second-floor window of the home.
Authorities aren't certain anyone is still in the house, East St. Louis Mayor Robert Eastern III said at around 6 p.m., but are treating the situation as if someone is.
It has been a particularly difficult year for the Illinois State Police. Three troopers have died: Christopher Lambert, in January, and Brooke Jones-Story, in March, were struck by vehicles. Gerald Ellis died in an automobile crash in March.
State Police squad cars have been in 22 crashes this year, up from eight last year and 12 in 2017.