PINCKNEYVILLE — After just a 59-minute deliberation, the jury delivered the verdict Rob Pfister was hoping for.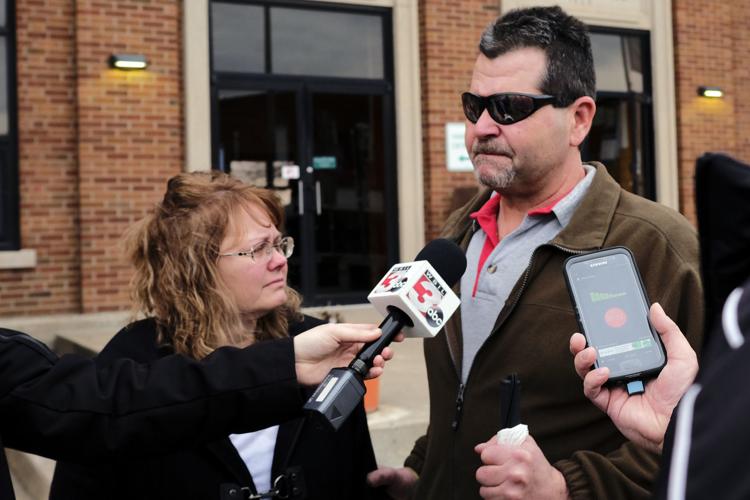 A Perry County jury on Thursday found Allen J. Fisher guilty of two counts of aggravated assault with the enhancements of great bodily harm and torture, as well as one count of intimidation, for the April 7, 2018 attack that left Pfister blind.
PINCKNEYVILLE — Robert Pfister could hear wind chimes.
Testimony on Wednesday revealed that after Pfister drove near Fisher's Swanwick property this past April to try to get a better look at an old schoolhouse — he likes old stuff — he realized that a blue car was riding his tail.
After trying to lose the car, Pfister pulled over to see if everything was OK with the salt-and-pepper-haired driver of the blue compact.
After exchanging a few words, namely telling Pfister to stay away from his street, Fisher jumped out of the car and attacked Pfister. Pfister testified that Fisher threw him into a nearby ditch, then climbed onto his back, put his thumbs behind Pfister's ears and pressed his fingers into Pfister's eyes.
Pfister told the court Thursday that after he apologized to Fisher, his attacker doubled down and readjusted his hands to fit more fingers into his eye sockets. After a car horn honked to get Fisher to move his car, he got up and kicked Pfister in the head.
Pfister lost his left eye from his injuries and will likely never see out of his right ever again. He navigated the courthouse with the help of a cane and a family member's arm.
Assistant State's Attorney David Stanton wiped his eyes after Judge James Campanella read the verdict.
"I think that justice was done," Pfister told reporters after leaving court. He said that he will be praying for Fisher's family.
Pfister said "reliving it has been everyday since," but added that having to talk about it so much during trial was especially hard.
"I'm just glad this chapter is over," he said.
One of the final witnesses called Thursday in the state's case was local farmer Lonnie Ruppert, who told an eerily similar story to the one Pfister had described the day before.
Ruppert owns property near Fisher's in Swanwick — a disputed piece of land runs between them. He said neither Fisher nor he owned it, but no one was sure to whom it actually belongs.
When working his ground one day in 2014, he noticed someone had mowed some of his clover overcrop near the disputed land.
He went to talk to Fisher about it. Eventually, Fisher's wife became involved. Ruppert said things escalated when he tried to leave.
"I was grabbed on the shoulder, spun around and hit," Ruppert told the court Thursday. He said he was then on the ground with Fisher's knee in his back and his fingers digging for his eyes.
"He kept trying to gouge my eye out, I guess," he said.
Ruppert had a broken eye socket as a result of the attack. He said Fisher's wife and son were there yelling at him to stop. Fisher did, but not before kicking Ruppert in the ribs a few times.
According to online court record system Judici, Fisher was convicted of battery and great bodily harm for the crime during a bench trial and was released on conditional discharge.
After the state rested before lunch, Fisher's defense attorney, Matt Foster, also rested his case, calling no witnesses.
During closing arguments, Stanton reminded the jury why they were there.
"We're here because he's a bully," Stanton said — a bully "that doesn't like people coming close to his property."
Foster in his closing argument reminded the jury of a few inconsistencies with the state's witnesses, and reminded them not to hold it against his client that they called no witnesses — he isn't required to by law.
After deliberating for less than an hour, the jury returned guilty verdicts on all counts.
Fisher will be sentenced at 9 a.m. April 24.