CARBONDALE — A Chicago man was arrested Sunday on charges of stalking and disorderly conduct after he allegedly followed an infant inside a University Mall business and attempted to photograph her with a cellphone.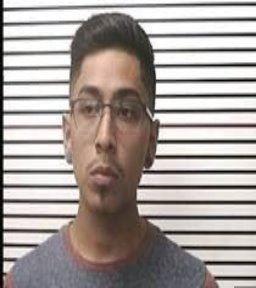 Argenis Hernandez, 23, of Chicago, was arrested by Carbondale Police on Sunday and has been charged with stalking and disorderly conduct, according to court records website Judici. He posted bond and was released Monday afternoon.
Amari Gunn identified herself as the mother of the child in a public Facebook post. Gunn wrote on Sunday that a man she identified as Hernandez had followed her to multiple stores and taken photos of her 9-month-old daughter. She wrote that he then tried to take her daughter out of her stroller.
SaLsha Brigham was helping a customer Sunday in the junior's department at Macy's in University Mall when she heard a cry for help from someone who saw someone allegedly trying to kidnap a child.
"He tried to steal my grandbaby," she said she heard a woman shout from across the store. Then, she said, she saw a man bolt toward her as he ran across the store.
"I had two shirts and a pair of jeans in my hand and I just dropped them," Brigham said Monday. She told The Southern that she and others ran after the man, who was running toward the exit into the main mall thoroughfare.
Brigham said her manager was running just ahead of her — they eventually chased the man out of the mall's Old Navy exit. Then, Brigham said, she saw the vehicle the man was running toward.
"It looked like they were trying to let him into the vehicle," she said, adding that the driver eventually took off without him. Brigham said she had called the police as she ran and was eventually able to point officers to where she saw the man run. 
Deputy Carbondale Police Chief Stan Reno said Monday that at this point in the investigation, there was no evidence to suggest there were any other suspects being sought.
A news release sent Monday from the Carbondale Police Department confirmed the basics. Hernandez had been arrested after a call to police came in around 3:53 p.m. Sunday reporting a potential kidnapping at Macy's. It also said officers learned that Hernandez had allegedly followed the victims into the store and attempted to photograph or record the child.
University Mall General Manager Debra Tindall said Monday that the mall was in full cooperation with the police, but said she could not go into much detail about the specifics of the incident because of the ongoing investigation. She said that the mother and child were safe and the suspect was in custody because of swift action on the part of people in the mall.
According to Judici, Hernandez will appear for a preliminary hearing at 12:45 p.m. Oct. 1 at the Jackson County Courthouse in Murphysboro.
618-351-5823
On Twitter: @ismithreports
Sign up for our Crime & Courts newsletter
Get the latest in local public safety news with this weekly email.