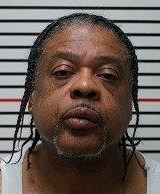 MURPHYSBORO — The man allegedly driving during a crash that led to the death of a 5-year-old boy last year in northeast Carbondale has been indicted on a charge of reckless homicide.
A news release from Jackson County State's Attorney Michael Carr announced that Gary L. Starks, 56, of Carbondale, was indicted by a grand jury in Jackson County for reckless homicide resulting from a traffic incident. The crash occurred near Attucks Park in Carbondale on Aug. 13, 2018.
CARBONDALE — Two petitions and two forms of public outcry were presented during Tuesday's Carbondale City Council meeting.
According to the release, the indictment alleges that " the defendant unintentionally, without lawful justification, killed a 5-year-old boy by recklessly operating his motor vehicle in such a manner as was likely to cause death or great bodily harm to that child." The indictment further alleges that he drove faster than the posted 30 mph speed limit.
Starks is currently being held in the Jackson County Jail on $100,000 bond and is scheduled to make his first court appearance Friday.
According to previous reporting in The Southern, the crash happened in the 500 block of North Wall Street. Authorities said the day after the incident that an investigation had indicated that the boy entered the street on foot and was struck by the front of the vehicle, which was traveling north on Wall Street. 
Lee Hughes, the co-owner of Arnette's Barbershop in Carbondale, which is located near where the incident occurred, went before the Carbondale City Council after the crash to present a petition that asked for speed bumps on the road where the child died.
In an interview after his presentation, Hughes said it made him sick to hear the response from some in the community.
"We knew it would happen one day," he remembered hearing. Hughes said he and a group decided that something had to be done, not just about the fast cars along Wall Street, but about violence in the neighborhood and community togetherness.