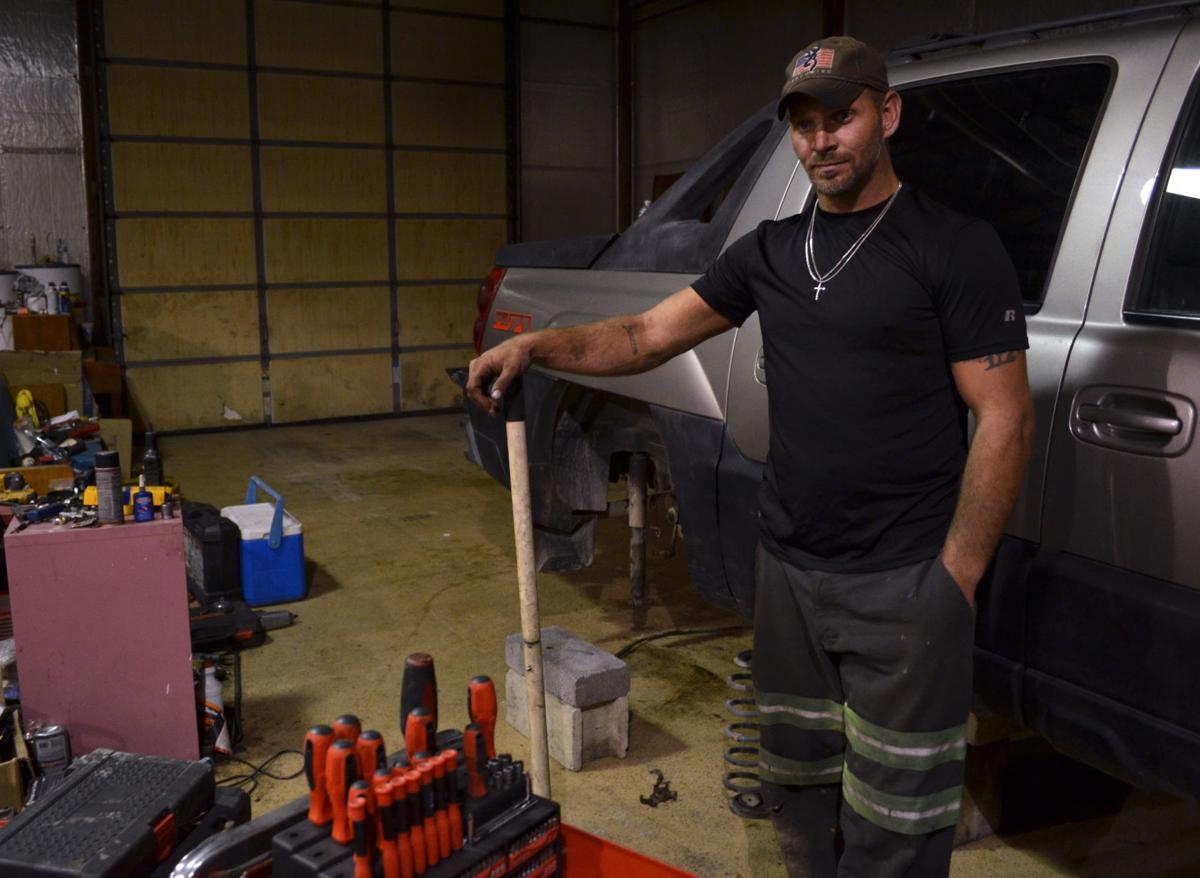 HARRISBURG — "Grab me some towels. This man's going to bleed to death," said Danny "Mike" Gibbs, 37, when he ripped off the victim's shirt and saw the bullet holes.
Two wounds on the left side of the abdomen. To Gibbs, it looked like the entry and exit of one bullet, but it could've been two, he said. In the heat of the moment, he wasn't sure.
Gibbs was getting in a friend's car to leave the Town Square Pub in Harrisburg when he heard two gunshots. It was about 1 a.m. Saturday, Oct. 19, he said, just after the bar closed up for the night.
He got back out of the car and saw a woman walking through the alley that runs behind the bar, holding a short-nosed pistol with her arm "stuck out straight as a board," he said.
"He was stepping backwards fast and she was fierce, walking like a robot with her arm stuck out and the gun straight," he said. "It was a purse pistol, like a .32."
She fired four shots, then turned around and went the other way, Gibbs said. Immediately, he ran to the victim.
"People have said, 'Are you stupid, running into gunfire?'" he said. "I didn't think about that. I did what anyone else would've done with my training."
Gibbs, who now works as a mechanic, was trained as an EMT during his 15-year career in the Southern Illinois coal mines. It was not the first time he'd seen a serious injury.
First, he pressurized the man's wounds with hands. Then, River Shelby, a bartender at the pub, brought the towels he called for.
"What Mike did was pretty heroic, especially because the shooter hadn't been subdued or anything," Shelby said. "To put himself in harm's way, that takes a lot of guts."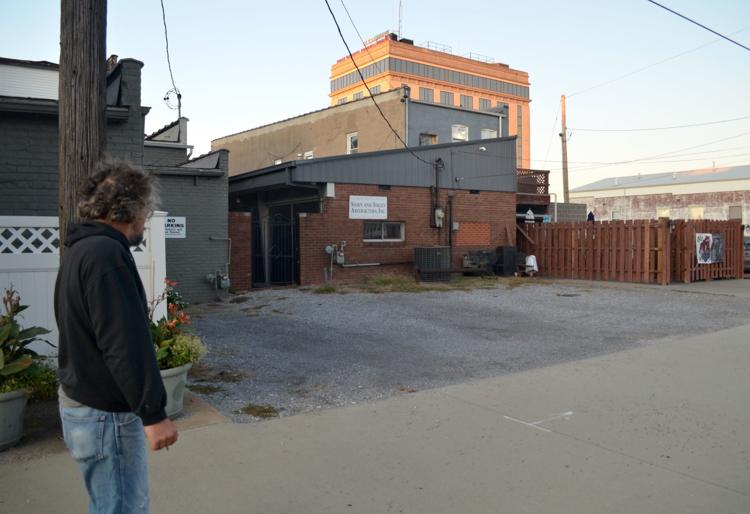 For his part, Shelby's own quick thinking helped keep others safe. He had been shepherding customers out the bar's back gate when the shots rang out behind the building.
Shelby turned around, let everyone back into the building and locked the door. When the shooting stopped, he went back out and found Gibbs with the victim.
As he staunched the bleeding and waited for an ambulance, Gibbs reassured the man.
"He was trembling in his voice, and I couldn't hear what he was saying. He was shaking and crying," Gibbs said. "I told him to be calm, and that it looks like it was just a flesh wound. I told him, you are going to survive, don't worry."
What little information Harrisburg Police have released about the incident seems to agree with Gibbs' account. But many questions remain about what happened that night.
In a Saturday news release, police confirmed finding a 32-year-old man with a gunshot wound to the abdomen near the parking lot behind the Town Square Pub.
However, police have released no details about his assailant.
For his part, Gibbs began hearing rumors almost immediately after the incident, he said.
"I've heard about 10 different lies," he said. "If (the shooter) wasn't a woman, it was someone dressed like a woman. Skinny jeans and a loose turtleneck."
The official police report also describes a second gunshot victim, who was taken by private vehicle to Harrisburg Medical Center. Gibbs never saw a second victim, he said. He suspects it was someone hit by the shots he heard before getting out of the car, but he has no idea. Nor does he know who fired those shots.
Since the shooting, Gibbs has had trouble sleeping, he said.
"The s--- goes through my head over and over," he said, down to little details like the muzzle flashes from the gun.
From a distance, he's kept tabs on the man he helped, through a relative who knows the man's family, he said.
After rumors that the man died on Monday, Gibbs finally got confirmation that he would survive.
"I was amazed," he said. "I sent him a Facebook request, to see if he responded. Just to check up on him and say, 'Hey man are you all right?"'
The man hasn't responded yet, but Gibbs believes he will, once he has recuperated.
Both gunshot victims were treated at hospitals out of state, according to the original police report.
The Harrisburg Police Department did not respond to multiple requests for an interview. Their investigation was considered ongoing as of Saturday.
Harrisburg Police did not interview Gibbs the night of the shooting, he said, but contacted him Wednesday and arranged to take his testimony later in the evening.
In response to the shooting, the Town Square Pub intends to beef up its security, said Art Wagner, who works the door at the bar, but was not working Friday night.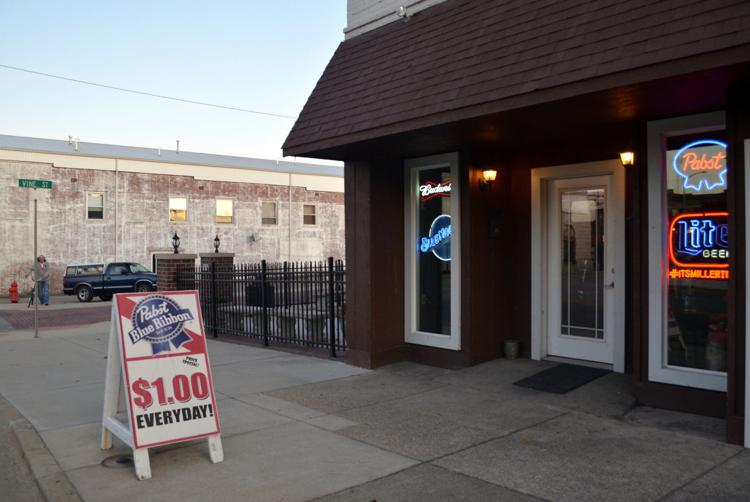 "The publicity is going to hurt us, but we want the people to know that we're not going to accept this," Wagner said.
In three years working at the bar, this was the first serious violent incident Shelby has seen, he said.
"We've never even really had a fight here," Shelby said. "Before this happened we had a good thing going on. We had people coming from all the different little towns around here. This was the hot spot. And not only that, it was a diversity of different people. You might have the football players, the socialites over here, country, rap, rock-'n'-rollers, everyone all hanging out together."
The bar already had a musician cancel a show for this weekend as a result of the incident, Shelby said, and he fears further backlash.
"We're like, what's going to happen to our business?" he said.
Sign up for our Crime & Courts newsletter
Get the latest in local public safety news with this weekly email.