MURPHYSBORO — The Murphysboro man accused of killing his parents last year was found guilty Thursday during a bench trial in Jackson County.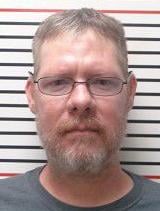 According to a news release from Jackson County State's Attorney Michael Carr, Keith R. Ritcheson, 41, was convicted of first-degree murder for killing his parents, Burl and Brenda Ritcheson, in August of 2017. The conviction came after a three-day bench trial.
The release said that Ritcheson called 911 on Aug. 14, 2017, and told the operator that his parents were dead. He later told officers he believed someone entered through the garage to kill the two.
He later changed his story and admitted to investigators that he killed his father, but claimed his father had shot his mother, according to the release.
Ritcheson is currently in the custody of the Jackson County Jail and has had his bond revoked because of the guilty verdict.
A sentencing hearing is scheduled for 9 a.m. Nov. 9. And, according to the release, because he was convicted of murdering more than one person, Ritcheson must be sentenced to a life term in prison.