MURPHYSBORO — A Murphysboro man convicted of murdering his parents will spend the rest of his life in prison.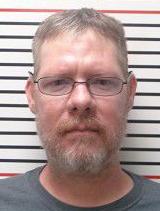 Keith R. Ritcheson, 41, was sentenced Thursday by Judge Ralph Bloodworth for the Aug. 14, 2017, murders of his father and mother, Burl and Brenda Ritcheson, both of Murphysboro.
Ritcheson was convicted in September of first-degree murder after a three-day bench trial. In a bench trial, a judge decides guilt or innocence, rather than a jury.
Jackson County State's Attorney Michael Carr said in a Thursday news release that evidence at trial established that Ritcheson developed a false timeline, telling authorities that he came home to find his parents both dead.
According to previous reporting by The Southern, Ritcheson called 911 on Aug. 14, 2017, telling the operator his parents were dead. He later told officers he believed someone entered through the garage to kill the couple. He later changed his story and admitted to investigators that he killed his father, but said his father had shot his mother.
"As the investigation developed, the theory provided by the defendant conflicted with the evidence," the Thursday release says.
"When confronted by investigators, the defendant changed his story and ultimately admitted that he shot his father, but claimed his father shot his mother."
The sentence imposed was mandatory, according to the release, because Ritcheson was convicted of first-degree murder of more than one victim.