MURPHYSBORO — A Murphysboro man on Thursday was sentenced to a total of 37 years in Illinois Department of Corrections on several charges, including first-degree murder, in the 2016 fatal shooting of 38-year-old Detrick Rogers.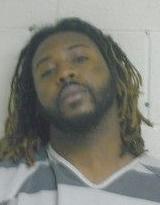 According to a news release from Jackson County State's Attorney Michael Carr, Cortez Turner, 30, was sentenced to 29 years on the first-degree murder charge. Turner was found guilty this past December following a four-day bench trial in Jackson County.
Turner was also sentenced to consecutive terms of eight years for aggravated discharge of a firearm, and concurrent terms of six years for conspiracy to commit aggravated discharge of a firearm and two years each on two counts of perjury to the grand jury related to the incident.
Turner will have to serve 100 percent of his 29-year sentence on the murder charge, and 85 percent of his sentence for aggravated discharge of a firearm. He was also sentenced to serve five years of mandatory supervised release.
The news release states that Murphysboro police responded about 1:30 a.m. Oct. 24, 2016, to a call of shots fired at the intersection of South 20th and Shoemaker Drive. When they arrived, they found Rogers lying in a yard with a gunshot wound to his head. Rogers was taken to a hospital, and was pronounced dead the next day.
Officers collected more than 40 shell casings from the road where surveillance footage showed shots being fired from a car driven near the house where Rogers was shot, the release states. 
About 10 minutes later, officers learned that a second victim had arrived at a hospital with a gunshot wound to his leg. At the time, police identified Turner as that victim. Turner told police that he was walking on Shoemaker when he heard shots and was hit in the leg. He told officers he didn't see anything, and had no other information about who shot him, the release states. Turner testified to this statement before a Jackson County grand jury two days later.
The release states that further investigation found that Turner was in the vehicle from which the shots that killed Rogers were fired. The investigation showed that Turner was shot while inside the vehicle with what is believed to be his own weapon, according to the release. That evidence was contrary to what he testified in front of the grand jury.
A nearby residence in which a woman and two children were sleeping was also struck by bullets during the shooting.
Juwan K. Jackson, 28, was also charged in connection with Rogers' killing. He is set to face a jury trial on June 10.