CARBONDALE — Tami Tunnell began her career in domestic violence prevention in 1986, the same year that Illinois passed the Domestic Violence Advocacy Act.
The law created new protections for victims, including the ability to acquire an order of protection to prevent unwanted contact, intimidation or abuse.
But many victims, and even the local public servants tasked with helping them, weren't aware of the law.
So Tunnell joined a statewide network of advocates who met with police, judges, doctors, circuit clerks, mental health workers and civic groups to raise awareness.
"It got to be where we saw them being used on a daily basis," Tunnell said. "Bond courts started staying open to hear orders of protection on weekends."
Thirty-three years later, Tunnell is part of a new statewide campaign that she believes will save lives: spreading the word about firearms restraining orders.
On Jan. 1, 2019, Illinois joined a wave of states authorizing the family members of gun owners to request confiscation of their guns for a limited period of time if they feel a person poses a threat to themselves or others.
When harm appears imminent, a judge may grant an immediate 14-day confiscation without notice to the gun owner, who is entitled to a hearing during that period to contest the seizure.
If, after the hearing, a judge still believes a gun owner poses danger to themselves or others, they may extend the confiscation by six months and take the owner's Firearm Owner's Identification Card and their concealed carry permit, preventing them from buying any new guns for the same duration.
Like relatives, police officers may also petition for weapon seizure against any citizen they deem an immediate threat.
In the 11 months since Illinois' law took effect, just over 50 confiscations have been granted, according to the Illinois Council Against Handgun Violence — somewhat less than other states who have recently implemented "red flag" laws.
Maryland confiscated guns from 148 people, including four who made threats against schools, during the first three months of its red flag law, the Washington Post reported in January.
Broward County, Florida, population 1.93 million, saw 108 gun seizures during the first six months of Florida's red flag law, from March to September 2019, according to an analysis by the Miami New Times.
Tunnell isn't aware of any gun seizures yet in Southern Illinois, she said, though St. Louis metro area counties including Monroe and Madison have registered a few.
Since July, she's been tasked with raising awareness of the law across the state's lower 85 counties.
Tunnell hopes to personally visit all 85 county circuit clerks, who are responsible for processing firearm orders of protection, to ensure they have the paperwork on hand and the knowledge to assist any petitioner who comes in.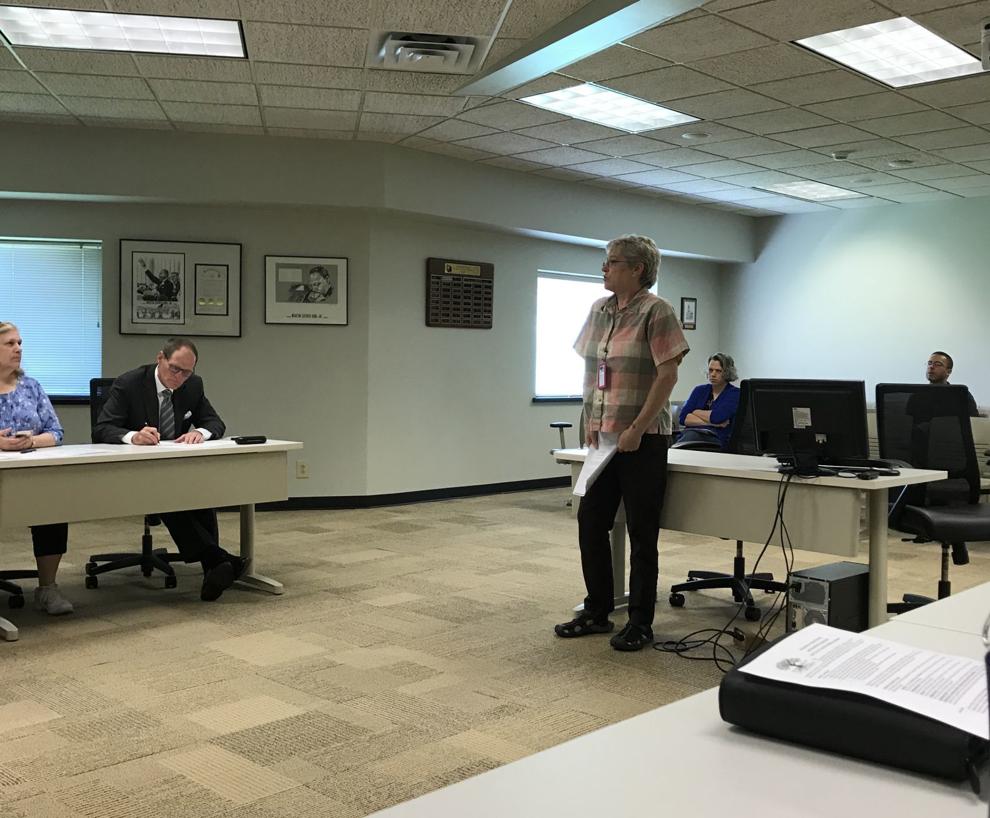 She's had "great conversations," with Southern Illinoisans about the law, she said, from gun dealers, to gun control advocates, to civic groups like the Carbondale League of Women Voters, before whom she appeared on Wednesday, Nov. 13.
She's also meeting with as many police chiefs and sheriffs as she can to check their readiness to help petitioners and to file their own gun restraining orders, should they be necessary.
A survey of local police departments by The Southern identified several that were informed and prepared to use the law, while others, including the Marion, Herrin, Carterville and Harrisburg police departments did not respond to questions about their preparedness.
Officers at the Carbondale Police Department have been trained on the red flag statute and its particular relevance to mental health and domestic and family conflicts, said Deputy Chief of Police Stan Reno. The department is confident it could work with the city attorney or Jackson County State's Attorney Mike Carr to obtain a gun restraining order if necessary, he added.
Williamson County sheriff's deputies are also aware of the law, according to Sheriff Bennie Vick.
At other local departments, leadership indicated they were aware of the law, but don't see it as revolutionary.
"We have been convincing people to let us take their guns into protective custody without criminal charges in our area for years," said Saline County Sheriff Whipper Johnson. "Typically, it's a situation that we're able to reason with individuals about temporary placement of firearms during potentially volatile family situations. Unless people aren't thinking outside the box, I don't know why they haven't been doing it for a long time."
The Jackson County Sheriff's Office has long done the same, said Captain Jennifer Lindsey, whether in tense situations or for mental health concerns.
"We will encourage family members to take possession of the weapons and keep them in a safe spot, or we'll take them and store them here until the situation is better," Lindsey said.
Neither department has faced resistance in such cases, leaders said.
"I can't think of a single time that people have been non-compliant," Johnson said. "People know we're not gun-grabbers, but we are looking to keep folks safe."
The first firearm restraining order law was enacted in Connecticut in 1999. By 2018, four other states had followed suit.
Then, on Feb. 14 of that year, a shooting at Marjory Stoneman Douglas High School in Parkland, Florida killed 17 people and shook the country.
A year and a half later, the District of Columbia and 17 states have red flag laws. They've been endorsed by President Donald Trump and his Federal Commission on School Safety, and the governors of Arizona, North Carolina and Virginia are all pushing their legislatures to pass such bills.
They were responsible for over 1,700 gun seizures nationwide in 2018, according to data from the Associated Press.
Often, gun confiscations are touted as a potential interrupter of mass shootings, like Parkland.
And while their impact on these rare incidents is tough to quantify, success stories abound.
Among the 108 gun seizures tallied in Broward County by the Miami New Times, were "28 people accused of domestic violence, 45 people with apparent mental illness, and 34 people contemplating suicide," the newspaper reported.
California's law has been used to confiscate weapons from people who threatened to commit mass murder at least 21 times since it was enacted in 2014, according to the Giffords Law Center, which advocates for gun control.
In October, the state broadened its power, authorizing not just relatives and police, but teachers, employees, employers and coworkers to petition for emergency gun seizures, an expansion condemned by the National Rifle Association and by the American Civil Liberties Union of California.
Meanwhile, data shows red flag laws have made a concrete impact on suicide rates.
A 2017 study led by Duke University Professor Jeffrey W. Swanson found that over the 18-year life of Connecticut's red flag law it had averted an estimated 72 suicides: about one for every 10 to 12 gun seizures. A follow up study in Indiana, which enacted its red flag law in 2005, calculated a similar benefit: about one life saved for every 10 gun seizures.
In Illinois, several early stories have Tunnell and other advocates claiming the law is working well.
In McClean County, police executed a firearm restraining order on a 74-year-old man having hallucinations caused by medications he was taking for a hip injury. The man willingly turned over his weapons, which police later transferred to his son, and was taken to the hospital for mental health care. He is not charged with any crime, according to the central Illinois NPR affiliate WGLT.
In Mundelein, Illinois, police obtained a firearm restraining order after calls from the concerned neighbors of George Silva, 48, who, they said, had been recently been yelling at imaginary intruders in his yard, including while brandishing a semiautomatic weapon.
Police discovered Silva was a convicted felon with a revoked FOID card, and got a search warrant, in addition to the confiscation order. They seized a 12-gauge shotgun, a semiautomatic rifle and a semiautomatic pistol, and Silva was arrested, according to the Chicago Sun-Times.
Tunnell, who supports responsible gun ownership, has also seen cases where Illinoisans successfully contested their confiscations via the hearing process, she said.
Personally, she's particularly excited about the law's potential to combat domestic abuse, she told The Southern.
"We may pick up folks that fall through the cracks," of traditional restraining orders, she said, remembering a case where a husband dominated his household by brandishing a gun around his wife and kids.
"He would get it out and lay it on the table, never said a word," Tunnell said. "Can you get an order of protection on that? It will depend on the judge."
Illinois is not the only state where raising awareness is seen as key to the effectiveness of red flag laws. Local efforts to spread the word have cropped up in New York and California, where, like in Illinois, confiscations have been low.
But education is not the only key factor.
The Swanson study that proved Connecticut's gun seizures curbed suicides also showed a disturbing correlation between an incident of mass murder and the public's interest in red flag gun confiscation.
Gun seizures in Connecticut increased "about fivefold," in 2007, the year after the shooting at Virginia Tech University, researchers found.