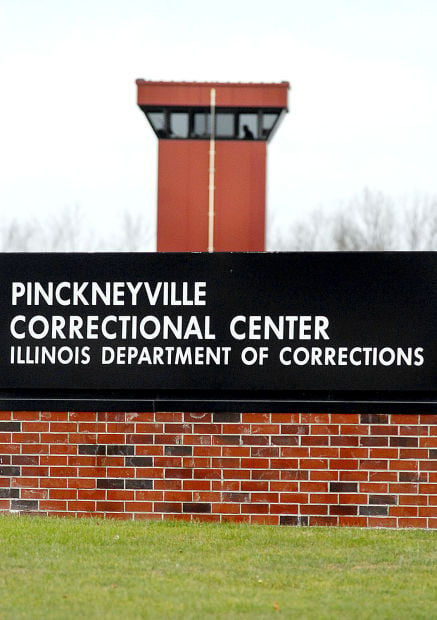 PINCKNEYVILLE — Pinckneyville Correctional Center is experiencing a significant COVID-19 outbreak.
There are currently 189 inmates and 37 employees with active cases of COVID-19, according to the Illinois Department of Corrections.
After identifying the outbreak, IDOC began testing all staff and individuals in custody every three days, regardless of symptoms. That started Thursday and will continue until there are no new cases identified over a period of 14 days, said IDOC spokeswoman Lindsey Hess.
Hess said IDOC is "working diligently to mitigate the spread of COVID-19" inside the facility.
The Perry County Health Department reported a surge in COVID-19 cases on Monday, and said most were of people located at a correctional facility in Perry County.
"The correctional facility is following IDPH (Illinois Department of Public Health) guidelines and fully cooperating with the Perry County Health Department," the release said.
The health department did not identify the correctional facility, but IDOC's Hess confirmed the scope of the outbreak in an email to The Southern.
Hess said correctional facilities are "congregate facilities which present unique infection control challenges." "To address those challenges, we work closely with the Illinois Department of Public Health, infectious disease consultants, and correctional agencies across the country to ensure best practices," she said.
Perry County is currently experiencing one of the highest seven-day rolling average COVID-19 testing positivity rates in the region, at 19.4% as of Saturday, the latest figure available from the Illinois Department of Public Health. Much of that spike in the testing positivity rate is attributable to the outbreak at the state prison.
According to a Dec. 8 policy briefing by the Prison Policy Initiative, a national prison advocacy organization, the COVID-19 case rate is four times higher in state and federal prisons than in the general population, and twice as deadly.
Since March, more than 227,300 people incarcerated in state and federal prisons nationwide have tested positive, at least 1,671 of whom have died, according to the nonprofit. Additionally, at least 56,496 prison employees have tested positive, 105 of whom have died. The Prison Policy Initiative is among the organizations calling for states to prioritize prison employees and inmates for the COVID-19 vaccine.
On Monday, more than 60 Illinois-based social justice organizations penned a letter to Dr. Ngozi Ezike, director of the Illinois Department of Public Health, asking that the state give incarcerated people "priority access" to the COVID-19 vaccine.
"Across the United States and specifically in Illinois, data has shown that incarcerated individuals are among the populations most vulnerable to be infected with and die from COVID-19," they wrote in their letter.
The organization called on IDPH to "follow the recommendations of nationally renowned public health experts and prioritize all incarcerated individuals and the staff who come in contact with them as part of Phase 1a for the COVID-19 vaccine rollout plan — treating them with the same urgency as people in other long-term congregate settings." 
IDPH's COVID-19 Vaccination Plan released Dec. 4 indicates that priority status of incarcerated people and prison staff has not yet been determined. Cris Martinez, an IDPH spokesperson, told The Southern that "with the limited amount of vaccine" Illinois is prioritizing those at highest risk of exposure to COVID-19 — health care workers — and those at the highest risk of severe illness — long-term care residents. 
This follows recommendations of the Centers for Disease Control and Prevention's Advisory Committee on Immunization Practices (ACIP), Martinez said. 
"As more vaccine becomes available, those eligible to be vaccinated will expand and will include those in correctional centers," Martinez said. 
618-351-5079
On Twitter: @MollyParkerSI ​