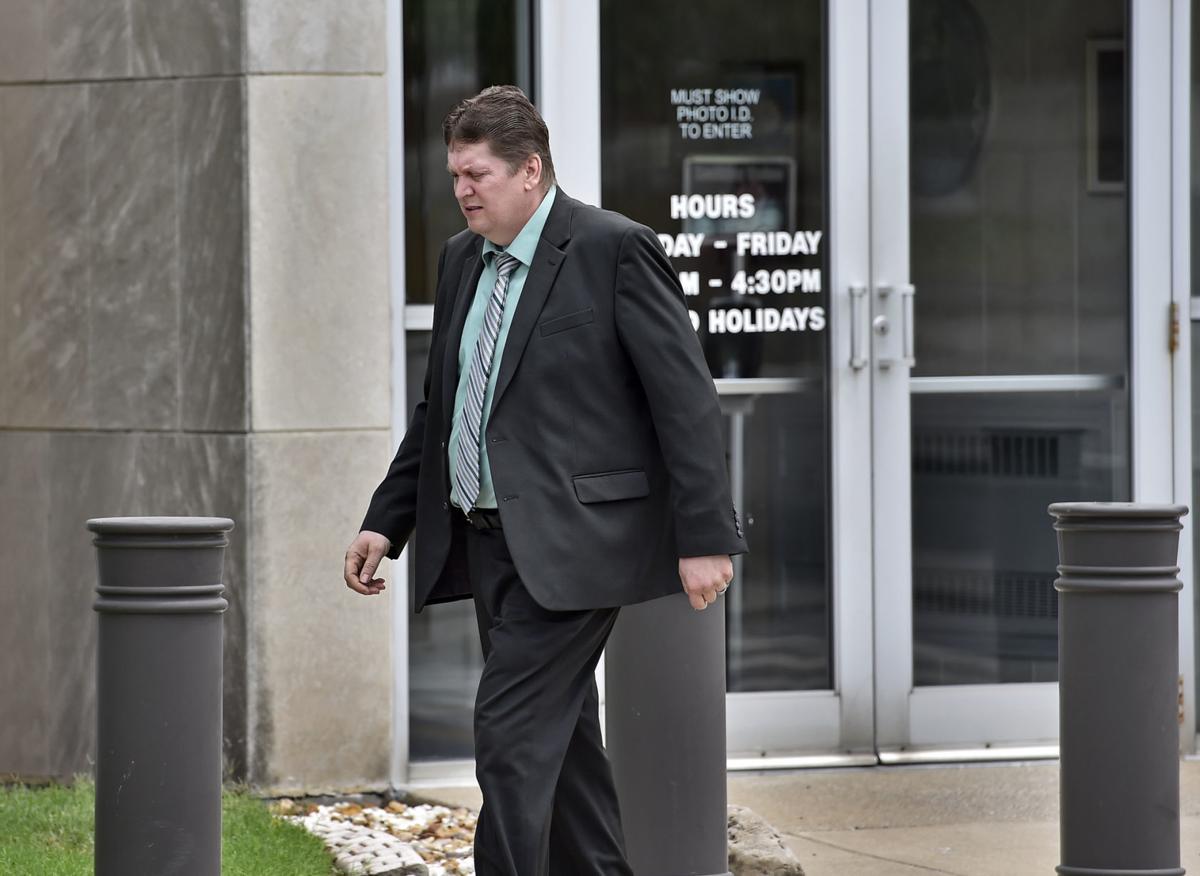 BENTON — Ryan Thorpe, the disgraced former Zeigler treasurer, has been sentenced to serve 48 months in federal prison for embezzling more than $300,000 from the city over about a four-year period.
An FBI raid of Zeigler's City Hall last August started a cascade of revelations among citizens and city officials as details emerged over weeks and months about the actions of the man who served as the city's treasurer and dog catcher.
Information released by the city and investigators revealed that Thorpe had falsified city records and reports to the council — he was using a scheme of "whiting out" payee lines on checks destined for vendors and writing in his name, only to file a copy of the original check for the records. He would then shred the originals.
ZEIGLER — The Zeigler city council voted during a special meeting Tuesday to remove Ryan Thorpe as treasurer of the city after a report presen…
It also came to light that he would use his power to "bully" — in the words of Zeigler's city attorney Rebecca Whittington — the co-signatories into signing blank checks that he would later write to himself.
Thorpe was indicted by a federal grand jury in October on three counts of wire fraud and two counts of embezzlement from a local government. An audit conducted after the FBI raid revealed that he had taken $321,399.22.
Thorpe initially pleaded not guilty to the federal charges, but later changed that plea to guilty, and provided a list of items he would forfeit to the city to help pay down his restitution. These items included a side-by-side utility vehicle, a utility trailer, a woman's diamond ring, numerous firearms, a gun safe and a four-propeller drone. The total value of the property is estimated at $35,872.74, according to a March news release from U.S. Attorney Donald S. Boyce.
In a statement of allocution Tuesday, Whittington explained to Judge Staci Yandle just how much Thorpe's actions had hurt the city.
"It is in some ways surreal," Whittington said of having to appear before the court addressing crimes committed by a once trusted and valued member of the city's infrastructure and community.
"Mr. Thorpe was one of the city family," she said. However, she said his facade of civic-mindedness was "ground cover" for "acts of swindle, theft and deceit."
She explained a series of revelations that came to light after Thorpe's theft was discovered. Whittington said in his duties, Thorpe had failed to enroll some Zeigler police officers in their Illinois Municipal Retirement Fund for several months. She said it was because he was using the money set aside for the city's contribution to their retirement for himself.
Whittington said one officer affected by the late IMRF enrollment has had to have twice the deductions taken from his already small paycheck. She said to make matters worse, Thorpe also took one of the affected officers with him when he purchased goods with the stolen money, even gifting an officer a service weapon after he could not afford to buy one himself — the gun, she said, was paid for with embezzled funds.
ZEIGLER — Months after the FBI raided Zeigler City Hall and city treasurer Ryan Thorpe was indicted for embezzling funds from the city, Zeigle…
Whittington also told the court that not only did Thorpe fall down on his duty to enroll officers in IMRF on time, he also did not pay medical bills for a city employee. When going through records, it was revealed that the bills were from early 2016. This, she said, affected the employee's credit so much that he or she was unable to purchase a home.
Whittington pointed out also that the large stockpile of weapons Thorpe had purchased with the city's money were to be used to stock a gun shop he was planning to open. In fact, she said the city received a call from the Bureau of Alcohol, Tobacco and Firearms the day the FBI were at city hall, following up on his application to be a federal arms dealer.
Whittington said Thorpe's choices were calculated. She said he even made an effort to quiz a local financial auditor while cutting his hair — Thorpe was also a barber and minister in town — about how auditors find missing money.
Whittington told Yandle that Thorpe had also paid some expenses out of the city's TIF fund when he couldn't pay out of the general fund, which she said will open them up to problems during a future audit of the city.
She asked the judge for a fair sentence, but one that would discourage others from acting as Thorpe did.
ZEIGLER — An audit report from accountant Dennis Uhls provides a final number of how much former Zeigler treasurer Ryan Thorpe allegedly stole…
Whittington said it was also galling that Thorpe had not taken responsibility for his actions. She said he had contacted Ziegler citizens and employees to tell them that when the truth came out he would be vindicated, shifting the blame.
"It is time to be honest with Zeigler and with himself," she said.
Representing the United States, Scott Verseman doubled down on Whittington's point about deliberate acts by Thorpe. He said he went to "great lengths" to conceal his actions.
"Somehow they've got to find a way to dig themselves out of this tremendous hole," he said, commenting on the city's financial state of affairs. Just to cover regular expenses, Verseman said the city has recently had to take out a tax anticipation loan of about $180,000.
Randy Patchett represented Thorpe through the proceedings. He asked the judge for leniency in her sentence, adding that his client was currently working at least 60 hours a week to support his family and to start to pay down what he owes the city.
Patchett pointed out that Thorpe cooperated with officers immediately.
"He provided complete statements and accepted responsibility," he said.
Quoting Shakespeare, Patchett recalled a memorable line from the Bard's "The Merchant of Venice."
"Mercy is twice blessed," Patchett read.
Thorpe also asked for mercy from Yandle.
Through tears, he said that he has been the sole provider for his family for the last 20 years as his wife raised their children and battled health problems.
"I am ashamed … and make no excuses," Thorpe told the court.
Yandle said the recommended sentence for the charges was 27 to 33 months in prison. She said while considering his sentence, Thorpe's lack of a criminal record, his obligation to his family and his cooperation with investigators did factor in.
Still, she said she could not exercise more compassion or care for Thorpe's family than he did in the four years he defrauded the citizens he was hired to serve.
She said the use of the money for personal items weighed heavily on her decision to go beyond the maximum sentencing guidelines.
"This was about absolute and unadulterated greed," Yandle said. She said his actions also went to create a sense of distrust of government officials among citizens, which she said was egregious.
Thorpe was ordered to serve 48 months in prison for each count, to be served concurrently. He is also to pay back all of the money he stole, less the value of the property he forfeited to the city. He is also to serve a two-year period of mandatory supervised release.
Thorpe was allowed to voluntarily surrender to authorities.
After the trial, when asked if he felt like justice was served, Zeigler mayor Dennis Mitchell said he felt like the judge did her due diligence in the sentencing.
EDITOR'S NOTE: This story has been corrected to reflect that Ryan Thorpe was sentenced to serve four years. 
618-351-5823
On Twitter: @ismithreports