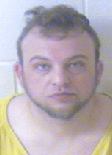 HARRISBURG — A Saline County man has been arrested and charged with a series of thefts in which seven firearms were stolen, among other things.
Saline County deputies on Tuesday arrested Anthony E. Hobbs, 36, of Muddy, for charges relating to one residential burglary in Eldorado and one at a Harrisburg church.
According to a news release from the Saline County Sheriff's Office, Hobbs has been charged with burglary, theft over $500, residential burglary and aggravated possession of stolen firearms.
According to the release, the first burglary occurred March 19 at 875 College Road in Eldorado. Five shotguns, one rifle and one handgun were stolen from the home, according to the release. Saline County Chief Deputy Ken Clore said none of the firearms that were reported stolen have been recovered.
The second burglary occurred on March 26 at the Little Chapel Church at 3859 Highway 34 North in Harrisburg. It is alleged that Hobbs took $1,400 in cash, as well as an iPad, MacBook, a drawing device and a camera, the release states.
Clore said it is believed that Hobbs knew the occupants of the home he allegedly burglarized, and was either a volunteer or an employee at the church. He said while it is believed that Hobbs worked alone on the residential burglary, investigators believe he may have used a lookout in Harrisburg. Clore said that man is currently wanted on other charges.
"When we find him, we will arrest him and we will want to talk to him about the church burglary," he said.
As for the motive, Clore said investigators believe methamphetamine was involved.
"We believe that the motive for the thefts and the burglaries was because of drugs — either paying a debt and/or swapping it for drugs," Clore said.
Clore said investigators also believe that Hobbs was taking stolen goods to a yet-to-be-identified Kentucky man.
Representatives from the Kentucky State Police were not available for comment.
According to the release, tips from the public helped solve the crimes.
The tips were made to the Sheriff's Office after the description of the male suspect was released, based on the surveillance video at Little Chapel Church.
Hobbs is currently being held on $4,000 bond at the Saline County Detention Center. According to Judici, Hobbs is scheduled for a 1 p.m. April 19 preliminary hearing before Judge Walden Morris.