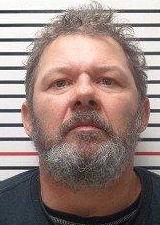 MURPHYSBORO — James Deese, the man who pleaded guilty to assisting in the murder and dismemberment of a De Soto man last year, will not be sentenced until this spring.
In July, Deese, 52, pleaded guilty to first-degree murder in the death of Frank Stonemark, 76, and the concealment of his body. The motion to continue his sentencing was filed Wednesday, the day before his hearing, and said Deese had "entered into a plea bargain with the Jackson County State's attorney Office which in part there is an agreement (that Deese) will testify in the Carmen Stonemark Trial."
MURPHYSBORO — A De Soto man charged with first-degree murder of a 76-year-old man shared vivid details about the murder and how the victim's w…
The motion says the state had no objections. There has not been another sentencing hearing scheduled, but the motion asked for the new hearing to be set for late March or early April.
Court records allege that Carmen Stonemark colluded with Deese to murder her husband, Frank Stonemark. As previously reported in The Southern, Deese told investigators he strangled Frank Stonemark and, with the help of Carmen Stonemark, transported the body to a rural area where the two later returned to dismember Frank Stonemark's body with a chainsaw, maul, pruning saw and a pocket knife. Deese said he cut off Frank Stomemark's arms, legs, head and sawed his torso in two pieces.
MURPHYSBORO — A De Soto woman has been indicted by grand jury on charges of murdering of her husband this past October, according to Jackson C…
A previous story also reported that the two went back to De Soto and burned the body parts and trash bags, Deese told officers.
Court documents say, based on interviews with Deese, investigators were able to find Stonemark's body, and after a search warrant found blood stains in the van the two allegedly used in the course of the crime.
Carmen Stonemark has pleaded not guilty to all charges and is set for a jury trial March 18.