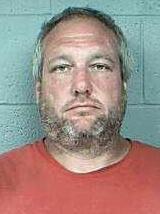 A Swanwick man was arrested Friday morning for allegedly beating a man so severely, it led to disfigurement and disabling injuries that may cause the victim to permanently lose his eyesight, according to a news release from the Perry County Sheriff's Office.
Allen Joseph Fisher, 51, is being charged with aggravated battery and causing disfigurement and disabling injuries to a 46-year-old Nashville man.
Police say the charges stem from an incident that happened this past Saturday. The sheriff's office responded to a fight on Swanwick Rice Road and found that the victim had injuries to his face and eyes. The man was transported by helicopter to a Metro East hospital.
Authorities said the victim's injuries may lead to permanent loss of eyesight.