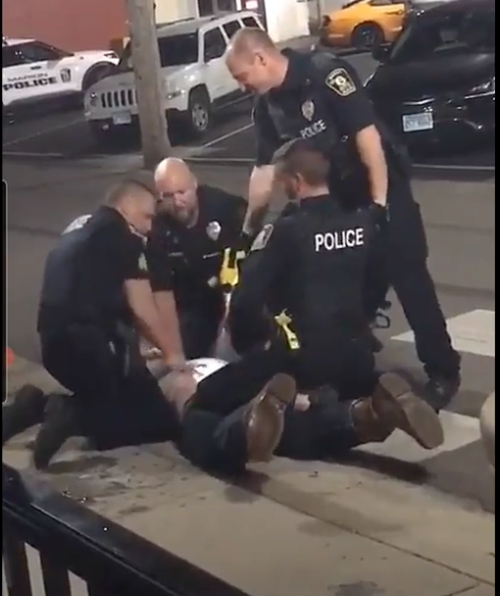 The Southern obtained a copy of the department's policy through a Freedom of Information Act request.
It is the department's policy to use to the least amount of force necessary to detain a suspect. However, a myriad of mitigating factors can come into play when evaluating the appropriateness of force used.
Bystander video obtained by The Southern appears to show three officers attempting to detain a white suspect, Jeramey K. Brown, 22, of Benton, on the pavement May 21 in front of Pookie's Bar in Marion.
MARION — Marion High School's track coach has resigned from her role and may be reassigned to another school if she completes diversity traini…
One officer is then seen repeatedly punching Brown in the back, the video appears to show.
In two separate moments, one officer appears to deliver several blows to Brown's body before another officer uses a Taser on him — it appeared that officers struggled to put Brown's hands behind his back to be handcuffed, according to the video.
The department's policy says "officers shall use only the amount of force that reasonably appears necessary given the facts and circumstances perceived by the officer at the time of the event to accomplish a legitimate law enforcement purpose."
However, certain factors provide the officer some flexibility.
"Any evaluation of reasonableness must allow for the fact that officers are often forced to make split-second decisions about the amount of force that reasonably appears necessary in a particular situation, with limited information and in circumstances that are tense, uncertain and rapidly evolving," according to the department policy.
The policy also provides protections for officers who may experience threats or violence in an attempt to make an arrest.
"A peace officer who makes or attempts to make and arrest need not retreat or desist from his/her efforts by reason of resistance or threatened resistance on the part of the person being arrested; nor shall an officer be deemed the aggressor or lose his/her right to self-defense by the use of reasonable force to affect the arrest, prevent escape or to overcome resistance," the policy says.
When asked if the officers involved in the recorded arrest would be placed on leave while the incident is investigated Marion Police Chief David Fitts said they would not — they had followed their training.
Stan Diggs, a retired Illinois State Police lieutenant, said while he has not seen the video in question, he said generally speaking, bystander videos of police interactions with the public don't capture the entire incident start to finish.
Diggs said he believes people are educating themselves more on use-of-force policies and what police can and cannot do when coming in contact with someone facing arrest. 
"I think the public is being more educated about it," he said.
Alongside the use-of-force policy's reasonable force guidelines, Fitts said Marion officers are taught to use the federal use-of-force continuum. The National Institute of Justice's website details the continuum this way:
Officer Presence — No force is used.
Verbalization — Force is not-physical.
Empty-Hand Control — Officers use bodily force to gain control of a situation.
Soft technique — Officers use grabs, holds and joint locks to restrain an individual.
Hard technique — Officers use punches and kicks to restrain an individual.
Less-Lethal Methods — Officers use less-lethal technologies to gain control of a situation.
Blunt impact — Officers may use a baton or projectile to immobilize a combative person.
Chemical — Officers may use chemical sprays or projectiles embedded with chemicals to restrain an individual, things like pepper spray.
Conducted Energy Devices — Officers may use CEDs to immobilize an individual. CEDs discharge a high-voltage, low-amperage jolt of electricity at a distance.
Lethal Force — Officers use lethal weapons to gain control of a situation. Should only be used if a suspect poses a serious threat to the officer or another individual. Officers use deadly weapons such as firearms to stop an individual's actions.
Marion police said the department is opening an investigation into the use of force into Brown's arrest "based on concerns raised on social media regarding our officers handling of the interaction, as well as the appropriateness of the use of force,'' a department news release stated.
Brown has been charged with one count of battery and one count of resisting a peace officer — both are misdemeanors. He does not yet have a court date scheduled, according to courts website Judici.
618-351-5823
On Twitter: @ismithreports