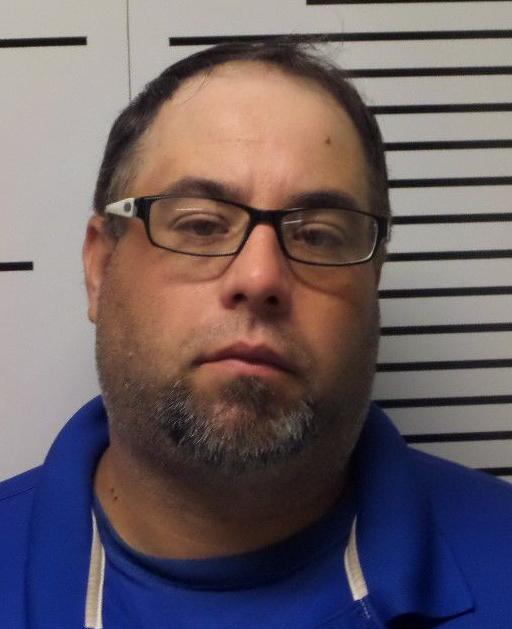 JONESBORO — Testimony on Tuesday during the opening day of Curtis Carr's child sexual assault retrial presented conflicting details, but the state attempted to establish a timeline of escalating abuse of a female minor in 2013.
Carr is charged in Union County with two counts of predatory sexual assault of a child, and this week's proceedings are a retrial following a 2013 hung jury — one juror would not vote to convict.
JONESBORO — Curtis Carr, the Mulkeytown man on trial in Franklin County on charges including possession of child pornography, is also being ch…
In his opening statement, state's attorney Tyler Edmonds noted that Carr "was looking to take what he wanted" when he met the 12-year-old alleged victim. He said Carr, who at the time was in his early 30s, courted the girl and her family throughout the month of July 2013, which culminated in his allegedly penetrating an unidentified female who was younger than the age of 13 at the time of the incident.
Edmonds told the jurors that Carr saw an opportunity — the girl didn't have much to do in Franklin County, not far from Carr's home in Mulkeytown. In her testimony, the alleged victim's mother admitted that the family didn't have the money for her children, two girls and a boy, to do much that summer — the funds weren't available for summer camp or the movies, she said.
So, when family friend Carr offered to take the kids on trips and even arrange for them to learn horseback riding, the girls were excited to tag along and the victim's parents didn't see the harm, according to testimony given Tuesday.
The children's parents and grandmother all told roughly the same story with slight variations in the details. Carr came into their lives in the summer of 2013 when, as the victim's father explained, he was having marital problems.
Over the July 4 holiday, it was explained that Carr offered to take the girls on an overnight trip to Kansas City, Missouri, in his semitrailer — he was an over-the-road truck driver. He said it would be an opportunity for them to see some fireworks.
The family agreed, according to testimony, so long as there were a set of rules: There would be no stops other than Carr's business destination and the rest area for sleeping. As for sleeping arrangements, accounts differ as to whether Carr was to sleep in the driver's seat or in the sleeper cab.
According to testimony from the alleged victim's sister, who was a minor at the time of the events, Carr's abuse began then. She said she awoke in the night to see him sleeping in the sleeper bunk of the truck and could not see her sister — she assumed they were in bed together. She said she didn't think anything of what she saw and went back to sleep.
The alleged victim's stepfather also testified that his stepdaughter eventually explained to him that Carr had put his hand down her pants on that trip.
Soon after the three got back, more plans were made for Carr and the girls. Family members testified that they gave permission for Carr to take the girls to see his friend in Jonesboro to learn to ride horses.
JONESBORO — Jeremy Lloyd, who is the attorney representing Curtis Carr, was granted a motion Monday for secondary council in Carr's pending pr…
There was at least one overnight trip to see the friend and again there were rules: The girls were not to be separated and were to sleep in the same bed while Carr was to sleep either in another room in the house or in the sleeper of his semi that he drove the three in that day.
Both of these rules were broken, according to testimony given by the alleged victim's sister and parents.
Her sister said she woke up that morning in mid-July and her sister was nowhere to be found. She then got a text from her stepdad asking how things were going. She said she was not with her sister, so the stepfather immediately called Carr and asked if his stepdaughter was with him — she was.
The stepfather said Carr told him that she had wanted to ride with him to Scott City, Missouri, instead of riding horses that morning.
When the girls came home from that trip, the alleged victim's mother said her youngest daughter went straight to the couch and covered up. From that point on, the joyful, fun-loving, outgoing child she knew was gone, she said.
Her mother, stepfather, grandmother and sister all said they asked what was wrong — she wasn't eating, she was quiet and would break into tears, they said. She would brush off the questions.
Eventually, the stepfather said the alleged victim's older sister mentioned that she had asked her for a journal she got for Christmas to write in — she had never done this before. He told the state that he asked her to go find it.
On the stand, he was presented with a hardbound journal with a playful red, geometric pattern lining its front and back covers. He said this was the journal he found. The inside first pages shown to the court had smiley faces drawn in multicolored marker.
"My sis" with an arrow pointing to a young woman's name was next to the doodles.
The entry on the next page, which was shown in court, detailed sexual activity between the minor and Carr. She wrote Curtis Carr was the best (boyfriend) she had had.
The stepfather said he immediately called the girl's mother and said she needed to come home.
According to testimony, when the family gathered, it was thought best if the grandmother talked with the alleged victim. The family went on the back porch.
According to testimony, the grandmother asked the alleged victim if anyone had touched her, and the alleged victim responded that Carr had touched her.
Franklin County Deputies arrested a Royalton woman Thursday on a warrant for obstruction of justice, a Class 4 felony, in an ongoing sexual ab…
The alleged victim's mother said when she heard, she "screamed, 'Why?'" She said her daughter clammed up right away.
"I just made it worse by snapping," she admitted.
The stepfather said his daughter explained to him that she "woke up with Curt standing over top of her naked" one night as she slept in the sleeper of his semitrailer while at horseback riding lessons. He said she told him Carr threw himself on her and attempted to have sex with her.
The mother added that her daughter has not been the same after, even experiencing regular nightmares even four years later.
Jeremy Lloyd, Carr's appointed defense attorney in the case, told jurors in his opening statement that the abuses alleged by the state simply did not happen. He said that there was no scientific evidence to back up the claims. All there was to prove he touched the girl was her word, he said.
After the initial hung jury, Carr was then bonded out after bond was reduced to $50,000, over the state's objection, on Dec. 24, 2013.
He was arrested again in 2016 after details provided by the Franklin County Sheriff's Office indicated he was in bond violation.
In Franklin County, Carr is charged with three counts of child pornography. It is alleged that in 2016 Carr was in possession of an illicit image of two girls, over 13 years old but not more than 17 years old. Counts 2 and 3 were similar, with the images depicting prepubescent girls. He is also accused of using a cellphone or computer to solicit an underage person. Carr is also accused of sending photographs of his genitals to an underage person.
Testimony in Carr's Union County trial will continue Wednesday and is expected to go into next week.