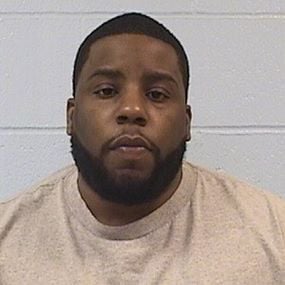 HARRISBURG — The man suspected of murdering a Harrisburg teen earlier this month has signed a waiver of extradition to be taken back to Saline County after being captured this week in Kentucky.
The man charged with the killing of a 19-year-old Harrisburg woman will have his first court appearance Thursday after being captured this week in Kentucky.
Alexander McWilliams, aka McWilliam, was arrested Tuesday after a two-and-a-half-hour standoff with authorities. McWilliams, 36, of Harrisburg, allegedly barricaded himself in a room Tuesday at the Hometown Inn, 551 U.S. 60 in Morganfield, Kentucky, according to a news release from Illinois State Police issued Tuesday afternoon.
He was wanted for the death of 19-year-old Mishealia Meredith who was found shot in the head March 14 in an agricultural field in rural Gallatin County.
After an extradition hearing Thursday in Union County Kentucky court, McWilliams signed a waiver of extradition to be brought back to Illinois to face the charge of first-degree murder.
When asked Friday when McWilliams would be returned to Saline County, a representative from the Saline County Sheriff's Office declined to comment.
A call to the Saline County circuit clerk's office showed McWilliams has not yet been given a court date in the case.
Authorities have disclosed few details about the case despite requests from the media.
Multiple attempts on more than one day to reach Saline County State's Attorney Molly Kasiar were unsuccessful.
The Southern was told Friday she was out of the office for the day.
Questions went unanswered about McWilliams' 2018 attempted murder charge, which was pleaded down to obstruction of justice, and whether Kasiar will push to withhold bond for McWilliams and whether further charges are imminent.
Meredith's body was found in a field March 14 in rural Gallatin County after she had been reported missing. McWilliams was named as a suspect by the Illinois State Police later that week.
Gallatin County Coroner Tony Cox told The Southern the initial cause of death was deemed to be a single gunshot wound to the head. The final cause of death will be determined when toxicology and other reports are returned to Cox.
Cox also said that the place where Meredith was found was very rural, the nearest home at least half a mile away. He said he could not think of a reason a person who neither lived nor worked there would have been out there.
618-351-5823
On Twitter: @ismithreports