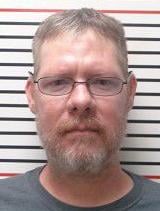 A Murphysboro man charged with the August shooting deaths of his parents saw his murder trial pushed back to the summer during a Tuesday court appearance.
Keith Ritcheson, 40, is charged with two counts of first-degree murder in connection with the deaths of his parents, Brenda and Burl Ritcheson.
His attorney, Jackson County Public Defender Margaret Deegan, said there is a "great deal" of discovery left to go through. She has also asked for a doctor to examine Ritcheson concerning his fitness.
The August investigation, conducted by the Jackson County Sheriff's Office, revealed that Ritcheson allegedly shot his parents to death in their rural Murphysboro home during overnight hours. He lived with his parents and was the person who made the call to 911.
He has pleaded not guilty and is currently incarcerated in Jackson County Jail on a $1 million bond.
Ritcheson's next pretrial hearing is June 12, followed by a status hearing on July 9 and a jury trial on July 16.