HERRIN— Less than two weeks after Kiveon Crawford, a young Black man, was arrested and stunned with a Taser, Black Lives Matter protesters took to the streets of Herrin Thursday with megaphones and signs calling for police reform. 
They were met in front of City Hall by "Blue Lives Matter" sympathizers who stared down Crawford's supporters just yards away for the duration of their protest.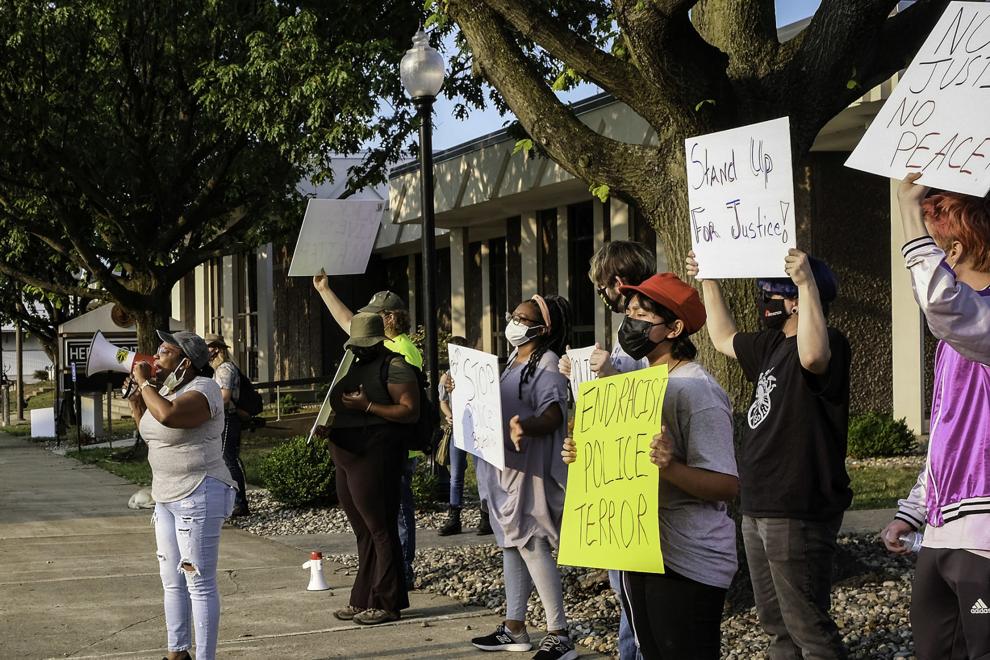 About a dozen Black Lives Matter protesters surrounded the front of City Hall and the Herrin Police Department Thursday evening to demand justice for Crawford, who was pulled over and detained with what they say was excessive force by police. 
They were met with over a dozen counter-protesters waving "Blue Lives Matter" and "Don't Tread On Me" flags — and at least three men could be seen wearing "Proud Boys'' T-shirts.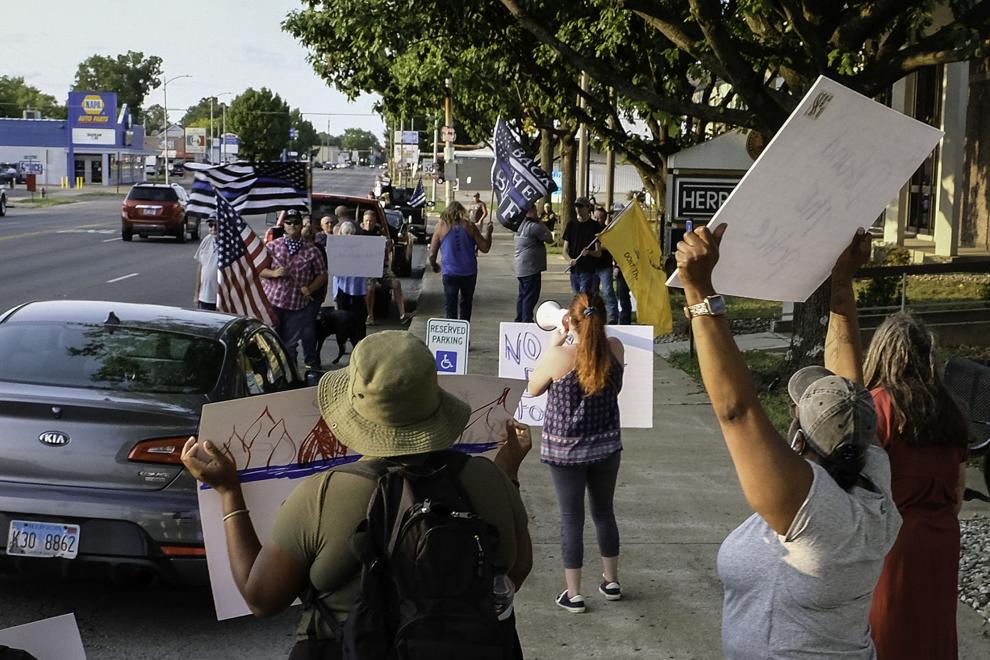 The Proud Boys are a known far-right hate group whose members participated in the Jan. 6 insurrection at the U.S. Capitol.
While the Black Lives Matter group chanted "Defund the police!" or "Black Lives Matter!" the other counter-protesters remained silent and stared, or would chant back "USA!" for a short period before trailing off and retreating back to the beds of their pickup trucks.
Crawford was arrested Aug. 28 for a traffic violation in Herrin. During the incident, officers used a Taser on him twice and towed his car from his driveway. 
A statement released by the Herrin Police Department on social media said the reason for the initial stop was that there were no tail lights illuminated on Crawford's vehicle. The video shows Crawford exiting his vehicle and officers telling him to get back inside of it.
Crawford, who attended the protest, said he hasn't been the same since the incident. 
"I feel traumatized now," Crawford said. "I'm always looking over my shoulders, I have flashes in my head now, I see flashes back to back ... My anxiety is on a different level of high." 
Crawford said the officer who arrested him acted agitated and said he was taking him to jail after Crawford accused the officer of treating him differently because he is a Black man.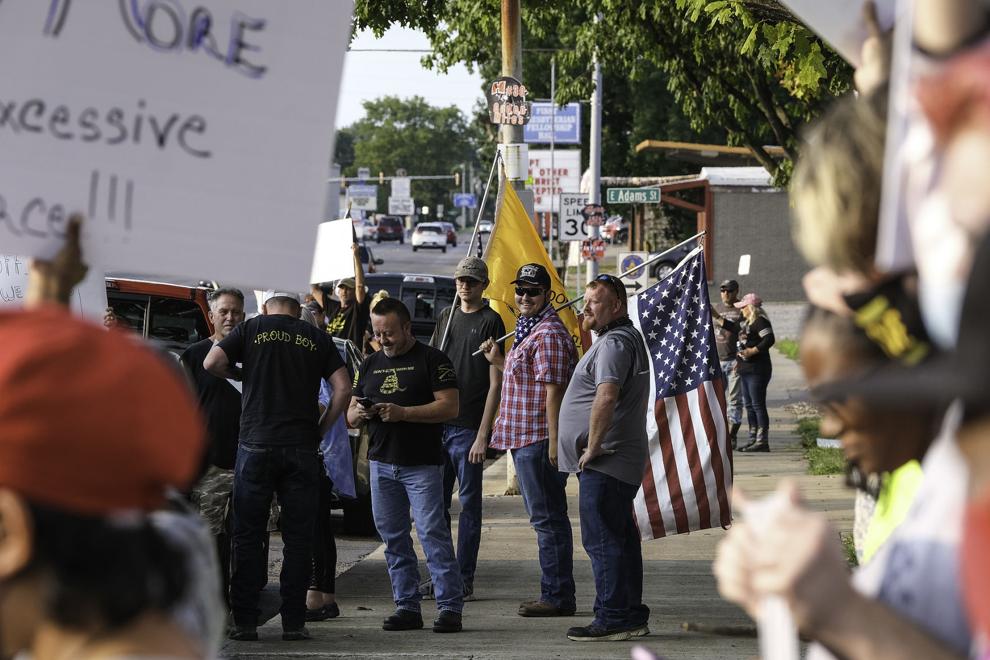 "It's just all unnecessary the way he treated me ...  I feel like if I would have said 'Hey, you took me to jail because I'm Black,' I don't think he should get offended by that," Crawford said. "I think he should just be like 'OK, I hear you.'"
After the arrest, police towed Crawford's car from his driveway.
Chastity Mays, from Carbondale, was one of the organizers of the protest. She said she helped to put the event together because she believes excessive force was used during Crawford's arrest.
"There was no reason for them to throw him to the ground and (stun him with a Taser) twice," Mays said. "He pulled into his driveway, he wasn't running and it's just, it's past time for us to start standing up and speak out for what's wrong."
"The entire system needs to be reformed," Mays continued. "We definitely need to start using social workers for mental health calls. We need to become more of a community instead of treating everyone like criminals. We need to know that everyone's human and it's just time to stop all of the excessive force and people getting killed for no reason over police encounters."
Darlene Roper, of Marion, said the officers involved in Crawford's arrest didn't charge at him and stun him because they were afraid of him; they did so because he disobeyed their authority.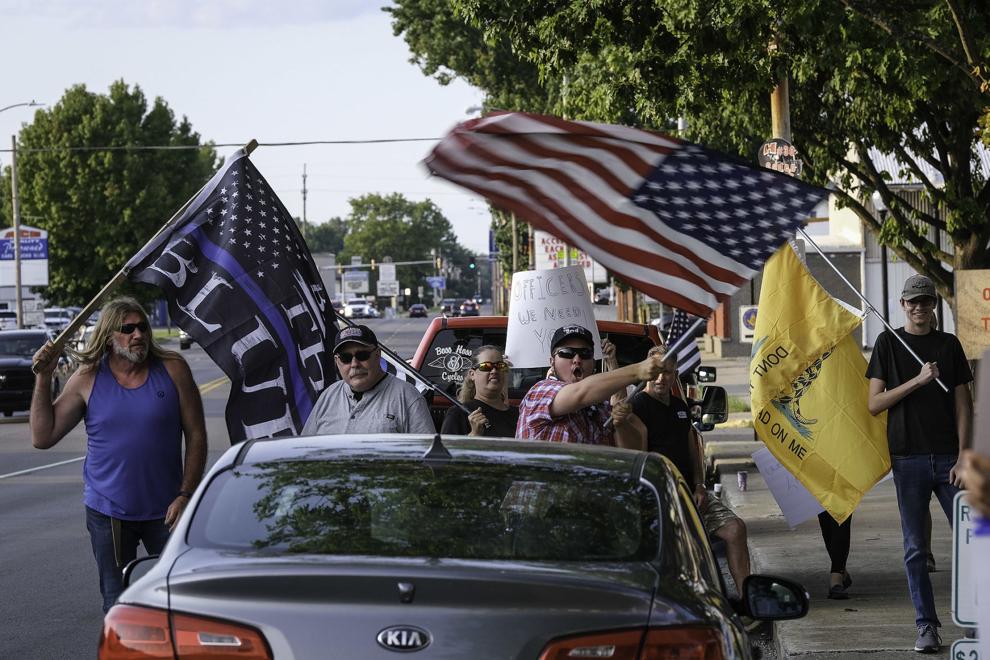 "They treat us like we're not humans," Roper said. "And I'm just sick and tired of seeing how the police get away with it time and time again, how the police get away with excessive force — not just on African Americans but on everybody. You're policing our community. You treat us with respect and dignity. Don't treat us like we're inhuman."
The mayor of Herrin, Steve Frattini, was on site observing the demonstrations. He declined comment. 
A reporter from The Southern Illinoisan attempted to get comment from the 'Blue Lives Matter' counter-protesters but was told repeatedly by the group that they "don't speak to the media." 
The original story by The Southern on Crawford's interaction with the Herrin Police can be found here.