An investigation is ongoing after a residence caught fire Tuesday night in Williamson County.
Fire crews responded at 8:45 p.m. Tuesday, Nov. 16, on Sacramento Road to a mobile home fire, according to the Williamson County Fire Protection District. 
Both Williamson County and Cambria Fire departments responded to the residence.
Upon arrival, the mobile home was fully engulfed in flames and collapsing, district officials said. They were able to gain control of the blaze, but the structure was lost.
According to neighbors, no one was living in the residence at the time of the fire, the district confirmed.
The investigation is active and ongoing.
October Business Spotlights
SIU alumnus' company Wisper expands internet service to rural parts of Southern Illinois
A Southern Illinois University Carbondale graduate's company is expanding internet service into the rural parts of the region he fell in love with when he was a member of the university's swim team.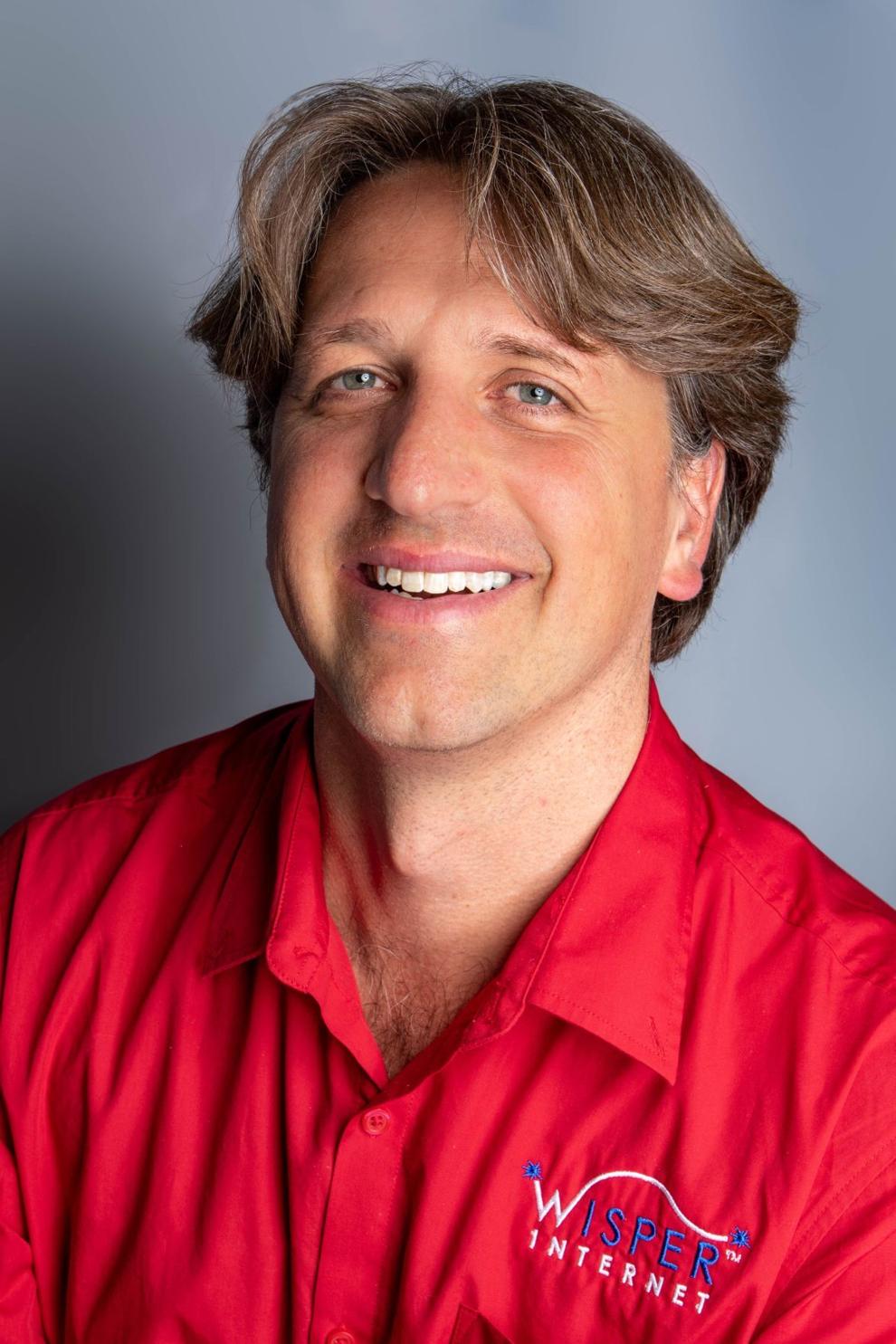 Nathan Stooke started Mascoutah-based Wisper Internet 18 years ago with "three maxed-out credit cards."
He now serves as company CEO. He said Wisper's aim is to provide high-speed internet connectivity to homes and businesses in rural areas – places with few or in some cases, no options for internet service.
Using wireless line-of-sight transmissions, the company recently launched two new towers in Williamson County as well as another two in Jackson County.
He said the company is working to bridge the digital divide between urban centers and rural areas, explaining quality internet service is as important in less populous regions as it is in metropolitan areas.
"What COVID taught us, in my opinion, is that the internet is more important than even water," Stooke explained. "You might say, 'Wait, I have to have water to survive,' and you do, but as an average citizen, I can buy water at the store, I can transport it and I can store water, so if the water line to your house is going to be broken for the next year, you could do all those things and survive. You cannot store the internet and you have to buy it where you are. We take internet for granted in the areas where there is connectivity, but as people move to rural areas, they realize they have to have internet to stay connected."
To bring that connectivity, Stooke's company builds towers or leases space on existing cellular and broadcast antennas – or any other tall structure such as a grain elevator or water tower – and beams internet signal to an antenna and receiver at a customer's home or business. The signal reaches six to eight miles from the tower, depending on topography and tree clutter.  
"Trees are our worst enemy," Stooke said. "It's hard to get through trees and we all know how our cell phones don't work in some of these rural areas, especially in Southern Illinois. It's the same with internet."
Newer equipment, however, allows signals to go through trees, allowing for better coverage using fewer towers.
"It's really helping us get service where people need it most – where they live, surrounded by trees in Southern Illinois," he said.
Stooke said some of the company's current growth is due to Connect America Fund, a federal program designed to expand voice and broadband data service to areas where it was previously unavailable. Wisper's Connect America Fund includes $1.4 million for broadband in Jackson County and $1.5 million for Williamson County for example.
"I think this is a big, big push," he said.  "It's something that we're trying to do ourselves — providing service to the rural market — even before we got the Connect America funding. Now, with it, our monthly budget is more than our annual budget was. We're spending $2 million a month to build out these networks because it is so needed and we have the capital now to be able to do that."
Stooke added that Wisper will be building infrastructure to reach 9,000 more locations over the next four years, with many of them in the most rural parts of Southern Illinois, an area he said he knows well.
"This is an area I remember, I used to go bike riding and swimming all over the region," the former walk-on SIU swimmer said. "I think it is very cool that I'm able to provide internet to some of those places now. The region was good to me and SIU did a great job of preparing me for what I'm doing now."
He said he attended SIU where he earned a degree in computer science and an MBA in 2000 because of the university's Achieve Program, a supplemental academic support service for university students with learning disabilities, attention disorders and other challenges.
"I have dyslexia so I spell at a third grade level and read at a sixth," he shared. "The program gave me such a good foundation, that people think I went to an Ivy League school. I didn't even have a scholarship, but what I had was great teachers and an education I could make something of."
Marion native Chris Parton has built stages for NASCAR, Kansas City Chiefs
Sometimes even Chris Parton cannot believe his own career path. It is one that has taken him from toting microphone stands in and out of rural Southern Illinois churches as a youth all the way to the 50-yard line at Kansas City's Arrowhead Stadium.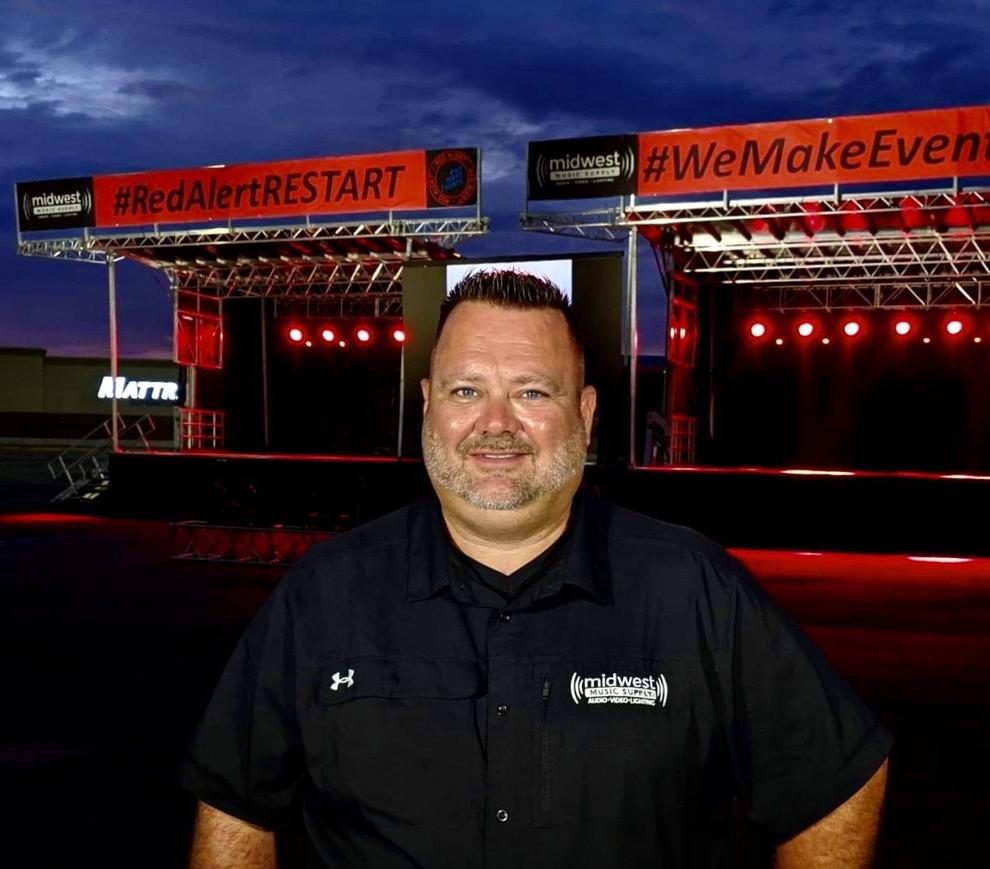 In between, the Marion resident has seen the evolution of technology, been a big part of a lot of concerts and special events, but he is still moving sound equipment.
For 20 years, Parton's company, Midwest Music Supply, has been meeting the sound, lighting and video needs of churches, schools and venues throughout the region. In recent years, the company has expanded into full live event production, providing not only the technology and engineering services for events, but often even the stages themselves.
Parton admits his beginnings were humble.
"I just grew up doing sound in churches. My parents traveled in a southern gospel group," he recalls. "From the time I was born, through my teenage years, I was dragging sound systems in and out of churches and events and different venues, so it just became a very natural thing."
He started his company during a time when presentation and performance systems were becoming a priority for churches and schools, selling and installing sound reinforcement systems in area houses of worship.
"There was a time when a lot of churches shifted more toward contemporary worship and they started adding bands and worship teams and that brought about a need for more equipment. Suddenly the little four- or six-channel audio mixers they had were not adequate," he said. "Churches have really worked to step up their game with audio, video and lighting. As consumers, we're living in more of a technological age where, in order to be relevant, churches have had to keep up with the trends."
He said the technology has evolved as much or more as the tastes, too.
Parton added, "It sure has changed. What you can cram into a single mixing board now used to take racks and racks of processors and things like that to get the job done. Everything is digital and it is crazy what you can do with an iPad and smaller scale systems now."
Parton said he gained experience by providing equipment and running sound boards for a variety of special events, especially some of WBVN-FM's first concerts at the Marion Cultural and Civic Center.
"We did pretty much every show back then and I got to work with a lot of great artists, then things just expanded. Word of mouth has been our main source of advertising and it really snowballed," he said.
However, it was Midwest Music Supply's acquisition of a portable stage a few years ago that really set a new trajectory for the company. The company's first stage – it now has several – not only brought new business, but it also allowed Parton and his team to work more efficiently.
"With events where we had a traditional stage we built with risers and scaffolding, there was a lot of labor involved in that, so we rolled the dice and bought our first hydraulic mobile stage and it's been a case of working smarter, not harder," he explains. "I think we did 57 events that first year. Now we are non-stop all spring and summer with all three. We're just booked solid."
He said the stages are very unique; he likens them to the children's television characters called Transformers. Going down the road, he said, they look like standard semi-trailers, but once on-site they morph into much more.
"It just folds out and they are self-leveling. It's quite amazing," Parton said. "Depending on the lights, we can usually set the stage up in about 30 minutes, where a few years ago it would have taken probably eight guys about six hours."
Portable staging has really expanded Midwest Music Supply's reach, Parton explained.
"It's opened so many doors for us," Parton said. "We've traveled as far as the Gulf Coast, done NASCAR events and it got us in with the Kansas City Chiefs."
Yes, the Kansas City Chiefs of the National Football League. Parton said the team learned of his company's offerings and contracted him to do the team's draft festival party – setting his stage up on the Arrowhead Stadium field. The event was a huge success.
"One we did that, they asked if we wanted to be a part of every home game," he said.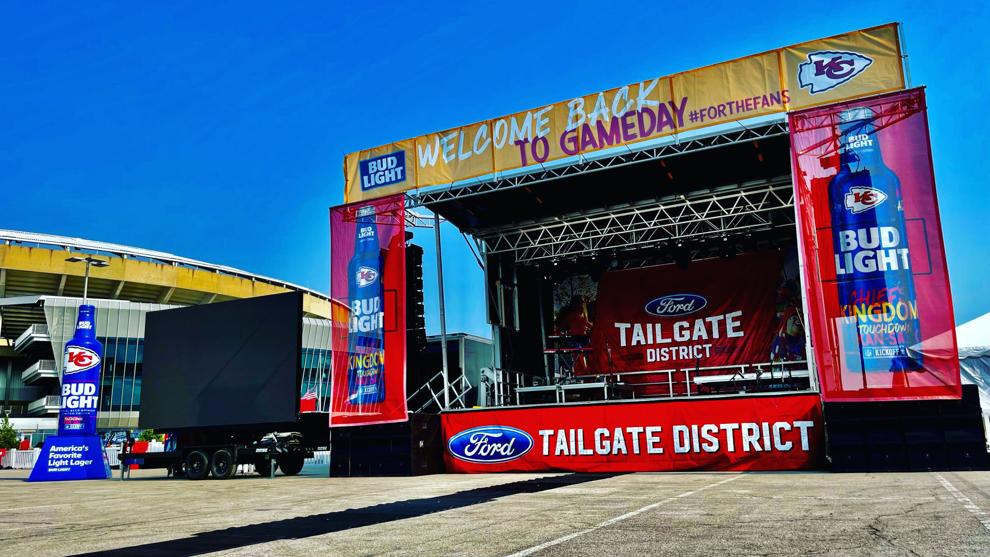 Now, for each home game, Parton and his team provide everything the Chiefs need for the tailgate concert area: stage, sound, lights, generators and even fencing.
"It's all to make a successful event. We build all of it for every home game and take it down right after kick-off then do it again for the next home game," he said.
As he shares about being part of the Chiefs family and the way his business has grown, he shakes his head in amazed disbelief.
"I'm just so thankful and blessed to do what I love to do. This is a blessing. It's perfect," he shared.
Sammie King: Appreciating a good scare at the haunted Chittyville School
It's almost like Sammie King has an alter-ego – a Jekyll and Hyde sort of thing.
Through most of the year, he's a mild-mannered purveyor of fair and festival food favorites — but when summer turns to autumn, King goes through a transformation of his own: From satisfying customers' appetites to scaring the daylights out of them.
As the owner of Silly Sam's Food Concessions, King and his wife Michaela spend most of the year serving up "King Taters" and other midway foods, but come fall, it is The Hauntings of Chittyville that really gets his blood going.
"Everybody likes a good adrenaline rush and what's better than a good old-fashioned scare?" he said, referring to the annual haunted house he operates each fall on the northern edge of Herrin.
Haunted House is not the correct term. As brave Southern Illinoisans know, it is the Haunting of Chittyville School. The fact that it is a former school only adds to the scare factor, King said. It is a feeling he knows very well.
"I grew up in the neighborhood. I went to school in Chittyville and when I was there, my mother was the school cook," King said. "I'm very familiar with the school and it has this eerie, creepy feeling."
He said as a third-generation student, he remembers family tales of mysterious happenings and spooks.
"When we acquired the school, we thought, what better thing to do than have a haunted house there?" he added.
Each year, King organizes a team of about 30 actors – "those are the ones that scare," he said – as well others who help with parking, selling admissions and more into the team that brings Chittyville to life – or undead as haunting aficionados might say.
King said the haunted school attracts two distinctly different kinds of people.
"We get all kinds. There are the timid ones that are scared to peek around the corner and then there are some that are super-scared and hide behind the person in front of them, duck their head down and push them as fast as they can just to get through," he explained.
Then, he said, there are the others who peek around all of the corners and basically dare staff members to frighten them.
He explained that because of the pandemic, the haunted house is a bit different this year.
"Instead of jumping out to scare you face-to-face, we had to learn new ways," he explained, but promised that the scares are all there and among the ever-changing school.
"There are some of our favorite rooms that we keep close to the same every year, but, still, you never know what's around the next corner," he said. "Even if you go into the same room, we've changed the path and things are totally different. We even teach the actors new things."
King said that planning for the next annual haunting begins not long after the close of the season.
"We start planning immediately for our new paths and new props. We even go to trade shows to learn new things."
He said he learns from others, too.
"I used to love going to haunted houses to see the props and the scenes and for them to try to scare me, but now when we go, it's more to compare notes," he said.
The October haunted school is not the only feature in Chittyville. The location also offers a series of escape rooms, ranging from the family-friendly "Field Trip to the Museum," to the challenging "Pirate's Daydream."
King said, "The escape rooms are all about teamwork. You have to have good communication and work together. If you don't, you're not going to get out."
Which can be frightening – and King said he appreciates a good scaring.
"The attempt at it is beautiful."