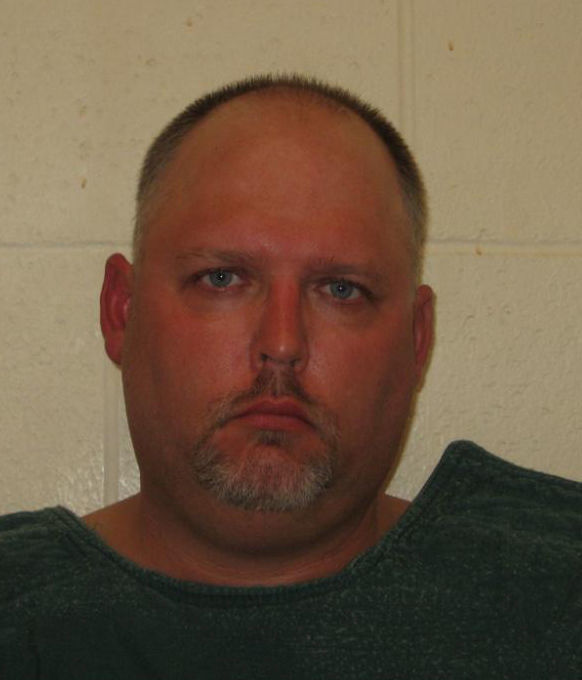 BENTON — Witnesses, including the victim's children, took the stand Thursday on the second day of the trial of Brian Pheasant, a Christopher man accused of shooting and killing his wife, Beth Pheasant, on Halloween night in 2016.
The witnesses' testimonies went to cement the timeline established by Franklin County state's attorney Evan Owens on Wednesday — the state alleged Brian Pheasant bought a gun the day of Oct. 31, 2016, went out with his friend, and came home to shoot his wife in their house in Christopher.
Also on Thursday, a recording of an interview between Pheasant and Illinois State Police investigator Jason Colp laid out the defense's version of events.
According to the interview, which was played in court Thursday, after realizing his wife was cheating on him and he would be going through his third divorce, Brian Pheasant decided to kill himself in front of his wife, Beth. When he tried to do that, on Oct. 31, 2016, he couldn't get his newly purchased pistol to fire, and in trying to get it to work, he accidentally shot his wife twice, according to the recorded interview. He said in the interview with Colp that he had never shot a gun before.
BENTON — In the first day of testimony, jurors got to hear Brian Pheasant's side of the story when it comes to the 2016 shooting death of his …
Anthony Neikes, who had been a friend of the Pheasants for nearly their entire 10-year marriage, took the stand Thursday.
"They seemed like one of the perfect couples," he told Pheasant's defense attorney, Paula Newcomb, on cross examination.
Neikes went on to tell the court that he had been with Brian Pheasant the day of the murder — he said the two would often spend time together on Mondays.
"I just want to be around people," he remembered Brian Pheasant telling him that day. Neikes said he knew the couple was going through a hard time and the two were seeking a divorce after Brian Pheasant had allegedly discovered that Beth Pheasant had been seeing another man.
Neikes said he and Brian Pheasant spent the afternoon going around from town to town and bar to bar looking for people to spend time with. In all, he said they maybe had fewer than six beers in the several hours they were together.
When Owens asked if Pheasant had ever discussed buying a gun, Neikes said both Brian Pheasant and Beth Pheasant had been talking about getting concealed carry permits for the whole year, but couldn't decide on a firearm to buy. He said on Oct. 31, 2016, his friend showed him the new .9mm Springfield Armory handgun he had picked up that day. Because he had been told Brian Pheasant wanted to buy a gun, he said the purchase didn't surprise him.
Neikes said Pheasant had been keeping the gun in his truck.
At the end of the night, Pheasant and Neikes decided to travel separately back to the Pheasants' home on Egyptian Avenue in Christopher so Pheasant could leave his truck there and ride with his friend to a bar they were planning to visit, Neikes said.
"Hey, I'll be out in a minute," Neikes told the court Pheasant said to him as he went into his house. He said he had seen Brian Pheasant on the phone with Beth Pheasant that evening, and knew he was upset, but made the distinction that he did not seem angry.
"I heard arguing inside," Neikes said, adding that he could see the couple through the kitchen window from his car. He said Brian Pheasant was holding a cellphone over his head while the two fought. He said less than a minute after he lost sight of them, he heard the first shot, and three seconds later, the second.
"With the second shot, I was running," he told Owens. "You could see blood down the hallway." He said he went in through the garage and traveled down the corridor to the kitchen. But first, he stopped in to check on Beth Pheasant's then-10-year-old son.
"I gave (her son) my cellphone and told him to call 911," Neikes said.
Then he went to check on his friend, he said.
"She was face down. She wasn't moving," he said of Beth Pheasant when he saw her. Then he saw Brian Pheasant come toward the kitchen from the couple's bedroom with the gun. Neikes then said he ran to scoop up the 10-year-old and left the house.
Shelby Eickelmann, 17, was home the night her mother was shot and killed. She had spent that Halloween accompanying her mother as her brother went trick-or-treating, and then came home and was getting ready for bed when Brian Pheasant came into the house after spending the evening with Neikes.
Eickelmann testified that she heard her mom and stepfather arguing — she said Beth Pheasant was telling Brian Pheasant she needed her phone and to go to work.
Eickelmann said she came out from her room and followed Brian Pheasant and Beth Pheasant toward the garage; at one point, she was at arms-length from Brian Pheasant with her mother between them, she said. She said she was told by Beth Pheasant to call 911, but she stayed for a moment.
"I didn't think anything was going to happen," she told Owens.
Then, she said, as she turned around to go get her phone, she heard the bang. She said she thought the phone her stepfather was holding had hit the ground. Then she heard her mother cry out.
"Call 911. Brian shot me," she said she heard her mother say.
"She was holding her side," Eickelmann said, seeing her mother come down the hall, the same hall where Neikes said he remembered seeing a blood trail.
Eickelmann was on her way to her room, she said, when she heard the second shot. She said it was then that she went out the sliding glass doors from her room to the backyard and eventually made her way to police.
On cross-examination, Eikelmann was asked about Brian Pheasant as a stepparent, and described him as "very involved." Neikes had similar things to say, noting that when he first started hanging out with the family, he couldn't tell whose kids were whose.
Testimony is scheduled to continue Friday morning.