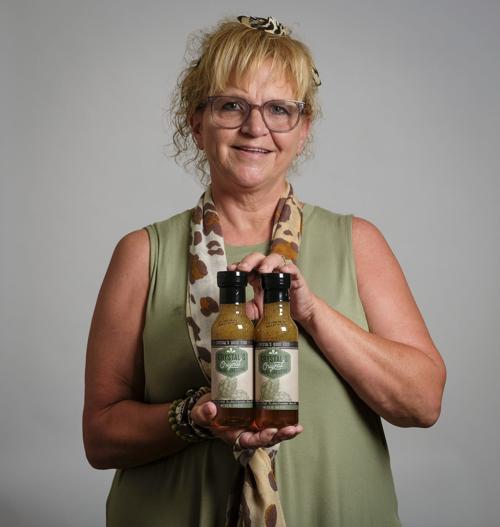 HERRIN — If Crystal Lukens is known for one thing, it is her Crystal's Salad. It is the most popular item at Crystal's Catering and More LLC in Herrin and popular at her other business, Rise Above It Cafe and Bakery in Carterville.
The salad is a combination of romaine lettuce, red bell pepper, red onion, artichoke hearts, fresh Parmesan cheese and candied pecans, topped with Crystal's sweet vinaigrette, and it is that dressing that makes the dish.
Lukens has been asked to bottle and sell the dressing for years. With the help and encouragement of her sister, Jennifer Spence, she began selling the bottled dressing, called Crystal's Original Dressing, at the bakery and shipping a few bottles, especially to fans who don't live in Southern Illinois.
"The new e-commerce site streamlines the process and is much more professional," Lukens said.
Lukens and Spence have been working on this project off-and-on for a couple of years. While Lukens is a fantastic cook and nonstop worker, she calls herself technologically challenged. Spence is a great researcher and more savvy with technology.
Spence did some research to find a bottler. The dressing is made at Nashville Kitchen and Cannery in Dixon, Tennessee. Lukens said they also bottle the items sold at the iconic Loveless Cafe in Nashville. In addition to bottling dressing, they bottle barbecue sauces and jellies.
"It's a small, growing business like mine, and my daughter, son-in-law and two of my grandchildren live in Nashville. When I pick up salad dressing, it's a good reason to swing by," Lukens said.
The label on the bottle was designed by Jessie Goldstein of Fresh Branding in Nashville. "I love the label," she said.
The association with Nashville led Lukens to help a family that lost their home in the tornado that hit the Nashville area in early March. She did a fundraiser at the bakery, and delivered $2,200 to a family in Mount Juliet, Tennessee, a suburb of Nashville, on the weekend before Illinois Gov. J.B. Pritzker enacted Illinois' stay-at-home order.
Lukens said helping someone else helped her not focus on the $150,000 she was losing from cancellations as the pandemic hit the state. At the time, the young Tennessee family was within a week of finalizing an adoption. That was pushed off, and they expect to finalize the adoption this month.
"I want the bakery to grow a little more and be able to help people who need a little extra hope," she said.
CARTERVILLE — Talk to Jennifer Spence about the building she renovated for a business owned …
Lukens said the pandemic gave her a little extra time to focus on getting the online store running, at least until she began working full-time for Man-Tra-Con. She is working on a grant that provides help with COVID-related tasks to public agencies and not-for-profit organizations.
"All the tasks are related to meeting COVID-19 guidelines. I can offer them paid assistance," Lukens said.
As a result of Luken's latest job, her staff at the catering and bakery businesses have taken on additional responsibilities. Thursday morning, her workday started at 5:30 a.m. at the catering business in Herrin making 95 box lunches to be delivered to local businesses later that morning.
Lukens has had to sort of rewrite her catering model. The business used to be sustained by large events. Now they are doing a lot of small office drop-offs. Current COVID regulations limit gatherings to 50 people in most cases and require social distancing.
"I can't sit around and wait for someday. Right now, I have to deal with right now," she said. "I have to keep people employed, keep the bills paid."
She hopes to be able to open the bakery its full hours in early August. She still will be required to limit the number of people eating inside and observe social distancing.
In addition to the online store, Crystal's Original Dressing is available at Rise Above It, Louie's P&R in Herrin, Perry County Marketplace in Pinckneyville and Opie and Eleanor's in Evansville, Indiana. She is looking at a way to make the dressing available to other specialty groceries through a wholesale catalog.
Get local news delivered to your inbox!
Subscribe to our Daily Headlines newsletter.