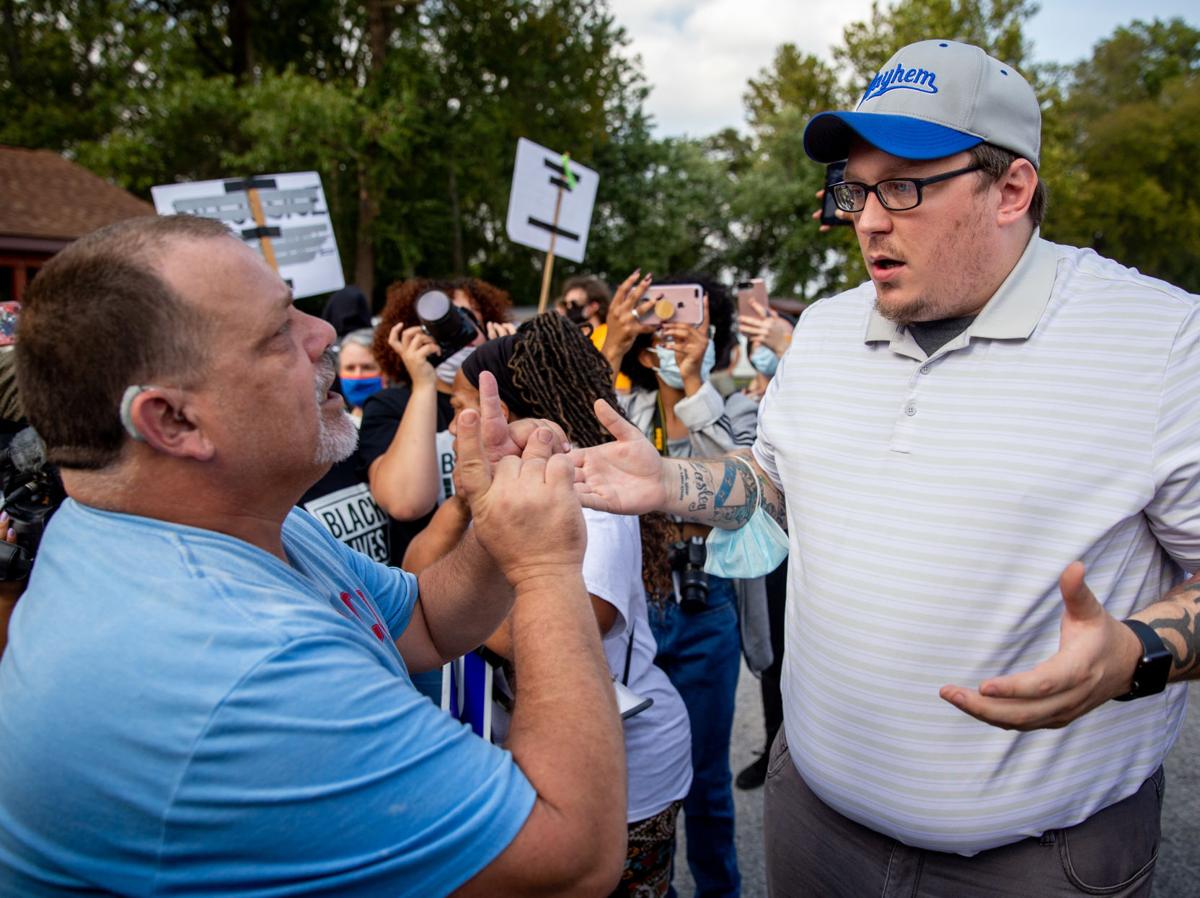 VIENNA — Community members gathered for a demonstration at Vienna City Park on Sunday afternoon after rumors began swirling last month about a social media group connected to high school students allegedly titled "We hate Black people."
Demonstrators condemned what they saw as the school's failure to directly address racism as it relates to the alleged social media group's name. "I am here today to bring attention that racism is a problem here," said Sean Lasley, the uncle of a biracial freshman student at Vienna High School. "I'm of the mindset that when we see racism and refuse to call it what it is, we're complicit in that racism."
Superintendent Joshua Stafford suggested parents talk to their children and their peers about the "appropriate use of technology" in an Aug. 29 statement while addressing a "Snapchat group with an inappropriate name." But, Stafford said in a Tuesday interview, he did not mention the group's allegedly racist name at the advice of the school's legal counsel and local law enforcement.
Lasley said he was angered that the social media group was "not called racism" and instead was called an "improper use of social media" by school officials, and called the handling of the case an "attempt to sweep it under the rug." The appearance of the social media group in their rural community, he said, has given the community an opportunity to "stand arm-in-arm with the African Americans in this community" and disavow racism.
Stafford said in a Sept. 23 written statement that racism will not be tolerated in Vienna schools. "We welcome all students from diverse backgrounds and experiences and, I, nor our school, will tolerate racism in our school or anywhere else and we will continue working to address, educate, and eliminate it," he said.
A group of about 70 demonstrators gathered at Vienna City Park Sunday afternoon as part of an event organized by the So. Ill. Unity Coalition, and speakers talked about racism in the community and schools. Kenji Waddy, a freshman at Vienna High School who is biracial, said he had experienced microaggressions at the school, and he said he hopes that "doesn't happen to anyone else."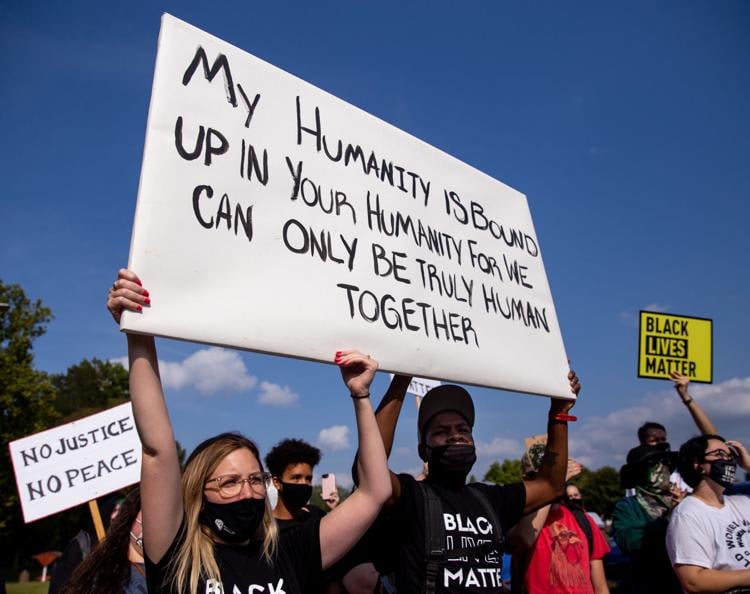 Waddy said he's had to deal with microaggressions, or indirect discrimination against members of a marginalized group, throughout his life. "Many kids would say 'can I touch your hair' (and) I'm almost as dark as you," he said. "I just want parents to educate their kids."
Some at the rally noted Vienna's contentious past with race, noting Vienna had been recognized as a sundown town — a community where some were not welcome because of the color of their skin. James Loewen, a sociologist and emeritus professor at the University of Vermont who studies sundown towns, wrote about a 1950s incident in the rural Southern Illinois town that likely developed anti-Black sentiments in the community.
"In the summer of 1954, two Black men beat up a white grandmother and allegedly tried to rape her teenage granddaughter," he wrote in his 2005 book "Sundown Towns: A Hidden Dimension of American Racism," referencing a 2004 interview with a Vienna resident. "The grandmother eventually died, and 'every (white) man in town was deputized' to find the culprits," Loewen writes. The men were eventually caught, and in the aftermath "whites sacked the entire Black community," even setting fire to many of their homes. No one was ever convicted of the arson.
Today, over 98% of the people who live in Vienna are white, according to the U.S. Census Bureau's 2018 American Community Survey five-year estimates — under 10 Black-identifying individuals were projected to live in the community. Three Black-identifying children attend Vienna High School and one Black-identifying child attends Vienna Grade School, according to 2019-2020 data from the Illinois State Board of Education.
Some say it's not fair to paint the town of about 1,400 as "racist" or hold an "entire race accountable" because of single actions and incidents that have occurred in the generations prior.
"I wasn't alive back then. I didn't exist. All I can say is what we are now and that's not us," said Don Brown of Cypress. "We're not racist, we're not xenophobes, we never have been," he said, while adding people in their community don't look at "race, creed or color" and judge people by "their character, not the color of their skin."
Brown and a group of roughly a dozen trucks surrounded the pavilion where the So. Ill Unity Coalition's demonstration was occurring on Sunday. Their trucks were outfitted with American flags, Confederate flags, and pro-Donald Trump imagery.
One truck bore an American flag modified with a "Three Percenter" emblem. The organization is a diffuse, bottom-up militia, according to a Politico profile, with the group itself claiming inspiration from the "rough estimate" that only 3% of American colonists took up arms against the British forces. The Southern Poverty Law Center, which tracks hate groups, calls Three Percenters an "anti-government" group with chapters nationwide.
Jeff Messemore, who is originally from Vienna, said the group was present to "support Trump" and their "American freedoms." He said they and others have the right to assemble "as long as everything remains peaceful."
"If they want to protest, we applaud," Messemore said. "Speak your mind — this is America, that is what America is about." But, he noted, the moment people start to "destroy something," those within that community "shouldn't wait for the law" and "take care of their property."
Messemore said he feels like he has been labeled as a racist because he's a white man from "a redneck town" who wears a cowboy hat. "Skin color is irrelevant if you act like a decent human being, humility goes a long way," he said.
Chastity Mays, a member of the So. Ill. Unity Coalition who has three children, said she empathized with Brandee Lasley, Waddy's mother, when she reached out to the community group about doing a demonstration in Vienna. "My heart knows what her heart is feeling — that's that hurt," she said. "For Kenji to have to go to school and experience racism, that's just not right."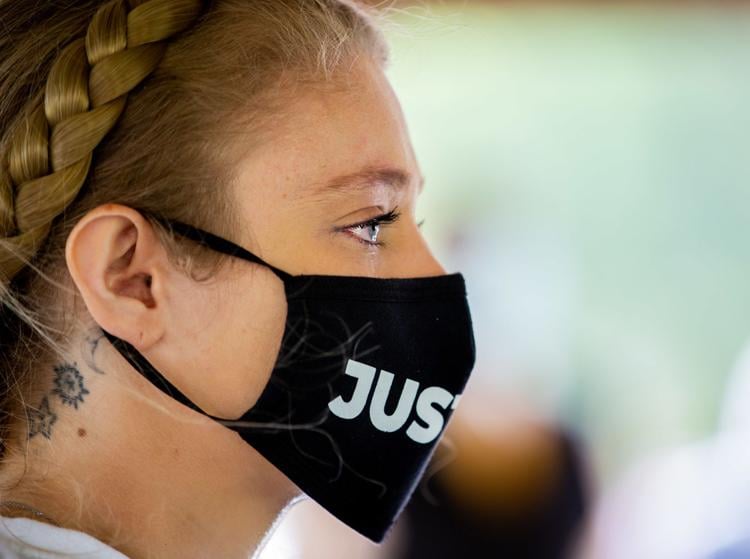 Mays said the community needs to "stand up for what is right," including Stafford, Vienna High School Principal John Giffin and the Vienna Board of Education. "There needs to be an assembly and it needs to be said we will not stand for this racism," she said. "We will not allow you to make these children feel unsafe in their own community."
Emily Harris, one of the demonstration's organizers from Vienna, said she no longer could "stand behind" as people of color felt as if "their life lacked value in the world because of the color of their skin." She said she realized "having Black friends and Black family and simply not being racist was not enough" so she helped organize the demonstration.
Harris said she was fearful of speaking out previously, but asked those in attendance to consider "how scary it is to live with the fear of being gunned down on your daily jog or being suffocated to death with a police officer's knee in your back as you begged for your mom," apparently referencing the deaths earlier this year of Ahmaud Arbery in Georgia and George Floyd in Minneapolis.
"The fear we face standing up is nothing in comparison to the fear people of color face just for being alive," she said. "As a white woman, I have the privilege and the power that is my skin and my voice to fight everyday to stand up for every single person of color that has ever felt like their life was not valued due to the color of their skin."
Despite tense moments between the two groups in attendance, the demonstrations stayed peaceful. At one point, a few of the Trump supporters joined demonstrators in a prayer calling for an end for injustice and hatred.
"I believe if we're on the side of right, and on the side of God, then we can come together as brothers and sisters in Christ," said Darrell Wimberly, a pastor at East Liberty Christian Church in Marion. "We need to leave all the hatred and all that behind — there's a change coming. We're either part of the problem or part of the solution."
After a series of speakers addressed the crowd, the group marched around the park and ended in front of the Trump supporters, where debate ensued. Heated ideological and political dialogue was held, including the meaning behind the Black Lives Matter movement and systemic racism.
Brandee Lasley said the rally was held to bring the community together "and spread awareness that racism is still alive." She said it was never about a particular political movement or police, even though it may have been misconstrued as that.
In reflecting on earlier debate, Lasley said she wants people to know she doesn't believe everyone is racist. But, she said, she simply wants people to "stop talking and start listening" to people of color in the community and their lived experiences.
Photos: Demonstrators gather in Vienna City Park in response to alleged racist Snapchat group
Community members gathered for a demonstration at Vienna City Park on Sunday afternoon after rumors began swirling last month about a social media group connected to high school students allegedly titled "We hate Black people."
Get local news delivered to your inbox!
Subscribe to our Daily Headlines newsletter.