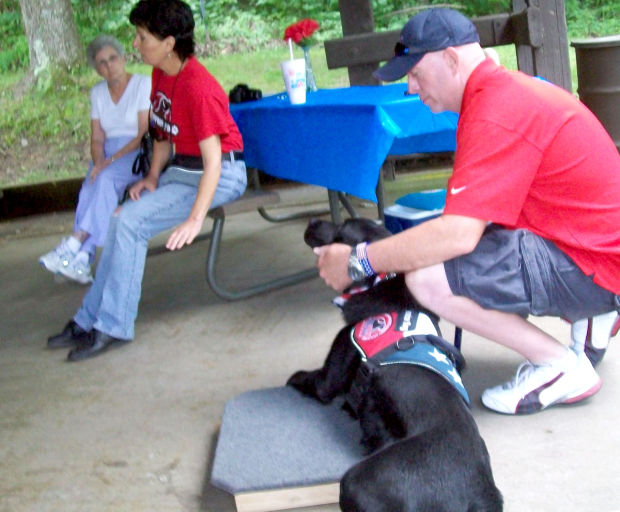 Behesha Doan has received the prestigious Service Above Self award from Greater Area Carterville Rotary Club. She is president and training director of This Able Veteran, a Carbondale-based, non-profit organization that provides trained service dogs to veterans.
The program incorporates a three-week trauma recovery program during which the veterans connect and learn to work with their dogs. The average cost of giving an injured veteran a new lease on life with a fully trained canine partner is $25,000, but the veteran pays nothing. TAV is supported entirely through donations.
"This Able Veteran is a program about committing to our veterans and proving to them that there is life after trauma. We are here to help them," Doan said.
Greater Area Carterville Rotary Club presents the Service Above Self award annually to someone who is not a Rotary member in recognition of the recipient's exemplary service to the community. Doan received the award June 26 during a ceremony at Carterville Community Center.
The presentation has launched a partnership between Rotary and TAV. Rotarians are working to raise awareness about and funding for TAV for the purchase and training of service dogs for veterans suffering from post-traumatic stress disorder and traumatic brain injury.
Last month at Ferne Clyffe State Park in Goreville, Doan presented a program about TAV to members of the Daniel Chapman Chapter of the Daughters of the American Revolution with the help of Kevin MacDonald of Vienna and Reddy, a black lab service dog. Reddy, who is almost 1 year old, will be going home with a veteran in September.
Doan talked about the stigmatism involved in seeking professional psychological assistance, which she said may explain why 23 veterans commit suicide each day.
"There is a process of returning to natural life, a treatment for the soul. And, dogs can and do help in this process," Doan pointed out.
MacDonald, an injured veteran from the recent conflict, talked about receiving his dog, Buck, through Doan and her organization.
"I put the leash on him and something happened — my aaah moment," MacDonald said. "He was the best thing that had happened to me in years!"
Sadly, Buck developed a brain tumor and died just before Christmas. MacDonald is awaiting another dog, but he is still grieving the loss of Buck.
Suffering from a congenital brain disorder, MacDonald said his "world is sometimes spinning" because of vertigo attacks.
"Buck would wake me up when I was having nightmares and nuzzle up against me. It's an amazing thing," he said.
MacDonald carries Buck's ashes in a necklace around his neck.
Doan said financial support is always needed and eagerly accepts donations for the project. They can be mailed to This Able Veteran, 1714 S. Wolf Creek Road, Carbondale, IL 62902.
Dixie Terry, a freelance writer based in Goreville, contributed to this story.