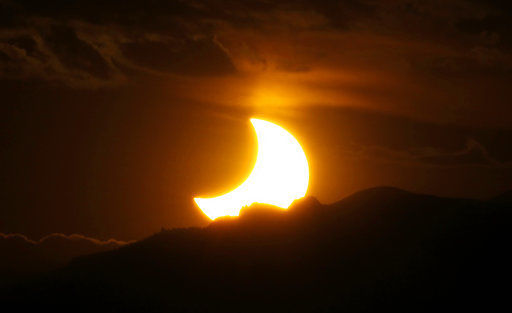 CARBONDALE — Imagine celebrating a leap year birthday — that's how scientists might feel when faced collecting data during the Aug. 21, 2017, total solar eclipse.
Because it is the first total solar eclipse to occur in the continental United States in nearly 40 years, and the first one to stretch from coast-to-coast in 99 years, it will be a unique opportunity for the collection of data.
Additionally, technological advancements made in the last 40 years have improved the accuracy and the ability to collect that data. Nowhere is this more relevant than in the collection of data regarding animal behavior during the event.
Scientists look for help documenting animal behavior
Anecdotally, we know animals appear to respond to the change in light that affects not only nocturnal animals, but crepuscular ones. Crepuscular animals are species most active during dusk and dawn.
Reports during eclipses worldwide tell of night birds singing, bats flying, spiders tearing down webs, or owls calling.
"But it is difficult for us to find data that is not anecdotal," said Rebecca Johnson, citizen science research coordinator at the California Academy of Sciences in San Francisco.
Because of the infrequency of total solar eclipses, Johnson said, the academy does not have any staff researchers who have done specific studies on animal behavior during one, and that is common throughout the scientific community.
Johnson's colleague, Elise Ricard, life responds coordinator for the California Academy of Sciences, was present in Australia during the 2012 eclipse.
As a result of that experience, Ricard said the academy wanted to find a project that would provide people a way to do citizen science and connect with the eclipse in a way that would also support their mission to explore, explain and sustain life.
They created the "Life Responds" project, which asks citizens to download the iNaturalist app from Apple or Android platforms and document what they see during the eclipse.
The app allows people all over the world to document biodiversity through personal or project observations, and is uniquely positioned to allow people to document plant and animal reactions to the eclipse.
Johnson said people are asked to record an observation 30 minutes before and after the eclipse and at least twice during maximum coverage.
"They can look for any animal or plant, though we expect more reactions from say, chicken going to roost, birds stopping to sing, plants folding up for the night, insects hiding, or maybe even bats flying out," Ricard said.
Johnson encouraged those using the app to scope out the spot at which they will be standing and focus on one or two things they will document.
"That way, when the event happens they can spend most of their time witnessing what's happening in the skies, but still help gather data about what's happening on the ground," Johnson said.
Johnson and Ricard said the app is free to download and the results will be posted on both the iNaturalist and Cal Academy websites, with the raw data available as well for anyone to use or access.
Animal safety
While observing and documenting wildlife behavior for science, it is also important to pay attention to our domestic animals and their safety, one local animal control officer said. 
Jackson County Animal Control Officer Lloyd Nelson said he has received questions regarding the eye safety of domestic animals during the eclipse, but in his research, he found that most veterinarians remain unconcerned about damage that might occur from the animals looking directly at the sun.
"The vets pretty much agree that there would be no reason for animals to mimic human curiosity and look directly at the sun. From the animal's standpoint, it's more along the lines that night happened all of a sudden. It is a bit anthropomorphic (imposing human behaviors on animals) to expect them to behave like us," Nelson said.
What is of concern to Nelson is the number of people who will be in the area who are not normally here, the animals they bring with them, and the response of the animals that already live here.
Nelson said visitors to the area need to make sure the pets they travel with have a current rabies tag. They should also make sure their pets have a collar or tags with their current information and cell phone number in case the pet gets lost.
"Most people don't know it, but when they travel across state lines with pets they are supposed to get a health certificate signed by their vet attesting the health of the animal," Nelson said. "Chances are no one will get bit, but in case that does happen it will help the owner and victim if all the proper certifications are in place."
As far as local animals are concerned, Nelson asks people to be aware of the stress that that a huge influx of visitors might have on their animals.
"It's sort of like the Fourth of July, but tripled. We are going to have concerts, people shooting off fireworks in the dark of the midday sun, loud noises, and strangers," Nelson said.
Nelson said that if someone has a pasture they open as a campground, there may be a dog, maybe from a farm next door, who has had the run of that pasture for 10 years, and now there strange animals, different noises, different people in that area that might upset or confuse the local dog. 
Nelson recommends being aware of pets during the event. They should be leashed, or contained, especially during the day of the event. If people are traveling with pets, they need to be able to provide them with access to water and shelter if they need it.
"Enjoy the experience, but be careful." Nelson said.
618-351-5074
On Twitter: @barbeidlin