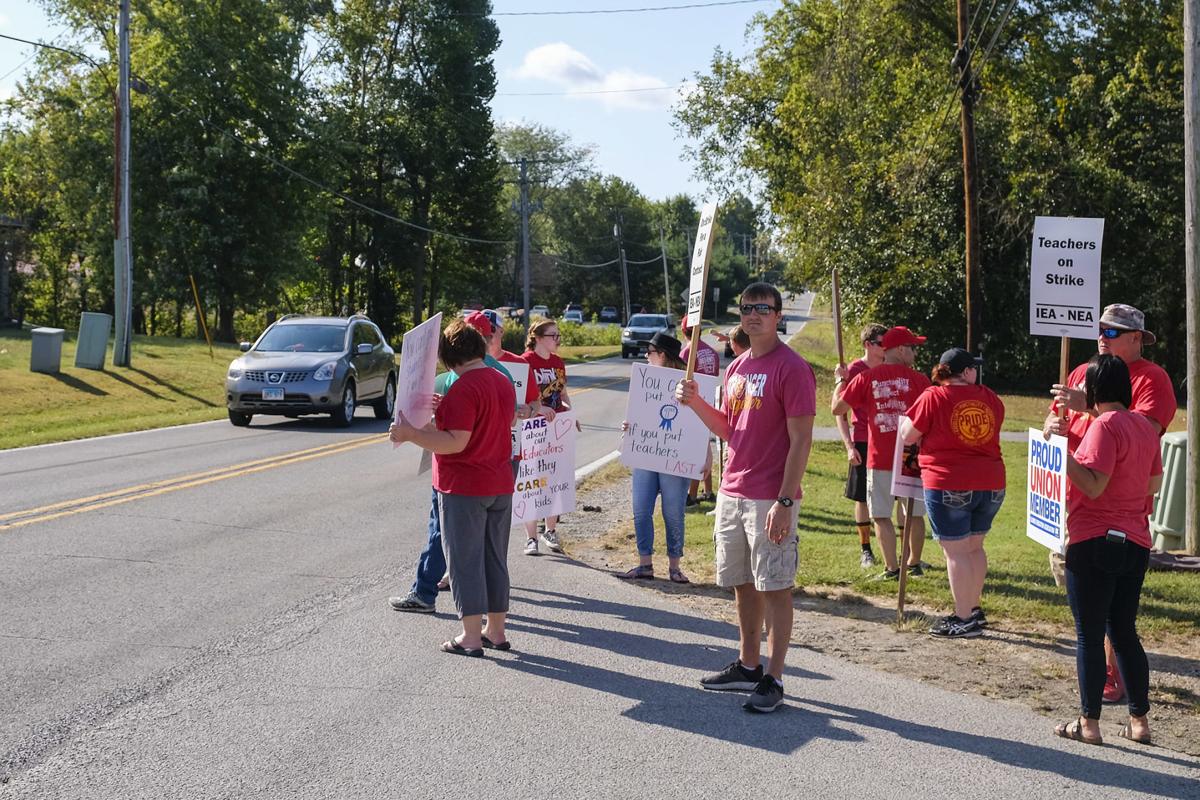 MURPHYSBORO — If there's anything the striking Murphysboro teachers and their school district agree on, it's that Monday night's negotiations didn't do much good.
The first teachers' strike in town since 1979 is settling into a standoff, with each side accusing the other of making little movement toward compromise.
Their best offers are still more than $350,000 apart on a three-year contract deal.
With over 2,000 students out of school, both sides are hopeful that negotiations can continue through the week.
But a federally appointed mediator may not be available to govern negotiations every day, and the school board has been reluctant to negotiate without that intermediary, acknowledged Superintendent Chris Grode.
The mediator will be present Tuesday, at least, according to the teachers' union, and the ball is in the district's court.
"It's their turn to send us a proposal," said Lisa Shields, spokesperson for the Murphysboro Education Association, the teacher's union. "We will be available to bargain every day at 5 p.m. in hopes the [district's board of education] will show up."
Grode and the Board of Education will show up Tuesday, he said, and are willing to work throughout the week, even if a mediator is not available.
But that doesn't guarantee progress.
You have free articles remaining.
For his part, Grode is searching for some way to shift the conversation.
"Our community is incredibly divided and that's a travesty," he said. "We need to be coming together and not try to tear each other apart."
He's considered asking the union to agree to add a community member to the mediation process.
"I'd like to have a trusted, valued local person that both sides would be willing to agree on, who could look at this with fresh eyes and discuss with both sides," he said. "The federal mediators have been good people, and beneficial for us, but they're very limited in their power. To break this logjam, we may need someone who is more vested and involved in the outcome of the decision."
"A federally trained mediator is always our first choice," Shields replied. The union declined to comment further on whether a community mediator could be beneficial.
On Tuesday, the strike's fourth day, the union announced a calendar of activities for Murphysboro kids for the rest of the week to help ease the burden on families. The details are available on its Facebook page.
Further down the line, both sides will have to decide how to make up the missed school days.
That's something that can only be resolved in a "return to work agreement" once negotiations are finalized, Grode said.
"Some could get made up over Christmas break, spring break or over the summer," Grode said. "Or, we may have to dock some of those days. These are all little details that will have to get negotiated."