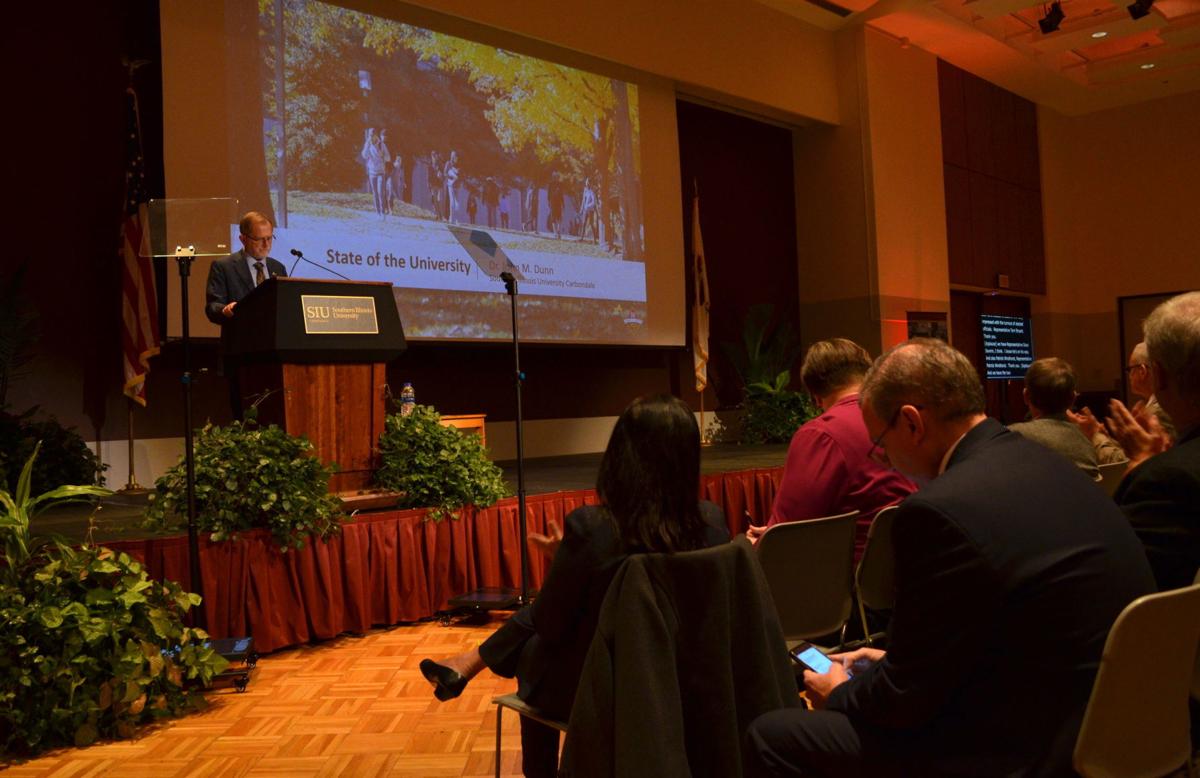 CARBONDALE — For years now, enrollment numbers have defined the narrative about Southern Illinois University Carbondale.
That was not so Wednesday afternoon during Interim Chancellor John Dunn's 2019 State of the University speech.
"Those numbers are important for a number of reasons, including budget," Dunn acknowledged to The Southern, after the speech. "But we can't let that overwhelm the many other things that are moving in the right direction."
Before a crowd of several hundred students, employees, elected representatives and Carbondale city officials, Dunn's speech was a reminder that, in many important ways, SIUC continues to outpace its competitors.
Short of Northwestern University, the University of Chicago and the University of Illinois' Champaign and Chicago campuses, SIUC conducts more research than any other Illinois public or private institution, Dunn indicated, by a wide margin.
In Missouri, only Washington University and the University of Missouri received more research funding in 2018.
"We are holding our own as a research institution," Dunn said, with faculty earning more than $50 million in highly competitive federal funding each of the past two years. "And we are proud of that."
Meanwhile, Dunn said, his administration is working to end the university's long history of interim leadership.
The university is initiating national searches for permanent leaders of the schools of law, education and agricultural sciences and for the College of Engineering. It hired 22 new tenure and tenure-track faculty this year and intends to hire 35 more next year.
Dunn acknowledged but did not respond to critiques of some recent hiring procedures, including the ongoing search for a permanent provost.
In spite of the position's high rank and importance, the SIUC administration has elected to conduct an exclusively internal search, considering only current employees.
The method was chosen to ensure the university has a homegrown provost, who understands its needs and challenges, when a new chancellor is hired via external search in the spring, Dunn has indicated.
Critics say the hire is being rushed, may conflict with established university hiring protocol and may unfairly advantage the current interim provost, Meera Komarraju.
You have free articles remaining.
Dunn is still waiting on the provost search committee, comprising representatives from many campus groups, to provide their hiring recommendations, he indicated.
SIU has timed its executive searches so that the new permanent SIU president, expected to replace Interim President J. Kevin Dorsey by the end of the year, will be able to weigh in on the SIUC chancellor selection.
Dunn also provided an update on the school's academic reorganization.
"Reorganization" was former Chancellor Carlo Montemagno's vision to transform SIU by repackaging its academic programs in new schools and colleges that would help SIUC market itself to prospective students as distinctive and cutting-edge.
The effort has been endorsed by current leaders including Dunn, Dorsey and Chair of the SIU Board of Trustees, J. Phil Gilbert.
Yet it remains far from finished. Fourteen of 21 proposed schools have been approved by faculty. One more school is currently under consideration, while others have still not been brought before faculty about two years after the plan was introduced.
Meanwhile, skeptics maintain the administration has never proved that the reorganization will save SIUC money, increase enrollment or create new faculty innovation, as billed.
And still, unavoidably, enrollment continues to lag. After total enrollment declines of 7.5%, 9.8%, and 13.6% in each of the last three years, enrollment is down 8.75% over last fall, to 11,695 students.
Echoing previous comments, Dunn pointed out that 2019's losses were smaller than previous years and highlighted several efforts to turn the tide. The university has added new, full-time recruiters in St. Louis and Chicago, has invested in digital marketing and online student outreach, and has strengthened local recruitment by introducing the SIU Day events for high schoolers.
It's still early in the recruitment cycle for Fall 2020, but the university has received more applications this year than it had at this point last year or the year before, Dunn said, a sign that "outreach is paying off."
Dunn delivered several other positive updates:
A new exchange agreement with Shenyang Aerospace University in China will bring about 60 students to Carbondale to study in SIUC's aviation technologies program and may send some faculty to China to share their knowledge, Dunn said.

 

The university's three-year $75 million Forever SIU fundraising campaign continues to beat its goals with more than $84 million donated to date and another $5.5 million in philanthropic commitments secured.

 

The university is the first in the state to earn Level 2 Arboretum Accreditation for its diversity of tree life. It continues to place on national lists of top eco-friendly and outdoors-oriented universities.

 

Recent national rankings from the Center for World University Rankings, the Wall Street Journal and Times Higher Education all put SIUC above its Illinois public peers, with the exceptions of U of I and UIC, Dunn said.

 

The forthcoming SIUC Nursing Program has received $4 million in private donations to get up and running and has received hundreds of inquiries from prospective students, Dunn said. Dozens more admitted or enrolled students have also indicated interest.
Dunn closed his speech with a familiar invocation, asking faculty, staff and the Carbondale community to make every effort to give students a positive experience at SIUC.
But he drew perhaps his strongest applause with an announcement about the university shutting its doors. December 23 has been added to employees' holiday break this year, he said, to cheers.